UK Government to take in 130 more refugee children under Dubs following 'administrative error'
'The Government has recently become aware that 130 additional spaces should have been included in the specified number,' says Immigration Minister Robert Goodwill
May Bulman
Wednesday 26 April 2017 19:10 Comments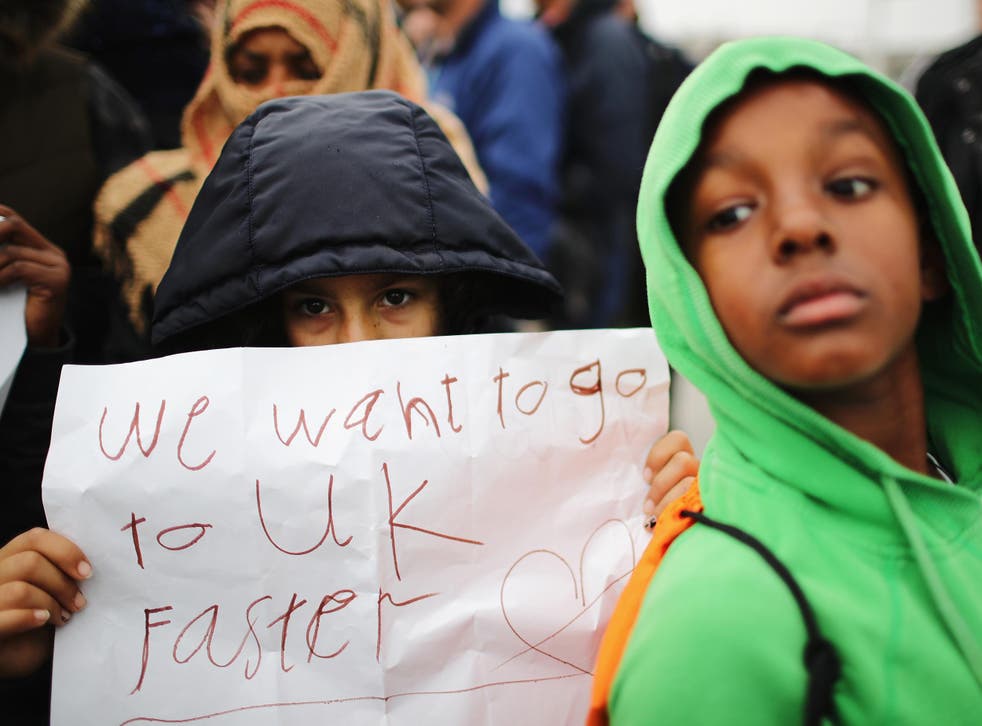 The UK Government has admitted that an "administrative error" led to 130 places for child refugees offered by local councils not being taken into consideration as part of the Dubs Amendment scheme.
More than two months after the Home Office announced the number of unaccompanied minors brought to the UK under the scheme would be capped at 350, the Immigration Minister issued a statement saying the Government had recently become aware that 130 additional spaces should have been included in the specified number.
It comes after ministers were accused last month of ignoring evidence that local councils were eager to accept more unaccompanied children fleeing conflicts and willing to make thousands more places available following the Government's decision to axed the Dubs scheme, which was initially intended to bring in 3,000 refugees from Europe.
The statement, issued by Immigration Minister Robert Goodwill on Wednesday, states that the mistake was due to an "administrative error", which led to 130 places for child refugees pledged by one UK region go unaccounted for.
"In my Written Ministerial Statement of 8 February 2017 I announced that, following consultation with local authorities, the Government would transfer the specified number of 350 unaccompanied children from Europe to the UK under section 67 of the Immigration Act 2016," read the statement on Wednesday.
"The Government has very recently become aware that, due to an administrative error as part of collating the figures, one region pledged 130 places which were not accounted for in setting the specified number."
Mr Goodwill said when the consultation process closed, the Home Office had believed two regions had not provided responses – when in fact one of the regions had pledged to take in 130 children under the scheme.
"As part of the consultation local authorities were asked to let their Strategic Migration Partnerships know how many places they could offer, and then the Strategic Migration Partnerships provided the regional number to the Home Office.
"The Home Office continued to work with the Strategic Migration Partnerships throughout the consultation process, and believed that two regions in England had not provided responses after the consultation closed.
"Both of these regions had already stepped up to take a number of children from over-burdened councils elsewhere in the country so it was assumed they would continue to support the national transfer scheme as and when they could, but were not able to provide specific numbers which the Home Office could then allocate to section 67 cases.
"The Home Office recently discovered that one of the regions had sent a return and we are now including their pledges in the specified number for the purposes of section 67 of the Immigration Act 2016."
Since the Dubs scheme was ended in February, scores of vulnerable, potentially eligible children have continued to live rough in and around Calais, routinely risking their lives by continuing to make dangerous attempts to cross the Channel illegally to reach the UK.
Charities and campaigners have welcomed Mr Goodwill's announcement that the number is higher than previously thought, but voiced concern that such errors could be being made on a wider scale and subsequently called on the Government to re-consult with councils on capacity and consider re-opening the Dubs scheme.
Rabbi Janet Darley who has been working with Citizens UK's Safe Passage project, said: "It is very welcome news that more children will be helped by Alf Dubs' scheme and testament to the hard work of local communities across the country who have worked with councils to find extra places for some of the most vulnerable child refugees in Europe.
"However, if 130 places can be missed due to an administrative error, and many more councils have since come forward and pledged extra spaces, this clearly demonstrates the need to re-consult with councils on capacity and re-open the 'Dubs scheme' so more children can in future benefit."
Liberal Democrat leader Tim Farron commented: "This alleged oversight by this Conservative government has meant 130 children who could have been placed here months ago are still languishing in camps in Europe.
"I hope these children are identified and brought to the UK as soon as humanely possible – it is our moral duty and responsibility. The Dubs scheme was opened after huge pressure both in Parliament and from the public – we wanted to see 3,000 unaccompanied child refugees offered sanctuary in Britain.
"Whilst I welcome the fact the Government will now take in some more, this is simply not enough."
Stephen Hale, chief executive of Refugee Action, meanwhile said: "This is a welcome but modest step forward. There are far more vulnerable refugee children in Europe in need of protection.
Refugees welcome here: Protesters demand UK resettle more migrants in response to refugee crisis

Show all 7
"In the run-up to the General Election, we're calling on all parties to make further commitments to continue our country's long tradition of welcoming refugees."
Hayley Cull, head of campaigns and advocacy at Unicef UK, responded to the news by saying: "This will be a much-needed lifeline for these 130 children. It is vital they reach safety in the UK quickly, so that they can be protected and start to rebuild their lives.
"But this Dubs lifeline will soon be gone for other children in danger. We still need a long-term plan so that children never have to make dangerous journeys into and across Europe in order to reach safety."
Register for free to continue reading
Registration is a free and easy way to support our truly independent journalism
By registering, you will also enjoy limited access to Premium articles, exclusive newsletters, commenting, and virtual events with our leading journalists
Already have an account? sign in
Join our new commenting forum
Join thought-provoking conversations, follow other Independent readers and see their replies