UK discriminates against Christian refugees from Syria, claims former Archbishop of Canterbury
Christians make up only one or two per cent of Syrian refugees resettled in the UK, despite constituting 10 per cent of the country's population before the civil war 
Charlotte England
Thursday 13 April 2017 11:49 Comments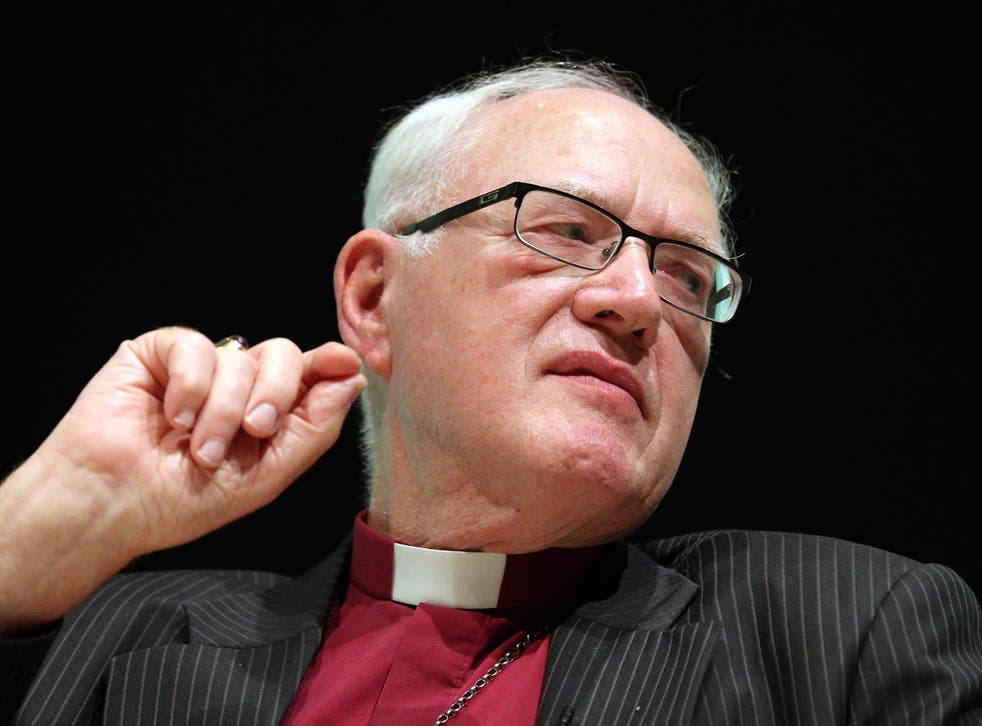 The British government is failing Christian refugees from Syria, a former Archbishop of Canterbury has claimed.
Lord George Carey alleged that "politically correct" officials were "institutionally biased" against Christian refugees, who are not being resettled in the UK at the same rate as Muslim refugees.
According to the retired Anglican bishop, minority groups find it more difficult to access UNHCR-run camps in countries bordering Syria, which means they are less likely to be included in official schemes which would bring them to the UK.
The 81-year-old said a failure to address this amounted to potentially unlawful discrimination by the British government, which would be legally obligated to act if it admitted Christians in the Middle East were facing genocide.
In a letter published in full by the Telegraph, Lord Carey said: "It is distressing beyond belief to know that the steady 'crucifixion' of Middle East Christians continues.
"In the run-up to Easter British taxpayers will be appalled by this institutional bias against Christians by politically-correct officials."
He suggested government workers have a "politically-correct phobia of avoiding any risk of being perceived as anti-Muslim".
He added: "The Muslim victims of the conflict in the Middle East deserve the same compassion as the minority victims. But at the moment they are receiving greater support than the minorities which are targeted by Muslim extremists".
Official figures show that less than 1 per cent of Syrian refugees resettled under a flagship Government scheme in the third quarter of last year were Christians — in real terms that amounted to just 13 of 1,583 refugees accepted — despite the minority group making up around 10 per cent of the Syrian population before the civil war began in 2011.
Lord Carey, who served as the Archbishop of Canterbury from 1991 to 2002, said that the Government had failed to follow through on its manifesto commitment to support persecuted Christians in the Middle East.
Last year the House of Commons passed a resolution stating that "Christians, Yazidis and other ethnic and religious minorities in Iraq and Syria are suffering genocide", but this stance has not been officially adopted by the Government.
Lord Carey suggested the Government did not want to label the disaster a genocide because this would obligate it to respond. Instead, he suggested pledges by Theresa May and her predecessor David Cameron on Syria were just "hollow words".
He said he had received advice from religious liberties barrister Paul Diamond, who told him that even though the Government's intention is not to discriminate against minorities, the results of the policy are illegal "indirect discrimination."
In pictures: US missile strike against Syria

Show all 7
Christians have been brutally targeted by Isis in Syria, alongside other minority groups including Yazidis and Shia Muslims.
But Lord Carey said Muslim officials "invariably" ran UN camps, which prevented Christian refugees from seeking help there.
"The massive aid budget of which the government is rightly proud is being funnelled by the Department for International Development into the UN camps which claim to offer shelter and a potential route to the West for the most needy," he said.
"Yet here is the problem. These camps are invariably run by Muslim officials who are often hostile to minorities – especially Muslims who have converted to Christianity. So the refugees who are too scared to enter the camps lose out on both food aid and opportunities to find sanctuary in safer countries."
He called on the Government to "fulfil its promises and manifesto commitments to support persecuted Christians facing genocide today".
A Government spokesman said: "UK aid is provided in line with humanitarian principles, so whoever needs our help the most gets it first, regardless of race, gender or religion.
"We work with trusted partners who operate in line with those same principles of neutrality and impartiality, including in practicalities such as refugee camp management and staffing. To suggest otherwise is wrong.
"And with all of our resettlement schemes we work closely with UNHCR to identify cases that they deem most in need of resettlement according to their established vulnerability criteria."
Register for free to continue reading
Registration is a free and easy way to support our truly independent journalism
By registering, you will also enjoy limited access to Premium articles, exclusive newsletters, commenting, and virtual events with our leading journalists
Already have an account? sign in
Join our new commenting forum
Join thought-provoking conversations, follow other Independent readers and see their replies