UK flooding: 200-year-old pub on bridge collapses as River Irwell floods
Lancashire, North and West Yorkshire have all been declared at 'severe' risk of flooding as Storm Eva hits the UK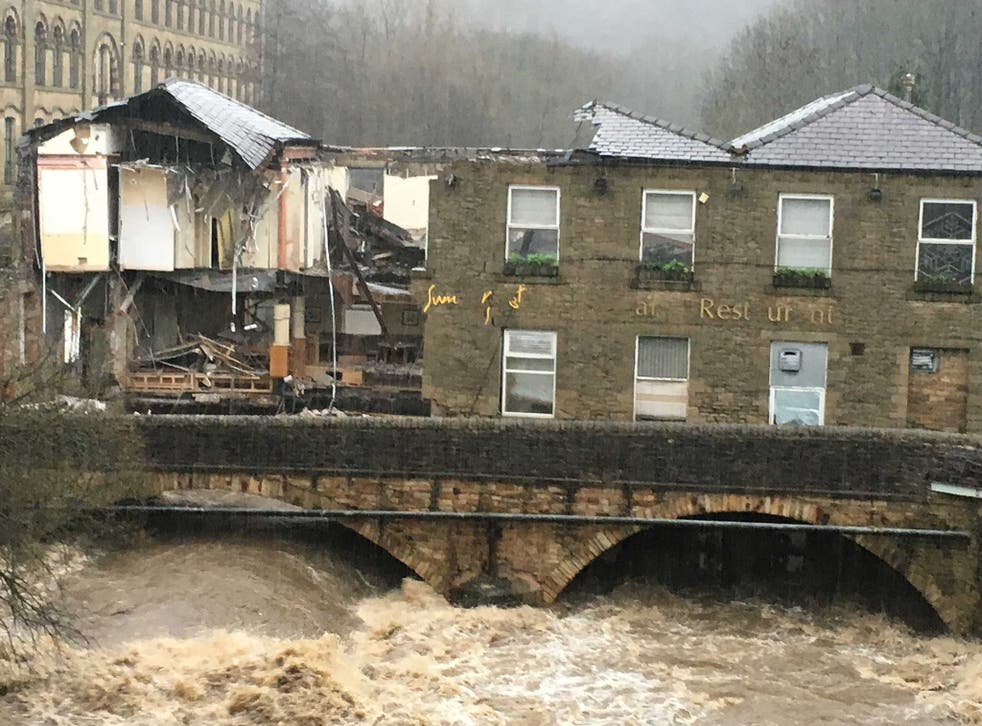 A 200-year-old former pub in Greater Manchester has collapsed due to the flooding on the River Irwell.
The building, in Summerseat near Bury, was The Waterside pub and restaurant atop a bridge crossing the massively swollen river as torrential rain caused flooding across the country.
Locals are now concerned the bridge may not hold.
Resident Andrew Watson told ITV after the building collapsed parts of the road are now blocked, with more of the debris falling into the river and blocking it further.
More than 200 flooding alerts have been issued across the UK for Saturday as torrential rainfall pushes rivers to burst following the wettest December on record.
The Met Office has issued two 'Red' warnings – their most severe – while the Environment Agency has 15 alerts in place warning there is a "danger to life" as a result of the floodwaters.
Among the areas under the most pressure are Lancashire and North and West Yorkshire. "Severe" weather warnings are in place, with residents advised to take action to protect themselves.
The Army has also been deployed in Cumbria, parts of which have already flooded three times in the past month as Storm Desmond swept through, and the EA has confirmed it has 700 staff on call to assist Britons following an emergency government Cobra meeting last.
Join our new commenting forum
Join thought-provoking conversations, follow other Independent readers and see their replies