Men's prison conditions so 'degrading' inmates 'crunch cockroaches underfoot', warns watchdog
One prisoner showed inspectors 'several large cockroaches' in his cell, saying it was common to inadvertently crunch insects under his bare feet when using toilet at night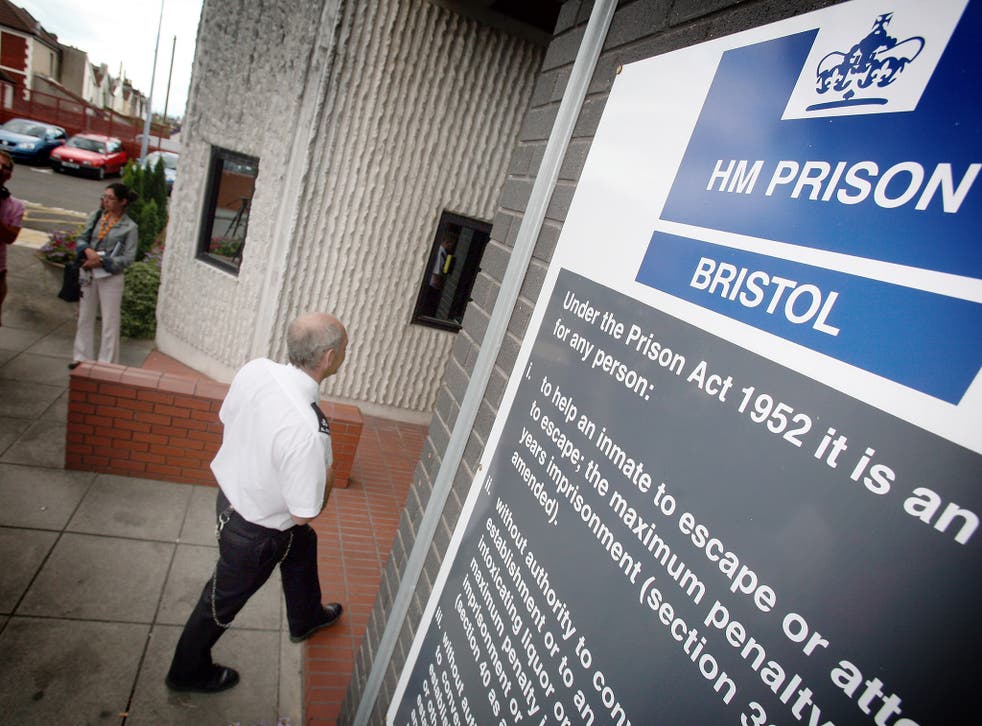 Conditions in a men's prison have deteriorated to the point where inmates are "crunching cockroaches underfoot", the prison watchdog has warned, amid concerns over "chronic" staff shortages in the jail.
Inspectors visiting Bristol prison found that most residential wings were "dirty and dilapidated", concluding that it was fundamentally unsafe for staff and prisoners, with a rate of overcrowding exceeding the institution's capacity by more than 100.
Seven men had died by suicide since the last inspection in 2014, including five in the last 12 months alone. Incidents of self-injury had rocketed – with 230 incidents recorded in the six months prior to this inspection compared with 58 during the corresponding period before the last one.
Violence was rife, with much of it related to drugs and debt, although it had slightly reduced in recent months. One in three men surveyed by inspectors said that they felt unsafe at the time of the inspection – double the number when Bristol was last inspected, and far higher than at similar prisons.
Inspectors reported "broken glass, peeling ceilings, broken fittings, graffiti and damaged floors" as common in the jail, citing that an infestation of cockroaches that had been noted at the last inspection was still present.
One prisoner showed the watchdog "several large cockroaches" in his cell, saying he urinated in the sink instead of using his in-cell toilet at night to avoid inadvertently crunching the insects under his bare feet in the dark.
The lack of investment in the prison's buildings was "plain to see", which had led to the "disrespectful" living conditions to which too many prisoners were subjected, said inspectors.
The report comes just a week after the UK prison watchdog reported a "staggering rise" in violence in prisons across England and Wales over the past year, with not one youth jail in England and Wales now deemed safe.
HM Chief Inspector of Prisons Peter Clarke warned that the general living conditions in many institutions were very poor, citing cases in which prisoners were locked up for almost entire days, both eating and going to the toilet, in cells that are "filthy and dilapidated".
Commenting on his findings at Bristol prison, Mr Clarke said: "At HMP Bristol, it became very clear to us that many of the poor outcomes were directly related to chronic staff shortages and a history of under-investment in the prison.
"This had coincided with a deluge of illicit drugs, fuelling violence, debt, self-harm and physical and mental illness among prisoners. The lack of staff and the poor physical environment on the wings had merely added to the problems."
Frances Crook, Chief Executive of the Howard League for Penal Reform, warned that the "degrading and harmful conditions" in Bristol prison were just one example in a "seemingly never-ending story of wasted potential and human misery".
"With its warnings about suicide, violence, drug-taking and filth, today's report on Bristol – a prison that has faced significant problems for many years – ought to be a shocking anomaly," she said.
"In truth, however, we have seen dozens of such reports as the dangerously overcrowded prison system has descended into deadly chaos. Prisons are out of control, and each week brings yet another instalment in a seemingly never-ending story of wasted potential and human misery.
"Prisoners should not be held, and dedicated staff should not have to work, in such degrading and harmful conditions.
Peter Dawson, director of the Prison Reform Trust, meanwhile said: "How many times can the government respond to a disastrous prison inspection with the promise of jam tomorrow?
UK news in pictures

Show all 50
"The fundamentals of prisons like Bristol remain unchanged — gross overcrowding, and a constant turnover of pointless short sentences. The depressing cycle of failure will not end until those fundamental issues are addressed."
Michael Spurr, Chief Executive of HM Prison & Probation Service, said: "Performance at Bristol isn't at an acceptable level and the Governor is taking robust action to tackle the problems.
"Funding has been increased and more staff, including an additional 29 prison officers, are being recruited. Work to improve safety, reduce violence and improve first night arrangements is being prioritised."
Register for free to continue reading
Registration is a free and easy way to support our truly independent journalism
By registering, you will also enjoy limited access to Premium articles, exclusive newsletters, commenting, and virtual events with our leading journalists
Already have an account? sign in
Register for free to continue reading
Registration is a free and easy way to support our truly independent journalism
By registering, you will also enjoy limited access to Premium articles, exclusive newsletters, commenting, and virtual events with our leading journalists
Already have an account? sign in
Join our new commenting forum
Join thought-provoking conversations, follow other Independent readers and see their replies