UK's soft diplomacy approach to Saudi Arabia is not enough, say families of juveniles still on death row
Exclusive: Families of three juveniles on Saudi death row say nothing has changed and they still have 'the sword over their necks', despite apparent UK intervention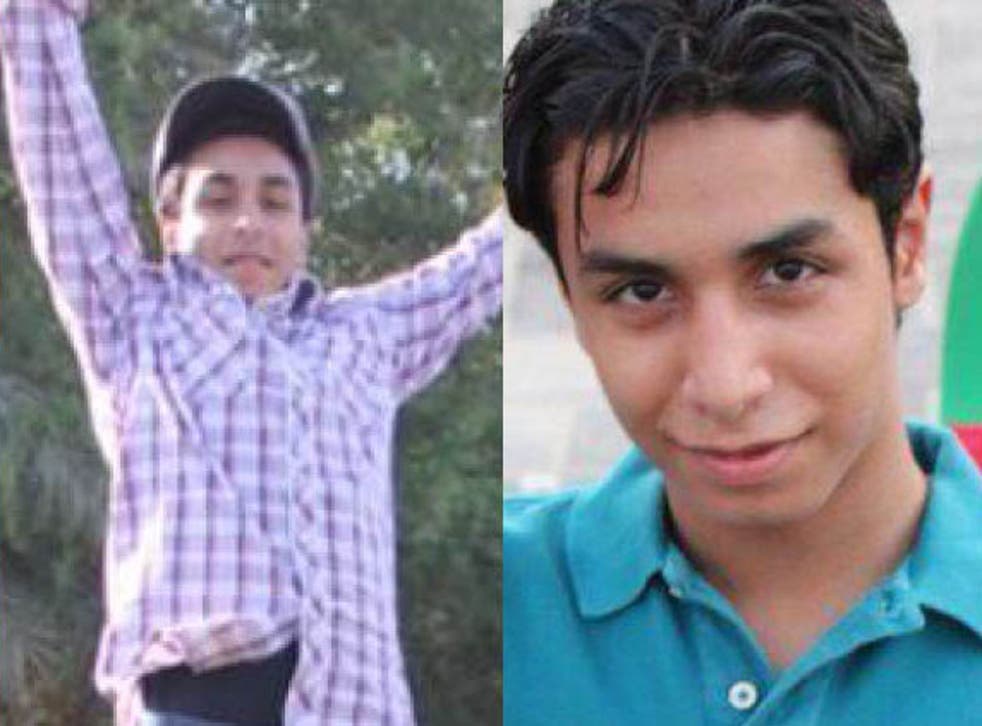 Britain's soft approach to diplomacy with Saudi Arabia is not working – according to the families of three juvenile offenders held up by the UK as examples of its success.
Ali al-Nimr, Abdullah al-Zaher and Dawoud al-Marhoon were all children when they were arrested by the Saudi authorities for attending protests, and yet they were sentenced to death after a secretive court process.
When he defended the Government's meek response to the mass execution of 47 people in the kingdom on 2 January, Philip Hammond said the three juveniles showed Britain could get results in Saudi Arabia when it intervened in specific cases.
But The Independent can reveal that almost exactly three months after the Foreign Secretary told Parliament "private" UK diplomacy had secured clemency for the child offenders, nothing has really changed.
This newspaper understands Mr al-Zaher, the youngest of the boys who was just 15 when he was arrested, has been transferred to a prison in Riyadh where a number of the 47 executions were carried out at the start of the month.
Juveniles on death row in Saudi Arabia

Show all 8
Mr al-Nimr and Mr al-Marhoon have also been moved since the mass executions from Riyadh to the infamous Dammam prison in the Eastern Province, a facility known for housing death row inmates in the past.
According to Reprieve, a human rights organisation which is campaigning on behalf of the juveniles, sudden prison transfers are often a precursor to sentences being carried out, and the families say all three could be executed any day.
Speaking exclusively to The Independent, the family of Mr al-Zaher was hesitant to accuse any one government of failure to intervene on his behalf.
"Our son – who was just 15 when he was arrested and tortured – is awaiting execution in solitary confinement and being held miles away from his home," they said in a statement.
"We are in agony wondering what will happen to him. Other governments keep saying they 'do not expect' him and the other juveniles to be executed, but where is the proof?
"We sincerely hope that the international community will demand the release of Abdullah and the other juveniles arrested at protests."
Mohammed al-Nimr, Ali's father and the brother of Sheikh Nimr al-Nimr, said his son and Mr al-Marhoon had been moved but no reason was given to explain it. He said the pair were "on death row with the sword over their necks".
Maya Foa, head of Reprieve's death penalty team, said: "It is shocking that the Saudi authorities are still threatening to execute three juveniles who were arrested at protests, tortured into dubious 'confessions', and sentenced to death in flagrantly unfair trials.
"The British government and others have spoken of Saudi assurances that Ali, Dawoud and Abdullah won't be killed – but this is cold comfort to the families who are terrified of what might happen, amid a surge in Saudi executions."
She added: "Governments that are close to Saudi Arabia – the UK included – must firmly demand the release of the juveniles without delay."
Speaking on the BBC's Today programme on Monday, David Cameron stood by Britain's relationship with Saudi Arabia in spite of growing concerns over human rights abuses in the kingdom.
"First of all, our relationship with Saudi Arabia is important for our own security. They are opponents of Daesh [Isis] and the extremism [they spread]," the Prime Minister said.
Mr Cameron's praise for the autocracy comes days after Saudi Arabia's foreign minister Adel al-Jubeir urged Britain to "respect" his country's use of the death penalty.
He told Channel 4 News: "With regards to the perception of Saudi Arabia among the British public, this is a problem we need to work on."
Join our new commenting forum
Join thought-provoking conversations, follow other Independent readers and see their replies