UK snow: More power cuts and travel disruption as weekend whiteout continues
Jamie Lewis
Sunday 24 March 2013 15:39 Comments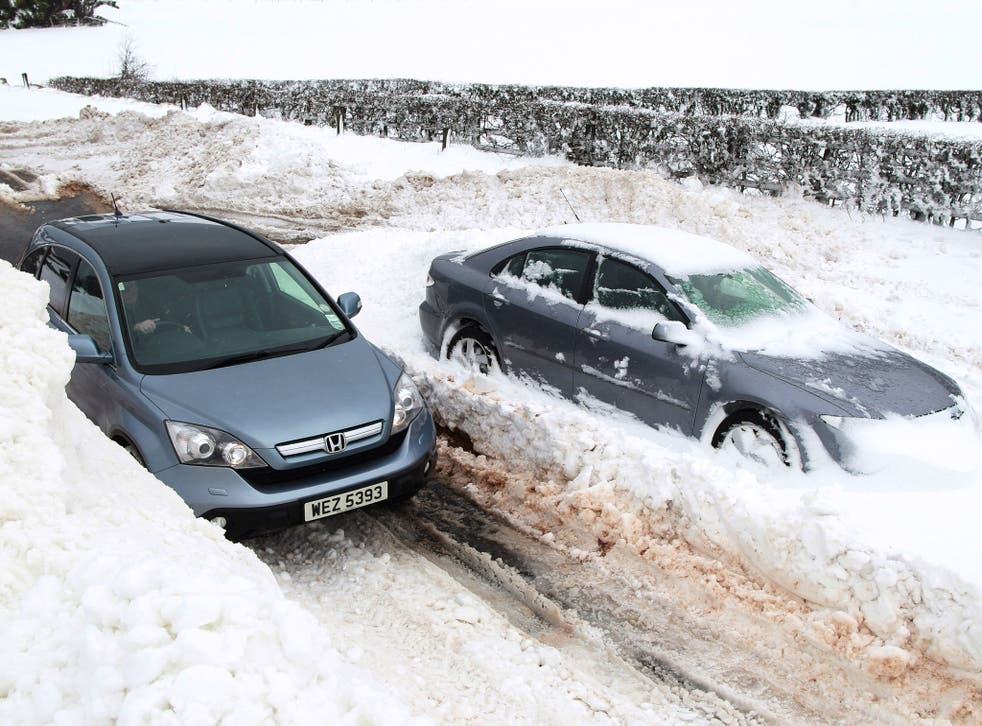 Further snow falling on Britain has caused power cuts and travel disruption across the country.
A 27-year-old is thought to have died as a result of the extreme weather after his body was found under more than a foot of snow by a farmer in Lancashire.
The man went missing while walking home in the cold after a night out.
Lancashire Police say the death, which is not being treated as suspicious, was a "very tragic incident".
Thousands of homes across the country have been left without electricity after power lines were knocked out in Scotland, Northern Ireland and some of northern England.
Northern Ireland Electricity said 29,000 homes were still waiting to be reconnected - and it could be days before they all have power.
Around a thousand homes in the same area were also without water.
In Scotland, around 5,000 homes in Kintyre have no power, with a further 1,500 homes in the north and west of Arran also without electricity.
The Met Office continues to have a yellow "be aware" weather alerts in place in larges swathes of Britain from south-east England up to southern Scotland, covering Northern Ireland and north-east Wales.
In Wales, most major transportation routes have now been treated but authorities have warned that smaller roads may still be dangerous.
North Wales Mountain Rescue association advised locals not to use their sat-navs to travel in case they lead them on to untreated, and potentially treacherous, roads.
Chief Inspector Dave Roome added that people in emergency situations may have to wait longer for help. He said: "Due to the extreme weather conditions the emergency services are experiencing difficulty in reaching certain areas, please understand that it make take longer to respond to incidents.
"We are also urging people to check on neighbours and vulnerable people to ensure they are safe."
In Cumbria, police have said that 25 people had abandoned their cars and sought shelter in hotels in Millom, another 10 people fled to The Brown Cow Inn at Waberthwaite and two people at the Kings Arms at Bootle.
A spokeswoman added: "The police and partner agencies will try to reunite these people with their cars today as they try to clear the roads."
She added that some areas of the county were still being subjected to severe winds of up to 45mph, causing snow to continue to drift onto the roads even as they are being cleared.
"This means that many of the roads are still blocked," the force spokeswoman added.
"Some cars that were abandoned on the roads have been totally covered in snow, and in some places the drifts are up to 20 feet high.
"Highways, police, mountain rescue teams and other agencies will continue to try to clear the roads during the day.
"The advice remains, for your own safety please do not travel in the south and west of the county unless absolutely necessary."
Cumbria Police appealed for any motorists who have abandoned their cars on the A595 to contact them on 101.
A spokeswoman said: "The road remains blocked at this time and a large number of vehicles which were forced to be abandoned need to be recovered.
"Police are asking for anyone who has a vehicle stuck on this stretch of road to contact them so co-ordinated arrangements can be made to have the vehicles recovered and assist with clearing the road.
"Please do not attend for your vehicle until you have been requested to do so as there may be a significant delay and weather conditions are still challenging."
Register for free to continue reading
Registration is a free and easy way to support our truly independent journalism
By registering, you will also enjoy limited access to Premium articles, exclusive newsletters, commenting, and virtual events with our leading journalists
Already have an account? sign in
Join our new commenting forum
Join thought-provoking conversations, follow other Independent readers and see their replies