UK to launch air strikes against Isis in Syria 'as soon as enough Labour MPs provide backing', says Philip Hammond
Foreign Secretary says an escalation of Britain's military role in Syria is 'not at all' off the table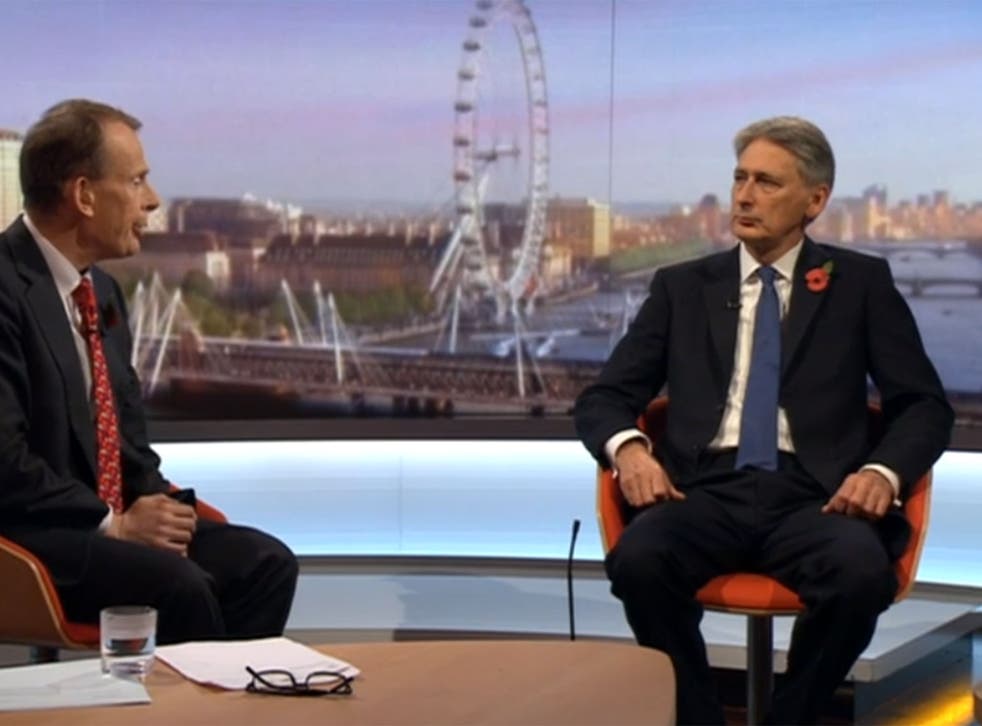 Britain will escalate its military campaign against the Isis militant group in Syria as soon as a consensus can be reached in Parliament, the Foreign Secretary has said.
It was reported early last week that David Cameron had scrapped plans for air strikes in Syria after an influential Tory-controlled Commons committee described his approach to the issue as "incoherent".
But it has since emerged that a terrorist bomb was the most likely cause of the Russian plane crash in Sinai – and asked on the BBC's Andrew Marr Show if air strikes were now off the table, Philip Hammond said "no, not at all".
"When we think it is the right thing to do and we are confident we have a consensus in the House of Commons to get a majority we will go back to Parliament," he said.
The Foreign Secretary said the Labour party was "a different organisation to that which we faced before the summer", and said that even its leader Jeremy Corbyn appeared yet to have made up his mind on Syria.
"There's an exploration process here, whether or not a majority of Labour MPs would in fact back this action," he said.
Speaking about the Metrojet crash in Egypt itself, Mr Hammond reiterated that "based on all the information available to us, we think it is more likely than not that it was caused by an explosive device".
"We're now seeing others taking similar action to us – most importantly the Russians, who are right at the heart of the investigation into the crash of their plane," he said.
The Foreign Secretary said the British Ambassador to Egypt, John Casson, had told him the mood was "calm" in Sharm el-Sheikh itself, where thousands of British tourists remain stranded.
In pictures: Russian air strikes in Syria

Show all 19
While officials have yet to confirm who was behind the apparent bombing of the Russian jet, which killed all 224 people on board, Isis's own claims of responsibility have portrayed it as an act of retaliation for Russian air strikes in Syria.
And asked if the issue could galvanise the response from international powers to Isis in Syria, Mr Hammond told Andrew Marr that "on this particular issue, we see eye to eye with the Russians on lots of things".
"The one thing we disagree on is the future of Bashar al-Assad."
"What would be perfect would be if President Assad could wake up one morning and decide he doesn't want to do this anymore. The one person who can convince him to do that is President [Vladimir] Putin – and I hope at some point in this process he does."
Mr Hammond said talks would take place "next Saturday" with Russia over the best approach to the Syrian crisis.
Join our new commenting forum
Join thought-provoking conversations, follow other Independent readers and see their replies