UK weather: Emergency service cuts hampering rescue mission, says union boss
General secretary of the Fire Brigades Union warned rescue services 'urgently need' more resources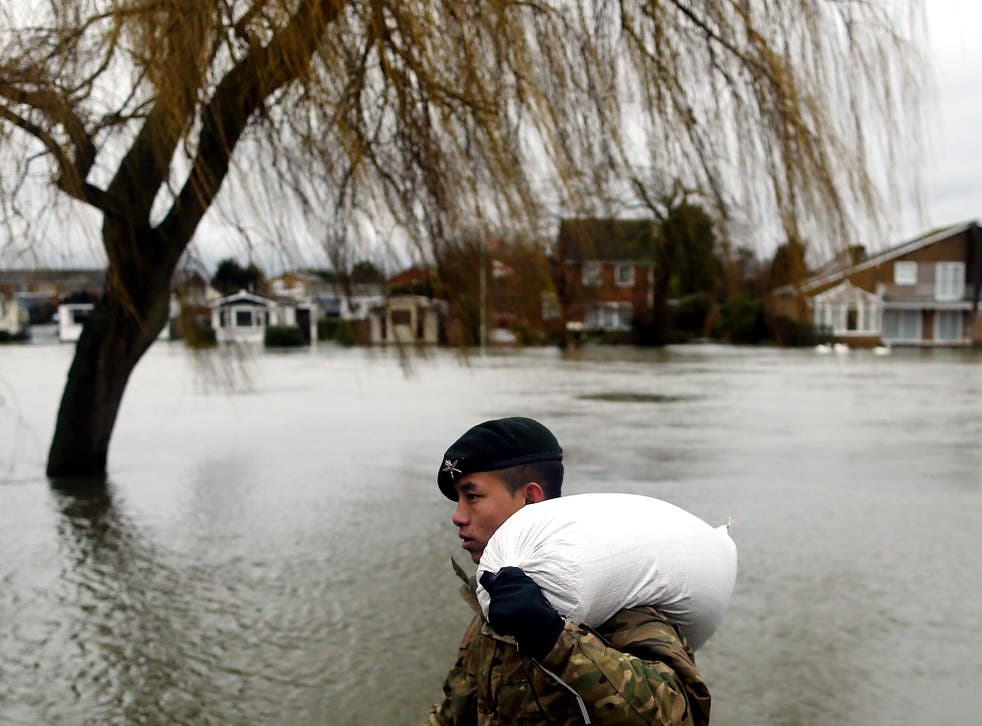 Cuts to emergency services are hampering the flood recovery effort with fewer people and less equipment available for areas desperately in need of help, the general secretary of the Fire Brigades Union (FBU) has claimed.
Matt Wrack spoke out on a visit to the flooding command centre in South-west England, saying that rescue services "urgently need" more resources to cope. He said: "Wherever there's a flood, firefighters are doing a fantastic job helping to keep people safe and reduce the damage done to local communities. But our members are reporting that cuts to fire and rescue services are making it very difficult to cope with the demands of such extreme weather.
"Shortages of both people and equipment are proving real problems, with some fire services refusing requests to send equipment elsewhere in case it is needed in their own areas. Despite incredible claims that money is no object, fire and rescue services urgently need more resources to cope with such challenging conditions."
The FBU also said the military personnel involved in flood relief efforts did not have enough dry suits, and that in some cases local fire and rescue services had been asked to lend them theirs.
The extreme weather caused further chaos today. A cruise ship passenger died and another was airlifted to shore after their 22,000-tonne vessel was hit by a freak wave in the English Channel. It battered the British cruise ship Marco Polo as it headed for its home port of Tilbury at the end of a 42-night voyage.
Water crashed through a window injuring some of the 735 mainly British passengers. An 85-year-old man and a woman in her 70s were airlifted off the ship, but the man later died.
Flooding in England

Show all 20
Elsewhere, rush-hour rail commuters faced severe delays after the Purley to Redhill line out of London was closed near Merstham Tunnel at 5.20pm. A spokeswoman for Southern Rail said: "This is our main line coming out of London so there have been knock-on delays as a result."
An elderly man who was hit by a falling tree in Wales on Wednesday died in hospital yesterday. Bob Thomas, 77, was at home in Caethro, Caernarfon, when the tree fell.
As further heavy rain was forecast, more than 1,000 homes were evacuated in the Thames Valley and the West Country.
Peter Willison, a spokesman for Environment Agency, told a Whitehall briefing that the flooding could continue to affect homes, businesses and land for at least another week.
"We are likely to see more severe flood warnings along the south coast representing the risk from very strong and big waves. We expect levels on slow responding rivers like the Thames, like the Severn, to stay high for a number of days to come. This remains a very live event. I expect we will see further property flooding."
The agency has 22 severe flood warnings – meaning risk to life – in force along the Thames, the Severn in Gloucester and on the Somerset Levels, and hundreds more flood warnings across England and Wales.
Windsor, Maidenhead, parts of Surrey and communities in Buckinghamshire, West Berkshire and Reading are at risk from the Thames, where water levels have risen to 60-year highs.
Communities along the Stour and Medway in Kent and along the Severn in Gloucestershire and Worcestershire, are also under threat. Saturated ground could also lead to flooding around Croydon, Hambledon, Basingstoke and Lower Farringdon in Hampshire.
Severe gales, large waves and high sea levels are threatening coastal flooding on the Dorset coast, while the south coast from Cornwall to East Sussex is also at an increased risk, the Environment Agency said.
Paul Leinster, chief executive of the EA, said: "People should remain vigilant and take action where necessary. Flood water can be dirty and dangerous and people are advised not to walk, drive or play in it."
The Royal Family lent a hand yesterday as the Duke of Cambridge and his brother Prince Harry joined colleagues from the armed forces in helping with the supply of sandbags to defend Datchet, Berkshire.
The Queen has also shown her support for farmers affected by the flooding on the Somerset Levels by contributing feed and bedding from the royal farms at Windsor, a spokesman for Buckingham Palace said.
Visiting Blackpool to view relief efforts, David Cameron said: "People need to be reassured that we will do whatever it takes to help people during this very difficult time."
Join our new commenting forum
Join thought-provoking conversations, follow other Independent readers and see their replies