UK weather: Fury rises with the flood waters causing havoc and evacuations across Britain
More than 5,000 properties affected in past two months, with 150 flood warnings still in place as misplaced subsidies, cost-cutting and official complacency blamed for exacerbating problem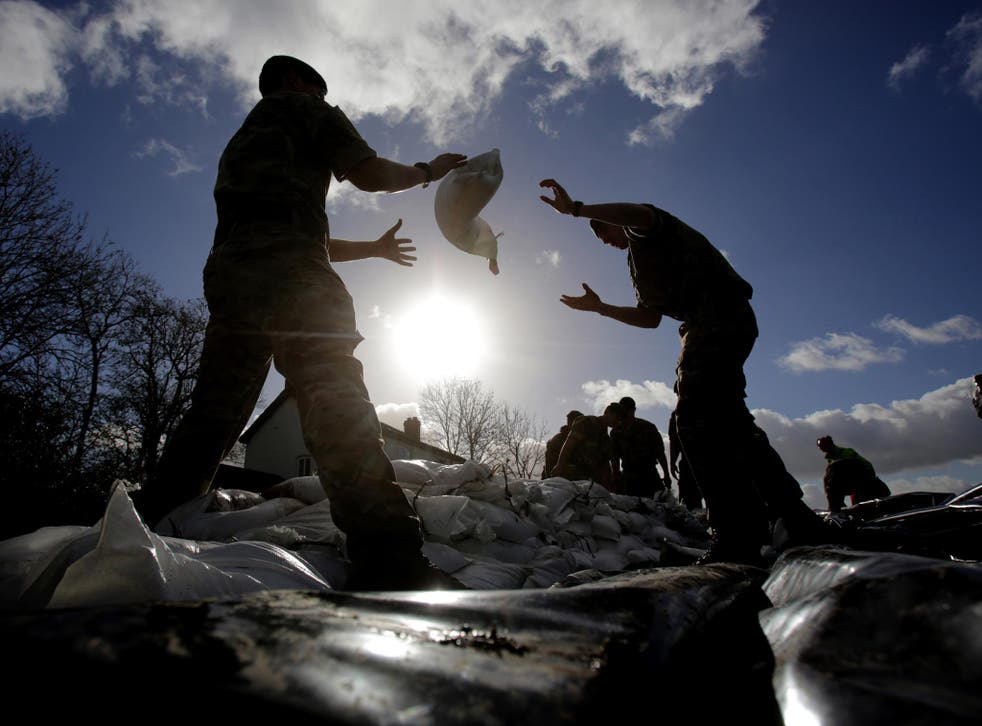 Apart from the occasional hedgerow poking above murky waters, and an isolated farmhouse standing in defiance of the floods, there is little to suggest that large tracts of Somerset contain anything but lakes. The farmland, villages and rural roads are submerged, and the waters are still rising. So is the rage.
Gill Slattery, a local councillor, spoke for many when she said: "It's hard to imagine how those poor people of Moorland will have felt as they saw the flood water creep up bit by bit into their homes. People are suffering from psychological trauma and sleepless nights, so it's no surprise they are getting angry."
Yet life here is only about to get harder. The chaos and anguish in Somerset, caused by weather that has produced the wettest January and February in England and Wales for 130 years, shows no sign of abating this weekend.
Nationwide, around 5,000 homes have been affected by the flooding, including 40 in Somerset, where a further 80 homes were evacuated overnight in anticipation of a renewed rise in water levels as fresh storms batter the south coast.
Last night there were two severe flood warnings – meaning "danger to life" – in the Somerset Levels, with a further 150 flood warnings and 300 flood alerts in England and Wales.
In pictures: Storms batter the UK

Show all 35
Flooding also hit parts of Surrey, London, Buckinghamshire, Oxfordshire and Kent yesterday, where the village of Bridge, near Canterbury, was inundated for the second time in a week, causing spring water and sewage to seep up through floorboards.
Royal Marines and soldiers were deployed to help with sandbagging in Essex and the Somerset Levels, where police arrested three men overnight suspected of looting heating oil from evacuated homes.
Rail engineers were also trying to shore up damaged infrastructure, in particular the embankment at Dawlish in Devon, where work was being undertaken to prevent a further collapse of the sea wall carrying the main west coast line into Cornwall.
The Somerset Levels are a unique environment – even locals will admit they are prone to flooding. Yet as the repair and resistance work continued, experts said last night that Britain was paying the price for a catalogue of failures to manage the built and natural environment, to reduce the effects of flooding considered inevitable in the face of climate change and the intensive use of land in both town and country.
Fiona Howie, head of planning for the Campaign to Protect Rural England, said: "We must expect to experience warmer, wetter winters, so it is not sufficient to dismiss flooding as the natural order of things. The Environment Agency and the Government need to develop a coherent national approach to dealing with this crisis."
Rob Cunningham, head of water policy at the Royal Society for the Protection of Birds, said: "There is a wealth of evidence that our soils are in a terrible state. They are heavily compacted, which means water just pours off."
The effects of the single farm payment, an EU subsidy which encourages the clearance of vegetation from river banks, has also exacerbated the run-off of water from the hills. This is in stark contrast to advice that more needs to be done to trap water at higher levels as well as dredging rivers on lower ground, a key factor in the Somerset flooding.
Bob Ward, policy director at the London School of Economics' Grantham Institute, which studies the impact of climate change, criticised the Environment Secretary Owen Paterson for failing to secure the necessary investment in flood protection.
He said: "Much of the debate has focused on the perceived shortcomings of the Environment Agency but a more important issue is why the Environment Secretary is failing to make the country more resilient to the risk of flooding made worse by global warming."
Building in areas at high risk of flooding, which rose last year as a result of pressure to provide new housing, has also been highlighted as an example of flood prevention policy going backwards. It emerged last week that local authorities in England and Wales allowed 87 developments – comprising 560 homes – to proceed in the last year despite advice from the Environment Agency (EA) that they were in areas at high risk of flooding.
David Cameron promised last night to do "everything that can be done" to help Somerset as he toured swamped sites and met families forced by record water levels to abandon their homes.
After arriving by helicopter for a hastily arranged visit to the county, Mr Cameron said: "It's a biblical scene. The scale of it here in Somerset is immense. Clearly people here have faced a very tough time and continue to face a tough time, and that's why we have got to do everything we can to help."
He repeated criticism of the EA – whose chairman Lord Smith of Finsbury visited Somerset yesterday for the first time since the crisis began – for stopping dredging rivers in the 1990s.
Lord Smith is due to retire in the summer. His departure will be welcomed by Government figures as an opportunity to give fresh direction to the EA. But while ministerial sources acknowledged there had been "some disgruntlement" with his performance, they said there was little pressure for him to step down before his term ends in July.
Another Whitehall source said the Government was broadly happy with the EA's response to this winter's unprecedented weather conditions. He said: "Chris Smith believes it is coming under unfair attack. That is why he went to Somerset."
Privately, however, ministers admitted last night that they had been slow to respond to the scale of the damage in the West Country. One said: "This hasn't been our finest hour – there's no disguising that. It comes to something when the Prince of Wales is more sympathetic to the public mood."
Join our new commenting forum
Join thought-provoking conversations, follow other Independent readers and see their replies