UK weather latest: Snow continuing to delay flights, close schools and cause travel woes
Thundersnow, up to 20cm deep in high altitude spots, will continue to blanket north of England and Scotland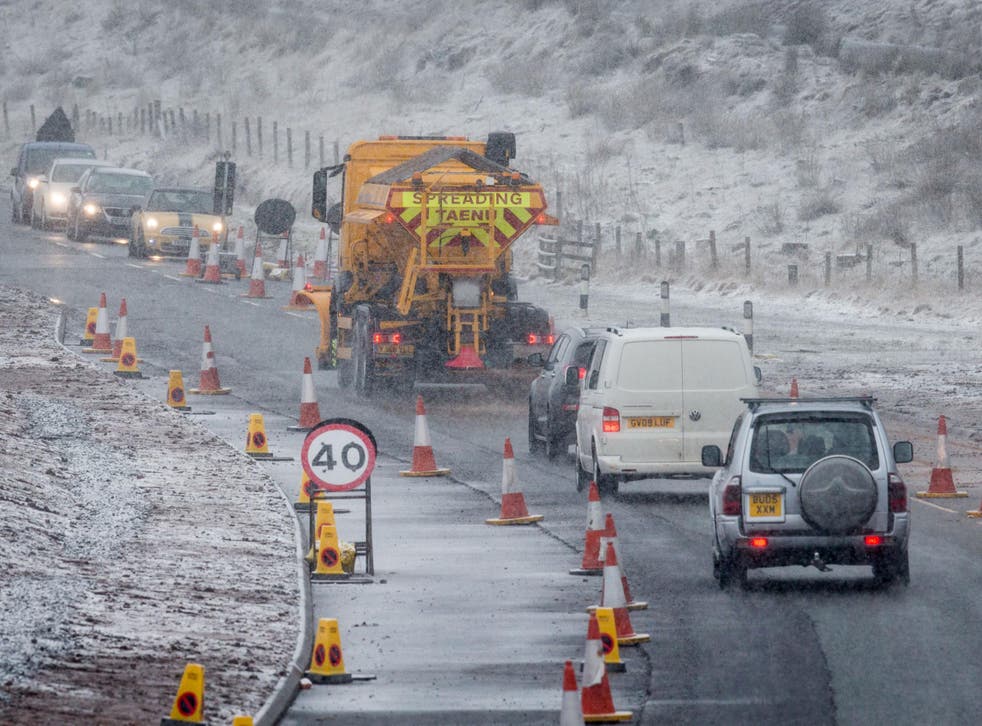 A blend of snow, heavy rain and gale-force winds is set to cause further travel chaos and school closures.
The Met Office says 70mph winds from the northwest will bring extra patches of so-called 'thundersnow' across the UK on Friday.
Flights were being cancelled this morning by airline Aurigny out of London City Airport and Gatwick was also expected face delays.
The blanket of snow, up to 5cm deep away from coastal areas and up to 20cm deep at areas of altitudes above 200 metres, has caused travel woes in the southeast.
Fourteen schools in Surrey, mostly primary and junior schools, are closed in the face of icy conditions for commuters.
Blizzards will be confined mostly to the north and eastern parts of Scotland – where temperatures could drop to -6C – and will settle by around 11am.
Flooding however remains a constant threat to spots along almost the entire south east and southern coastline over the weekend.
The Environment Agency (EA), as of 8.45am, has 12 severe flood warnings in place, 87 flood warnings and 85 flood alerts in place.
Around 2,500 people are already being evacuated from Jaywick village in north Essex and 5,000 properties in Great Yarmouth, Norfolk, were expected to be evacuated on Friday night.
The Norfolk seaside town, Oulton Broad further south in Suffolk, Southwold, Snape, Iken and Lowestoft are all on rare high flood risk alerts for 9.45pm.
Ipswich Quay, the Deben Estuary and Felixstowe could be swamped by flooding as early as 12.30pm.
In Lincolnshire, 100 soldiers have been deployed to "warn and inform" about potential risks from a flood surge expected at lunchtime.
EA chief executive Sir James Bevan told BBC Radio 4 he did not think the storm would be as powerful as the 1953 east-coast floods.
The deluge, described as the worst national peacetime disaster to hit the UK, killed 58 people in Canvey Island and 37 in Jaywick.
He said: "It's very important to underline that there are two high tides today coming down the east coast, north to south.
"The first is coming in at the moment slightly under the height that we expected, the second, due this evening, may come out slightly higher than has been anticipated.
"And so we will stay very active throughout the day on the ground, we will continue to warn and inform the communities that are at risk, and I would like to urge everybody to remain vigilant and to continue to follow our flood warnings."
Winds of up to 93mph were recorded in Yorkshire yesterday and up to eight inches of snow was forecasted to hit the UK until Saturday.
Tube stations, including Canary Wharf's, were also closed yesterday due to flooding.
Up to seven inches in snow fell in Scotland overnight and snow gates on the A93 closed between Spittal of Glenshee and Braemar.
There were either accidents or traffic jams, in freezing conditions, along the M74, M77 and A9.
Met Office chief meteorologist Paul Gundersen said: "There's a chance any snow that settles could be disruptive to transport and possibly lead to interruptions to power supplies. Another potential travel problem could be the ice risk overnight.
"Forecasting snow is always challenging and there's often a fine line between whether it will rain or snow in a particular location depending on slight changes in air temperature. Keep an eye on the forecast and warnings for your area for the latest information."
RAC spokesman Simon Williams said: "Motorists all over the UK are facing very challenging driving conditions from the full array of winter weather.
"Driving in rain, snow and ice is a real danger so the best advice is to drive more slowly, leave far more space behind the car in front than normal, and expect the unexpected.
"If you are unlucky enough to find yourself slipping and sliding on the road, change to a higher gear to gain traction, be gentle with the accelerator and you should keep control. Also, remember to give yourself more time to brake and apply the pressure on the brake steadily."
Join our new commenting forum
Join thought-provoking conversations, follow other Independent readers and see their replies