West Midlands flooding: A month's worth of rain falls in one hour leaving motorways closed and passengers trapped in a bus
FIrefighters received more than 900 calls for help during the thunderstorms on Sunday night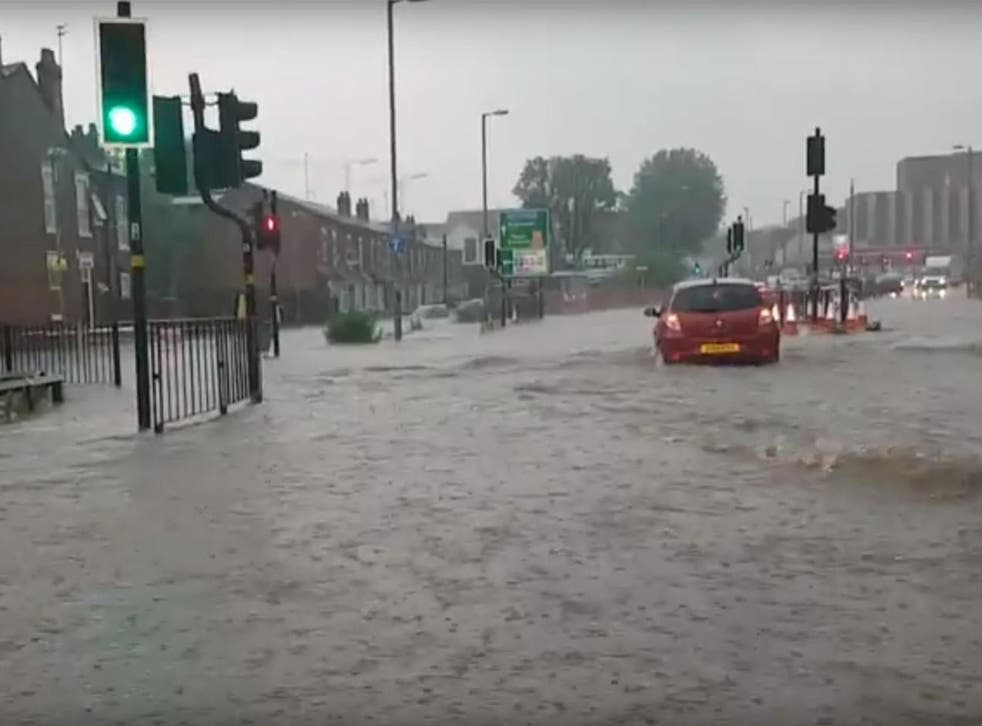 Flash floods have wreaked havoc in the West Midlands after more than a month's worth of rain fell in just one hour.
The Met Office have warned that the thunderstorms are likely to last into Monday morning and that fast flowing or deep floodwater poses a danger to life.
Parts of the M5, M6 and M42 were closed by Highways England and the Environment Agency issued 26 flood warnings requiring immediate action.
Firefighters had to rescue passengers from a double decker stranded in 5ft of water in Birmingham.
The University of Birmingham was forced to close its main sports and fitness centre because of the flooding
Footage posted on social media also showed stranded cars in the Bearwood and Kings Heath areas of the city.
The West Midlands Fire Service said they had received over 900 calls, with its crews attending over 100 incidents in four hours.
It warned: "We can't stress enough the importance of not driving through flood water. Doing so puts you and your vehicle in danger. We do not assist in removing cars from water unless there is a risk to life."
The Met Office issued a yellow warning for flooding and power cuts across the southern half of England until 6am on Monday.
"Thunderstorms will continue to develop over the southern half of the UK throughout Sunday with some of these persisting into Monday morning.
"While many areas will see small amounts of rain a few locations may see some very large totals with 30mm possible within an hour and perhaps up to 80mm in three hours.
"Hail and thunder are also likely as well as some locally strong gusts."
The most severe thunderstorms are expected over parts of east and north Wales and the West Midlands.
At 6.30pm on Sunday the Met Office tweeted: "Winterbourne near Birmingham has recorded 56.8mm of rain in the past hour – that is almost the total expected for the month of May."
Train operator CrossCountry said some of its services had been disrupted by severe weather near Birmingham New Street, which led to signalling problems.
In addition to the 23 flood warnings, alerts have been issued for 47 other areas – with residents urged to prepare for possible flooding.
With photos of flooding appearing on social media, the West Midlands office of the Environment Agency warned its followers not to be "flood tourists".
"If the emergency services have to rescue you, it could prevent them getting to someone else who needs urgent help," it said.
Despite the torrential rains in "very localised" areas, Met Office meteorologist Craig Snell said Monday could be the hottest day of the year so far.
Temperatures could hit highs of 28C or 29C in the south east, potentially surpassing the 2018 record of 29.1C on April 19 in St James' Park, central London.
UK news in pictures

Show all 50
Mr Snell said: "It all depends how much cloud develops. There's a chance we could see the warmest day of the year.
"It will be quite widely into the 20s across many parts of the UK.
"For a bank holiday Monday, it's not looking too bad.
"Further thundery downpours might appear in the late afternoon – not everyone will see them but if you do see one they could be quite nasty.
"The areas worst hit on Sunday might escape."
Scotland would see the most prolonged sunshine, he said, but most areas would start dry and cloud cover quickly burn off.
Additional reporting by PA
Register for free to continue reading
Registration is a free and easy way to support our truly independent journalism
By registering, you will also enjoy limited access to Premium articles, exclusive newsletters, commenting, and virtual events with our leading journalists
Already have an account? sign in
Register for free to continue reading
Registration is a free and easy way to support our truly independent journalism
By registering, you will also enjoy limited access to Premium articles, exclusive newsletters, commenting, and virtual events with our leading journalists
Already have an account? sign in
Join our new commenting forum
Join thought-provoking conversations, follow other Independent readers and see their replies