Storm Abigail to bring a month's worth of rain in two days
Britain's first named storm will give way to a very wet weekend, with some areas receiving up to a month's rainfall in a couple of days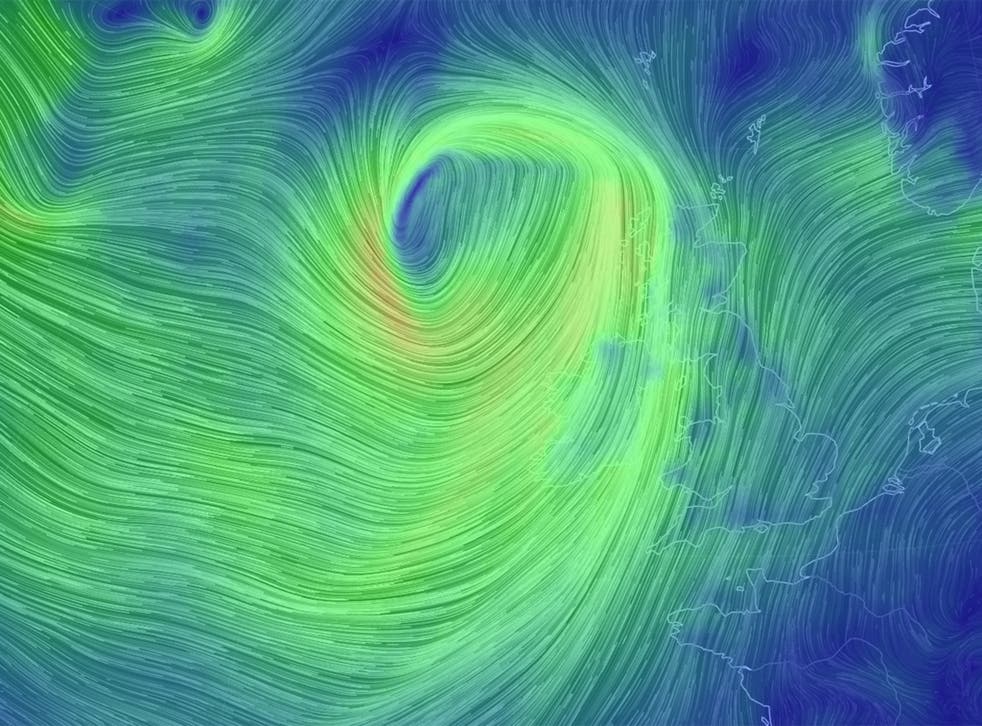 Storm Abigail is set to hit Britain earlier than expected, sparking warnings of lightning, 90mph winds and likely disruption to transport and power networks.
And in a new set of warnings, the Met Office said a month's rain could fall in less than 48 hours over the weekend, bringing flooding to some areas.
Abigail represents a landmark for UK forecasting, being the first time a severe weather system has been given a name under the Met Office's "Name Our Storms" project.
The Met Office's severe weather warning for Abigail was updated on Thursday morning, bringing forward the expected start of the storm to early evening and including the Shetlands in an "amber" warning for wind.
Widespread gusts of 70 to 80mph were forecast, increasing to 90mph in exposed locations.
Chief meteorologist Paul Gunderson said: "In terms of impact, the Western Isles, north of Scotland and Orkney could see winds of 90mph with potential impacts upon transport and maybe power supplies too.
"We could see quite a lot of lightning as well and high tides, so with that in mind we have upgraded to amber."
Ferry operators warned the public to "think carefully" before trying to travel on the west coast, while the RAC warned of likely disruption to motorists.
RAC spokesman Simon Williams said: "Strong, sudden gusts of wind can be very dangerous for motorists driving in exposed areas so we are urging motorists not to be caught out by Storm Abigail.
"The 'invisible' force of the wind can lead to vehicles unexpectedly being knocked off course, sometimes with devastating consequences."
When Britain's first named storm does subside through Friday morning, it will quickly be followed by a strong, wet system moving across England, Wales and Scotland.
Beginning Saturday afternoon, the Met Office has issued a new weather warning for severe rain over the weekend.
Some areas of northern Wales and northwest England could see as much as 200mm of rain between Saturday afternoon and the early hours of Monday.
"This amount of additional rainfall falling on to already saturated ground is likely to lead to flooding, either from standing water, or from rivers bursting their banks," the Met Office said.
Despite the dreary outlook, the Met Office remained positive about the first ever use of its "Name our Storms" pilot project.
It is hoped that the joint scheme by the Met Office and Met Eireann will help raise awareness of severe weather and ensure greater safety for the public.
Storms are being named when they are deemed to have the potential to cause a substantial impact in the UK and/or Ireland, officials said.
Abigail is the first on the list of winning names chosen by public vote. It will be followed by Barney, Clodagh, Desmond, Eva, Frank, Gertrude, Henry, Imogen, Jake, Katie, Lawrence, Mary, Nigel, Orla, Phil, Rhonda, Steve, Tegan, Vernon and Wendy.
Register for free to continue reading
Registration is a free and easy way to support our truly independent journalism
By registering, you will also enjoy limited access to Premium articles, exclusive newsletters, commenting, and virtual events with our leading journalists
Already have an account? sign in
Register for free to continue reading
Registration is a free and easy way to support our truly independent journalism
By registering, you will also enjoy limited access to Premium articles, exclusive newsletters, commenting, and virtual events with our leading journalists
Already have an account? sign in
Join our new commenting forum
Join thought-provoking conversations, follow other Independent readers and see their replies