Ukip candidate William Henwood in racism row over claim that Lenny Henry 'should emigrate to a black country'
William Henwood tweeted that Lenny Henry did 'not have to live with whites'
Antonia Molloy
Monday 28 April 2014 15:04 Comments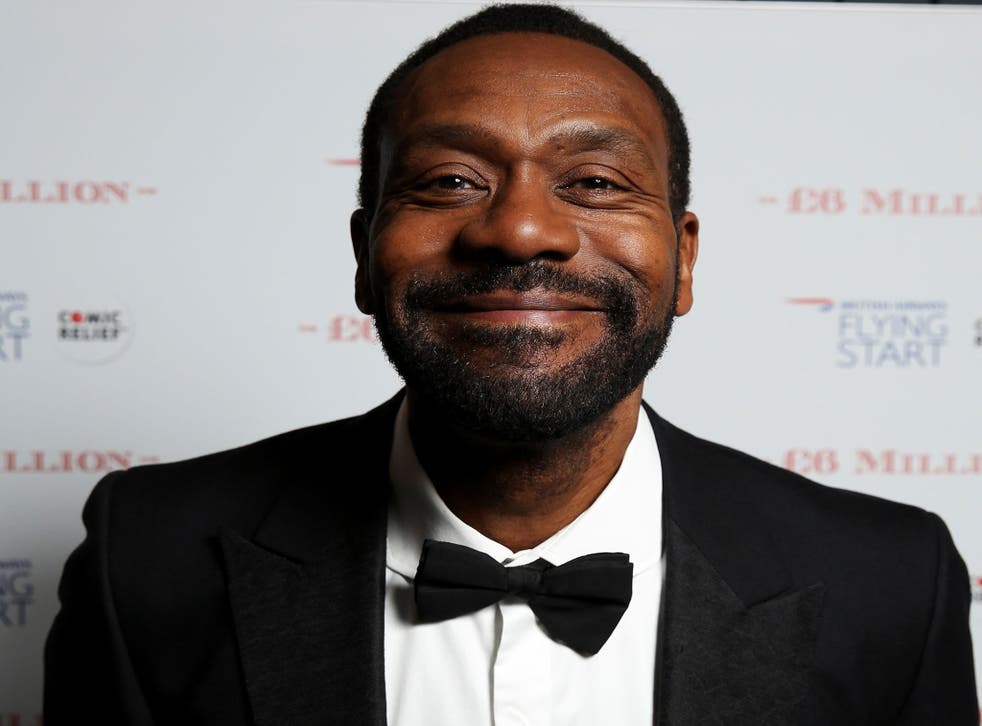 Ukip has been embroiled in a fresh row after one of its candidates sent a tweet in which he suggested that comedian Lenny Henry should emigrate to a "black country".
William Henwood, who is standing in local elections in Enfield, north London, made the comment in response to recent remarks by Mr Henry that ethnic minorities are poorly represented on British television and in the media generally.
It is the latest racism controversy for Nigel Farage's party, which was last week forced to suspend the "poster boy" of its European election broadcast, after it was revealed he had posted a series of vile racist comments on Twitter.
In a statement Ukip said it was a "non-racist, non-sectarian party whose members are expected to uphold these values".
But Mr Henwood has defended the tweet, in which he said: "He (Henry) should emigrate to a black country. He does not have to live with whites."
Ukip gaffes and controversies

Show all 18
Mr Henwood told the BBC: "I think if black people come to this country and don't like mixing with white people why are they here? If he (Henry) wants a lot of blacks around, go and live in a black country."
Roger Helmer, a Ukip MEP for the East Midlands told the broadcaster that Mr Henwood's comments did not reflect the attitudes of the party as a whole.
He said: "We have an individual who has made totally unacceptable comments but you will find individuals like that in all parties, and behaviour like that in all parties.
"I understand why the media and the other parties want to focus on those particular claims about UKIP.
"We will deal with this appropriately when the party has had time to look at the facts and in the meantime we are quite clear that we are not a racist party and we do not accept comments of that kind."
A Ukip spokesman told the BBC: "Any breach of our rules will be duly investigated and action will be taken.
"However one has to question why the other parties are spending hours behaving like secret police and trawling through the social media of UKIP candidates who are everyday men and women, rather than actually doing politics.
"Perhaps if they did they would be better able to tackle us on policy, rather than having to rely on smear campaigns to try to undermine UKIP's increasing popularity.
"Were we to return the favour we would find an even greater wealth of embarrassment and disgrace in the other three parties' ranks to also spread across the media."
Last week builder Andre Lampitt, who was one of the principal characters in Ukip's European election broadcast, was suspended after it was revealed he had sent a series of tweets expressing his unsavoury views on everything from Muslims, to AIDS, Syria and forced sterilisation.
The anti-EU party was also criticised for using an Irish migrant actor on a poster championing British workers.
However, the party enjoyed some relief on Sunday. A YouGov poll carried out for The Sunday Times revealed that the party has surged into the lead in the European election contest.
Ukip recorded 31 per cent support, putting it three points ahead of Labour, with the Conservatives languishing in third place on 19 per cent.
It is the first time the company has given Ukip an outright advantage in the race, ahead of voters going to the polls next month.
Register for free to continue reading
Registration is a free and easy way to support our truly independent journalism
By registering, you will also enjoy limited access to Premium articles, exclusive newsletters, commenting, and virtual events with our leading journalists
Already have an account? sign in
Join our new commenting forum
Join thought-provoking conversations, follow other Independent readers and see their replies