UN advisor says sending Muslim cleric Abu Hamza to US would equal torture
Solitary confinement in US 'supermax' jail ruled acceptable by European court despite legal pleas
Terri Judd
Wednesday 03 October 2012 15:02 Comments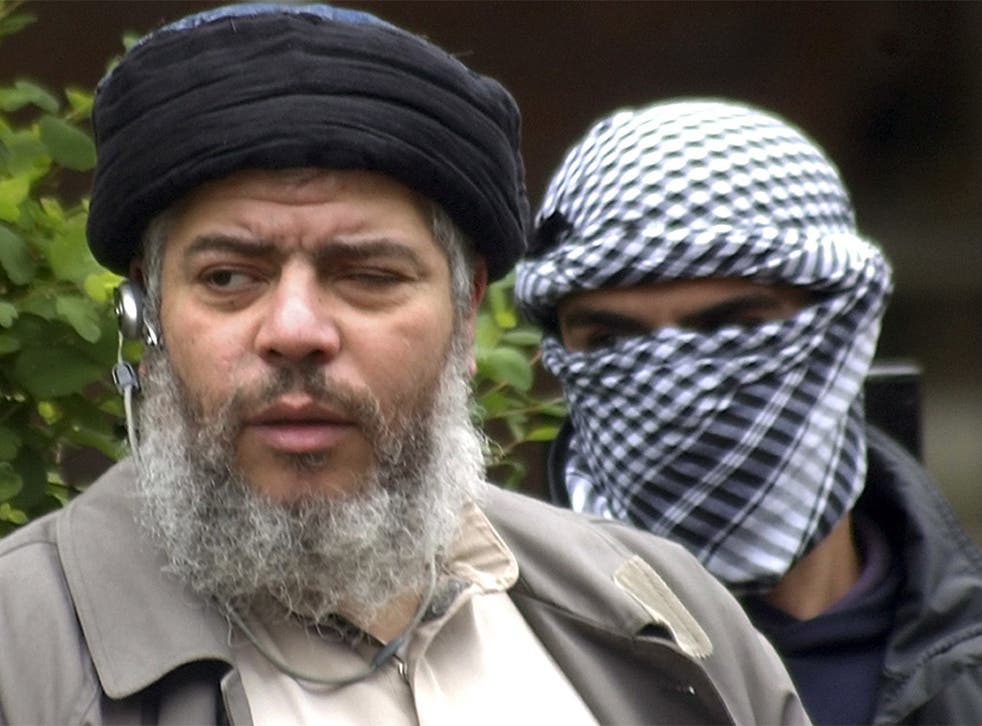 The British Government will be complicit in torture if it extradites Abu Hamza and his fellow terror suspects to the United States, a senior UN adviser has warned.
Juan Mendez, a UN special rapporteur, last night wrote to the Government warning that pushing ahead with plans to deport Hamza, 54, along with four fellow suspects including Babar Ahmad, would breach the UN Convention Against Torture. He claims the solitary confinement they would endure in US "supermax" prisons amounts to torture.
Mr Mendez revealed his concerns to The Independent as lawyers for the radical cleric returned to the High Court in a last attempt to stay his deportation, insisting further time was needed to carry out medical tests because of his deteriorating health.
"As we speak my office is sending a communication, dealing with the possible extradition to the US of five people who will be subjected to solitary confinement," said Mr Mendez, who is UN special rapporteur on torture and other cruel, inhuman or degrading treatment or punishment. "The UN Convention Against Torture states you cannot extradite or deport someone to any place if he or she could be tortured," he added.
In his report to the General Assembly last year, Mr Mendez stated that solitary confinement beyond 15 days could lead to irreversible psychological damage. If extradited, the five suspects are expected to be detained at ADX Florence prison in Colorado, where they face indefinite solitary confinement.
"I think there is very good arguments that solitary confinement and SAMs (special administrative measures, which impose severe restrictions on communication with other inmates or the outside world) would constitute torture and prevent the UK from extraditing these men," he added.
Mr Mendez added: "For 22 to 23 hours a day they are left to look at a wall with no meaningful social contact with anybody, maybe one hour a day exercising by themselves. There is nothing the person can do to alleviate his isolation because it is not disciplinary but completely arbitrary. It is imposed whether they behave or not because of the offence they are charged with, a penalty before being judged, which goes against a presumption of innocence. When solitary confinement is indefinite and prolonged the psychological abuse suffered can be very severe."
As a result many terror suspects in the US chose to opt for plea bargains, Mr Mendez explained, leading to concerns that these were coercive practices and a violation of international law.
The Home Office said it hoped to extradite Hamza, Ahmad, 38, Syed Talha Ahsan, 33, Adel Abdul Bary, 52, and Khalid Al-Fawwaz, 50, as swiftly as possible after the European Court of Human Rights refused their application to appeal.
The Strasbourg-based court ruled on 10 April that "detention conditions and length of sentences of the five alleged terrorists would not amount to ill-treatment if they were extradited to the USA". The unanimous ruling said there would be no violation of Article 3 of the Convention on Human Rights – the prohibition of inhuman and degrading treatment – as a result of detention conditions they might face in the Colorado prison.
Yesterday Mr Mendez said he had been "very surprised" at the decision by the court. "I am not sure if they had all the elements at hand when they said solitary confinement as practised in the US would not constitute a violation of Article 3 of the European convention," he said.
Mr Mendez said he could see no reason why the British Government could not impose conditions, such as assurances they would not be held in solitary confinement. "This happens all the time in extradition cases. If the US is interested in these people they should be willing to concede," he said.
Mr Mendez was speaking as lawyers for Hamza asked the High Court for a temporary injunction pending a request for an MRI scan, insisting it would be wrong to extradite him if he was medically unfit to plead.
In papers before judges in London, Hamza's QC, Alun Jones, who is expected to make an application for an injunction over the next couple of days, argued that there is "uncontradicted medical opinion that a scan is medically necessary".
Abu Hamza, who is accused of being involved in hostage-taking in Yemen, advocating violent jihad in Afghanistan and conspiring to establish a jihadi training camp, was jailed in the UK for seven years for soliciting to murder and inciting racial hatred.
Register for free to continue reading
Registration is a free and easy way to support our truly independent journalism
By registering, you will also enjoy limited access to Premium articles, exclusive newsletters, commenting, and virtual events with our leading journalists
Already have an account? sign in
Join our new commenting forum
Join thought-provoking conversations, follow other Independent readers and see their replies