Fury as DWP spends £200k on giant advert for universal credit as charities reveal claimants 'selling sex to survive'
'Rather than wasting huge chunks of desperately needed resources on 10 weeks of advertorial, why won't the government just take a look at the terrible reality of the facts?'
May Bulman
Social Affairs Correspondent
Wednesday 22 May 2019 19:58 Comments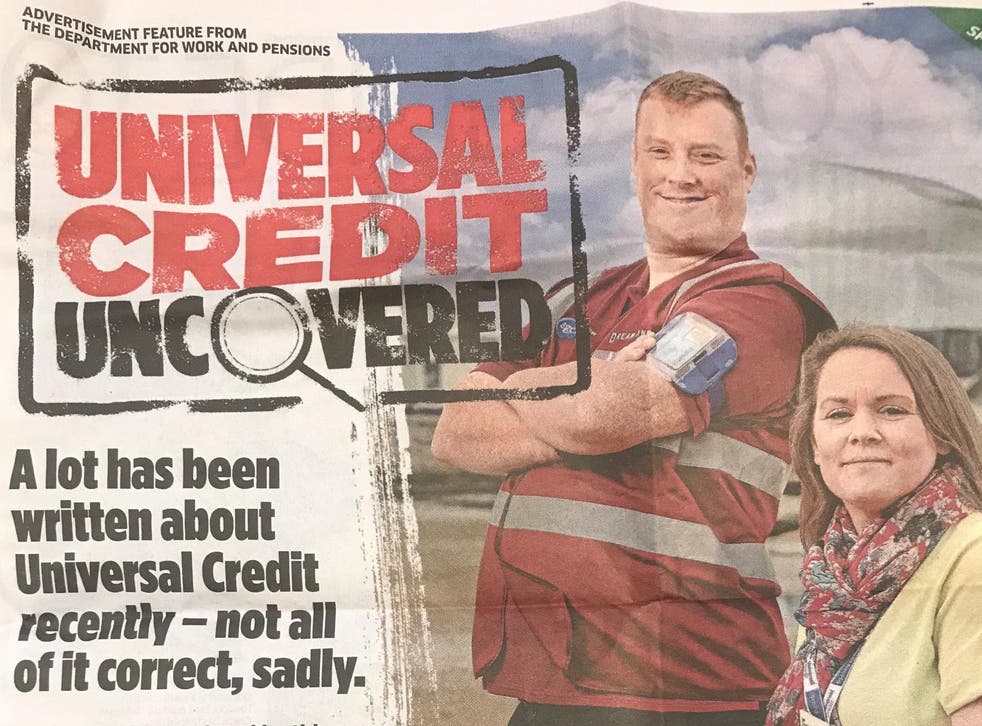 Ministers have come under fire after a £200,000 newspaper advertorial vowing to "set the record straight" on universal credit was published on the same day charities revealed claimants were "selling sex to survive".
A six-page advertorial (an advert in the form of news article) from the Department for Work and Pensions (DWP) was published in the Metro on Wednesday morning under the heading "universal credit uncovered". A double-sided pull-out states: "A lot has been written about universal credit recently – not all of it correct, sadly."
One page lists a series of "myths" about the new system, pledging to "set the record straight". Another page features an interview with a work coach and photos of claimants who are said to have benefited from universal credit.
The advertorial was published on the same day MPs heard during a parliamentary committee hearing that women on universal credit had been pushed into such severe hardship they were forced into sex work as a means of survival.
One charity worker told the Work and Pensions Committee that women were saying they "exchange sex for £2, or for laundry, or for a bottle of cider or for food".
Laura Seebohm, of Changing Lives, told MPs: "We have someone we are supporting who's had an indefinite sanction, we contacted the DWP because the reason she wasn't turning up was because she was in a really bad way having experienced a rape, and did not matter [to the department], she has been indefinitely sanctioned."
She said the new benefit system was a factor in the rise of survival sex work, adding: "Universal credit has really exacerbated the problem. We are seeing increasing numbers of women doing it who haven't before."
Hours before, the UN published a damning report condemning austerity measures in the UK which accused ministers of being in a "state of denial" about "exacerbating inequality and poverty" across the country.
Special rapporteur Philip Alston said universal credit was being implemented in ways that negatively impacted claimants' mental health, finances and work prospects, saying reforms were "urgent" and should "go well beyond tinkering".
"While surveys indicate positive experiences for some universal credit claimants, the bottom line is that a system supposedly designed to bring major and much-needed improvements is fast falling into universal discredit," he wrote in his report.
Politicians and campaigners accused ministers of "wasting huge chunks of desperately needed resources" on the advertorial, while claimants struggling under the new system expressed frustration at the "one-sided" campaign.
Frank Field MP, chair of the Work and Pensions Select Committee, has written to the DWP demanding details on the cost of the campaign, whether work and pensions secretary Amber Rudd personally approved the plans, and what guarantees the department can give as to the accuracy of the advertorial.
"If the DWP wants to understand the facts about universal credit, it could look to the horrific, harrowing evidence we heard this morning," said the independent MP.
Women forced into offering 'survival sex' for as little as £2, laundry or food
"People – mostly women, single mums, students – are telling us that they are forced through sheer desperation to exchange sex for the means to feed, house and warm themselves and their children.
"Rather than wasting huge chunks of desperately needed resources on 10 weeks of advertorial, why won't the government just take a look at the terrible reality of the facts we and so many others are showing them for free, and instead spend that money on making some of its claims about universal credit helping people come true?"
One claimant, Martin Weaver, 42, who suffers from kidney disease and heart disease, and has had money deducted from his universal credit entitlement every month since he started receiving the benefit, said the advertorial was "one-sided".
"Their spin on it is infuriating," said the father, who has to go to hospital three times a week for kidney dialysis. "Considering we're in these harsh times I think it's wrong that they could spend £200,000 putting this spin on it. That money could bring in some more staff to help with the backlogs on cases.
"It only takes into account the people who actually do benefit, and to be honest I'm yet to meet anyone on it who is better off on it. Why would a government department need to advertise unless they realised it's that bad?"
Garry Lemon, director of policy and research at the Trussell Trust, said the DWP should prioritise fixing the issues with universal credit before spending time on a PR campaign.
"They need to first focus on tackling the reasons why so many of the people who need help are being forced to food banks after moving onto universal credit," he said.
James Taylor, head of policy at disability equality charity Scope, meanwhile said the "simplistic" advertorial failed to reflect disabled people's experiences of the new system, adding: "If the DWP is to build trust in the system they need to acknowledge the challenges disabled people face and act."
Anger over the advertorial comes after The Independent revealed figures showing that £1 of every £10 in universal credit payments is deducted from claimants, prompting concerns the government is "penalising struggling families".
A DWP spokesperson said: "It is important people know about the benefits available to them, and we regularly advertise universal credit. All our advertising abides by the strict guidelines set by the Advertising Standards Authority."
Register for free to continue reading
Registration is a free and easy way to support our truly independent journalism
By registering, you will also enjoy limited access to Premium articles, exclusive newsletters, commenting, and virtual events with our leading journalists
Already have an account? sign in
Join our new commenting forum
Join thought-provoking conversations, follow other Independent readers and see their replies