Number of white people accepted at universities drops despite overall rise in UK students
Experts call for national debate about 'culture and ambition in white working class families' after figures show rise in university admissions for all ethnic groups except white people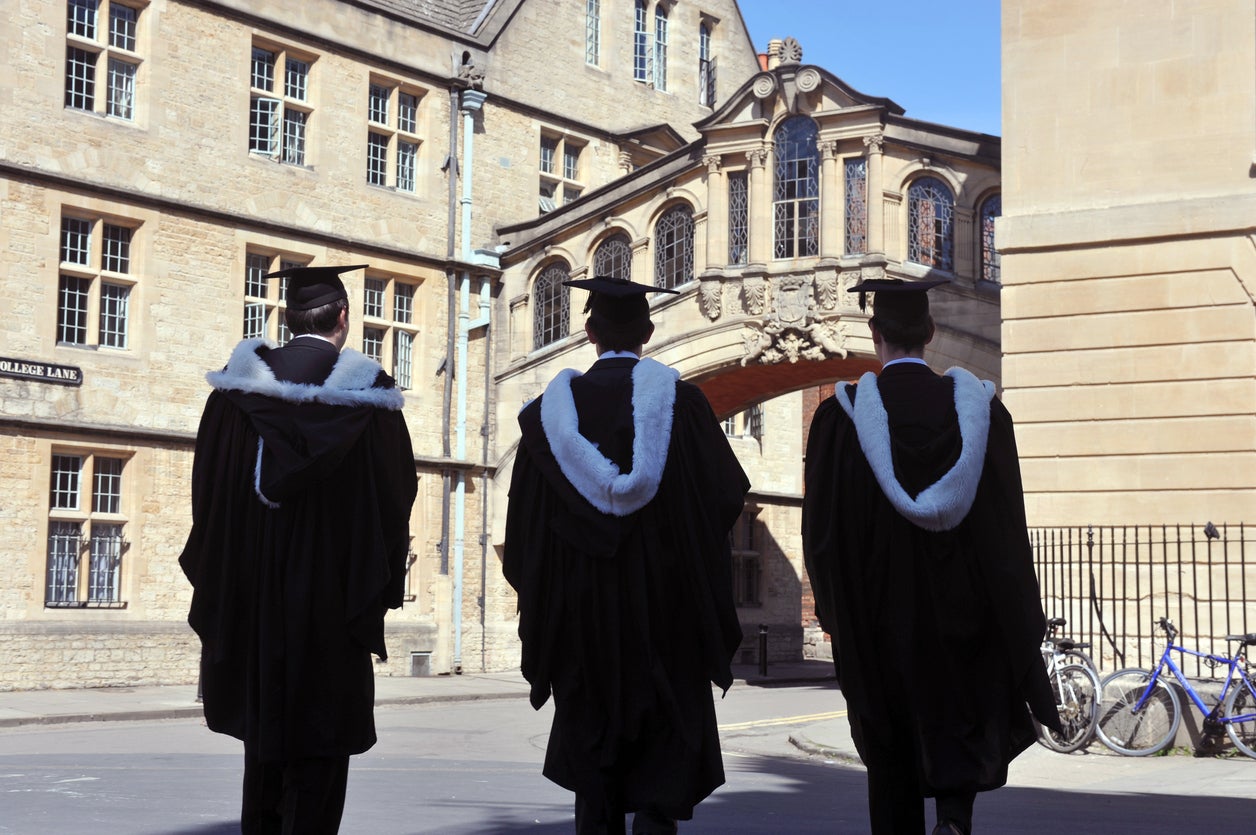 Experts have called for a national debate about "culture and ambition in white working class families" after it emerged that the number of young white people going to university has declined over the past three years, despite an overall increase in admissions.
New figures published by the Higher Education Statistics Agency (HESA)​ show the number of white students has fallen by more than 34,000 since 2013/14 – a decrease of 2 per cent – while in total enrolments rose by 1 per cent in the same period.
Other ethnic groups, meanwhile, saw significant increases, with the number of black students up by 11 per cent, Asian students by 12 per cent and those from other or mixed ethnic backgrounds by 18 per cent.
Think tanks and experts have warned that while the rise in BAME students is "welcomed," the fall in the number of white entrants highlights the need for action to address the "scandalously poor" educational and economic performance of white working-class children.
They said the decline of white students could be a result of "low aspirations and underachievement" among white pupils at school, particularly outside London, where these youngsters are statistically less likely to achieve good GCSE and A-level results.
The figures show that in 2016/17, 1,425,665 enrolments were white students, while 130,020 were black students, 192,780 were Asian and 96,305 were from other or mixed ethnic minority backgrounds.
James Kirkup, of the Social Market Foundation, told The Independent: "Rising numbers of BAME students are to be welcomed, while the fall in the number of white entrants underlines the need for more action to address the scandalously poor educational and economic performance of white working-class children.
"That means getting more experienced teachers and leaders into schools with large white working-class intakes, a much better careers offer in those schools, and a national debate about culture and ambition in white working class families.
"Poor white kids need to know that if they aim higher, they have the same chance of getting a top degree from a top university as anyone else. Sadly, that's not the case right now."
Dr Lee Elliot Major, chief executive of the Sutton Trust, meanwhile said that while the fall in the number of white students at university could be in part due to changes in the population, it was also likely to be a result of low aspirations and underachievement at school, particularly in the capital.
He added: "We know that white students form poorer homes are much less likely to get 5 good GCSEs and go on to do A levels. We must redouble our efforts to address these attainment gaps and ensure that every pupil, regardless of where they live, their family income, gender or ethnicity has the chance to succeed."
Campaigners also highlighted that while the number of BAME university entrants had increased, some minority ethnic groups are considerably more likely to drop out of university and urged that more support is required to ensure they are supported through their degrees.
Recent research revealed that black students were more than 50 per cent more likely to drop out of university than their white and Asian counterparts, with more than one in 10 (10.3 per cent) black students dropping out of university in England, compared with 6.9 per cent for the whole student population.
Kathyrn Petrie from the SMF, who has researched university dropout rates, told The Independent: "It is good that more BAME students are entering higher education, but universities must do more to help them finish their courses and get higher classes of degree.
"Black British students, for instance, are more than twice as likely as the average undergraduate to drop out before graduating. The new Office for Students should set a clear target to cut that figure and work closely with universities to ensure they do more to support black students through their degrees."
The HESA data also revealed a rise in the number of students achieving first-class degrees, with more than one in four students (26 per cent) now having graduated from university with the top mark last year.
The figure is up from 18 per cent in 2012/13, meaning the proportion achieving the highest honours has increased by nearly half (44 per cent) in five years. There has also been a hike in the proportions gaining a first or 2:1, with three in four (75 per cent) achieving this benchmark in 2016/17, up from just over two thirds (68 per cent) in 2012/13.
This is likely to spark fresh debate about grade inflation and whether the centuries-old degree classification system is fit for purpose.
A Department for Education spokesperson said: "Today's figures show that more people are choosing to go to university, including those from disadvantaged areas and those whose parents did not go to university.
"Our reforms are going even further to ensure equality of opportunity for all. The Office for Students will protect students' interests, promote value for money and help people make more informed choices about where and what to study.
"The new Transparency Duty will also shine a light on institutions that need to do more to widen access from under-represented groups."
Join our commenting forum
Join thought-provoking conversations, follow other Independent readers and see their replies