Video: 'Complaints, we get a few': Council criticised over Frank Sinatra pothole video
Video released at end of a week where it was reported Britain is facing a new £10 billion 'pothole plague'
Rob Williams
Friday 15 March 2013 15:39 Comments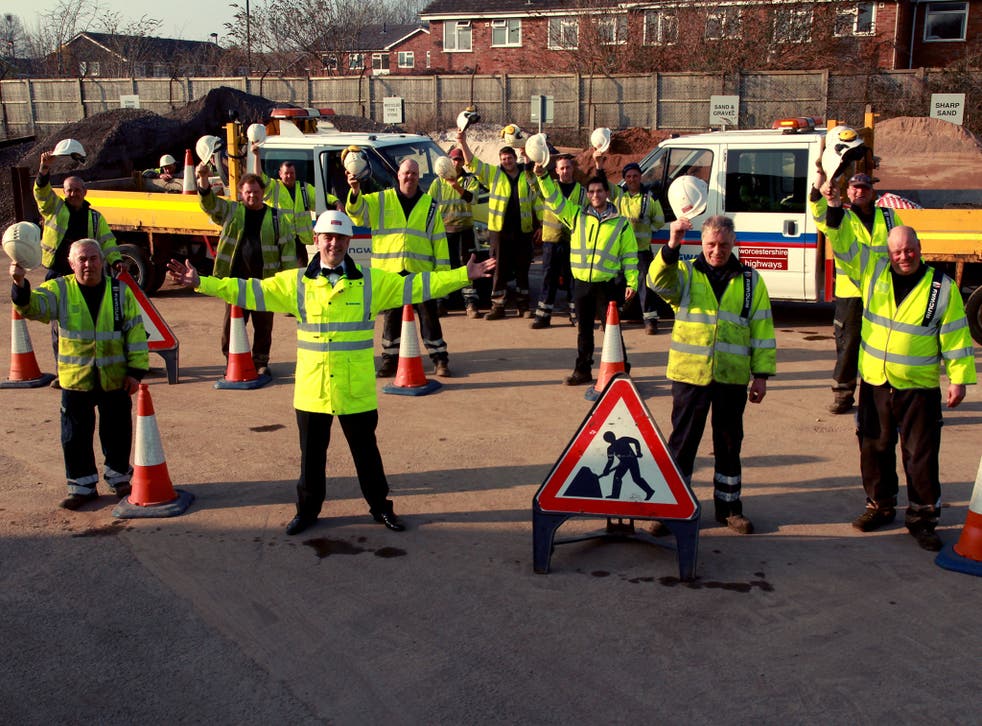 As Ol' Blue Eyes himself once put it - sometimes you should 'dare to wear the foolish clown face'.
No one could accuse tuxedo-sporting highways boss Jon Fraser of taking himself too seriously in a video released by Worcestershire Council to highlight the reporting of potholes in the county.
The video, inspired by the Torfaen Council viral hit featuring an Elvis impersonator's ode to its gritters, shows Fraser singing a parody of the Sinatra classic 'My Way', with the lyrics amended to deal with the issue of potholes.
The music video entitled 'Right Here in Highways' includes such classic lines as: 'Complaints, we get a few / But those we do, we're glad you mention', and 'we'll lay each tarmac course, not when it's wet, but on a dry day'.
Highways Manager Jon Fraser donned a tuxedo to stroll amongst a pothole repair gang in an attempt to make the issue of reporting potholes engaging.
The video was released at the end of a week where it was reported Britain is facing a new £10 billion 'pothole plague' that has left one in three drivers with damaged cars in the past two years.
Mr Fraser said: "Torfaen Council's 'In The Depot' video, which has had over 470,000 views on YouTube, is a brilliant way to raise awareness of the tough job councils do to support residents and businesses through maintaining the roads throughout Winter."
He said the aim of the potholes video was to broadcast a "serious and important message about the value of reporting potholes in an enjoyable way."
The video has, however, received a mixed response with some critics saying it was a waste of time and money.
The Taxpayers Alliance said the video, which has currently received just over 3,500 views on YouTube, would provide little comfort to motorists who are dodging potholes.
Robert Oxley, Campaign Manager at the TaxPayers' Alliance said: "Worcestershire County Council should worry more about fixing the roads than singing about them.
An amusing video will be zero comfort to motorists dodging potholes on the highways. This idea should never have got off the drawing board and instead transport chiefs should have spent their time and taxpayers' money doing something useful."
Comments beneath the video also showed it had received mixed reactions.
One user, 'dannyarnold01', wrote: "Is this a joke. Do the WCC really have time and money to waste making this cr*p?".
Another user 'John Scott' wrote: "We, the Worcestershire payers of road tax and fuel duty, have a right to better roads- not cheesy videos."
However, some responses were more positive with a user calling himself 'Paulus Paul' praising the video as a "good value way to get the message over".
Another user 'Elise H' said, "Wow, we losing our sense of humour that we used to be known for in the UK. This is funny, well made and filming NEXT to people working would not cost much."
In response to the criticism Jon Fraser said the video had not cost taxpayers a penny and was in fact funded by one of the council's contractors, 'Ringway'.
Jon Fraser said: "This money has gone back into the local economy as the video was produced by a local Worcestershire company, supporting one of the County Council's key areas of focus, 'Open for Business'.
We hope this will help to reassure the Taxpayers Alliance on this matter that public money is not being frittered away."
Register for free to continue reading
Registration is a free and easy way to support our truly independent journalism
By registering, you will also enjoy limited access to Premium articles, exclusive newsletters, commenting, and virtual events with our leading journalists
Already have an account? sign in
Join our new commenting forum
Join thought-provoking conversations, follow other Independent readers and see their replies