'Rampant misogyny' prevails in UK with 'scale' of abuse women suffer 'minimised', politicians warn
'This week an estimated five women will die as a direct result of male violence against women,' says MPs letter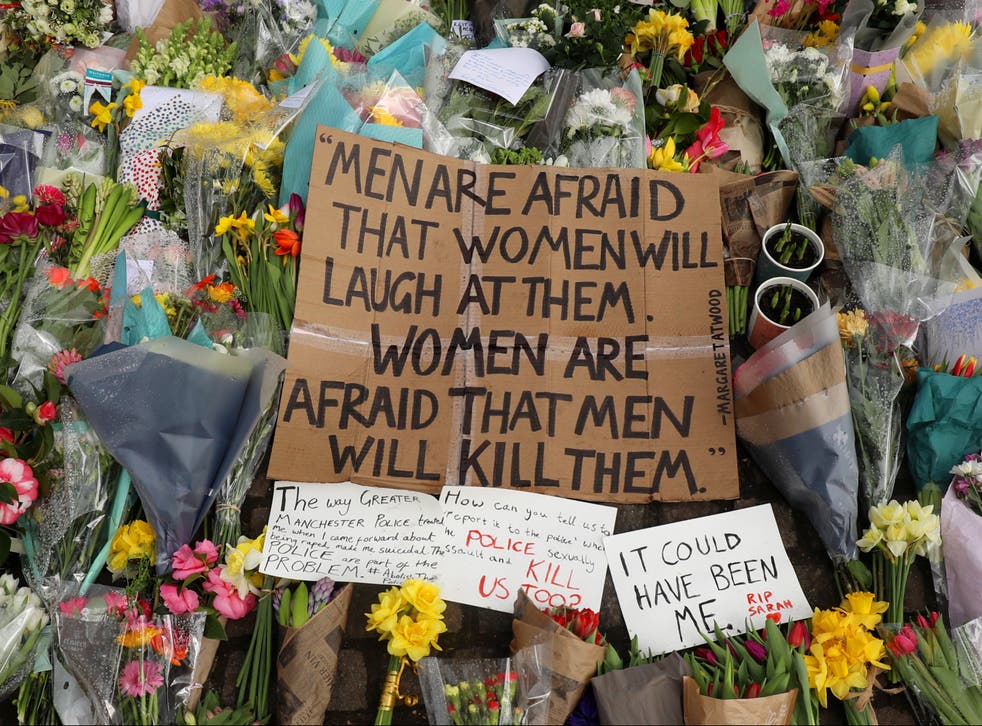 "Rampant misogyny" prevails in the UK with the political sphere "minimising" the "scale" of abuse which takes place against women, politicians have warned.
A letter to Boris Johnson, signed by 53 cross-party MPs and lords, has urged the PM to use the alleged murder of Sarah Everard as a "watershed moment" to tackle violence against women and girls.
The letter, seen by The Independent, comes after senior politicians and campaigners condemned the Met Police over their aggressive response to a vigil to Ms Everard on Saturday night.
Dame Cressida Dick, the Met commissioner, has rebuffed calls to step down and the Met Police has insisted it acted to protect public health after officers were seen grabbing women standing on Clapham Common's bandstand before taking them away while others at the vigil screamed and cried out.
Meanwhile, people have taken to the streets with arrests made after protesters marched through central London to call out the heavy-handed policing, mourn Ms Everard and condemn violence against women.
Read more
The letter, which was spearheaded by Zarah Sultana, Labour MP for Coventry South, warns increased policing is "far from an adequate response" to male violence against women and calls for measures to "tackle the material and social roots of male violence against women and girls".
While MPs note increased policing fails to address the fact reporting levels for domestic abuse and sexual violence are low - with the issue exacerbated by victims' anxiety about how the police deal with such cases.
The letter outlines nine key demands for the government which involves calling for greater funding for women's services, which have been hit by austerity measures over the last decade.
The Independent recently reported cash-strapped domestic abuse refuges are being forced to turn away victims fleeing abusive partners as cases of domestic violence have risen in the wake of lockdown measures.
Leading services said they have long been grappling with severe economic uncertainty due to austerity measures forcing refuges to close or cut their services, as they warned bed shortages push survivors into homelessness or force them to return to their abuser.
"For years, women's rights campaigners have attempted to shed light on the rampant misogyny in this country, but they have either been met with a resounding silence, accused of hyperbole or dismissed outright," states the letter.
"This week an estimated five women will die as a direct result of male violence against women: two women will be killed by a current and former partner, while three women will die by suicide after experiencing domestic violence. This is a national outrage."
The letter is signed by ex-Labour leader Jeremy Corbyn, former shadow chancellor and home secretary John McDonnell and Diane Abbott, while Green Party leader Caroline Lucas, former women and equalities minister Dawn Butler and Labour MPs Nadia Whittome and Bell Ribeiro-Addy have also signed it.
It calls for strengthened "financial support for women and girls to address poverty and economic insecurity", via addressing the gender pay gap, pushing the national minimum wage up to a real living wage, and building a "comprehensive and humane social security system".
Ms Sultana said: "Almost every woman in Britain has an experience of being followed at night, harassed by a male colleague at work, or worse. We're taught to get used to this – that it is normal and just something we should live with.
"That can't go on. Women should be able to walk home at night without fear of going missing. We should be able to live our lives free from male violence and abuse.
"As parliamentarians, instead of 'tough' posturing, we are calling on the prime minister to take the necessary action to end male violence against women and girls."
Prosecution and conviction for sexual assault and rape are historically low - with government data showing in the year to March just 1.4 per cent of 55,130 rape cases recorded by police resulted in prosecution.
MPs also used the letter to demand the government implements a pan-European convention on curbing violence against women known as the Istanbul Convention and the International Labour Organisation's Convention No. 190 which safeguards women's right to work without suffering gender-based harassment and violence.
Former prime minister David Cameron signed the Istanbul Convention back in 2012 but it still has not been ratified – meaning it is currently in limbo and the UK is not legally bound to follow it, with Britain being one of the last EU members to ratify the convention.
Join our new commenting forum
Join thought-provoking conversations, follow other Independent readers and see their replies