Vladimir Bukovsky: Dissident claiming he was framed by Putin's Russia sees child pornography trial abandoned
Vladimir Bukovsky became a hero in Soviet Russia for his defiance of the Communist regime.  When he was charged with downloading indecent images of children in Britain, he claimed he had been framed by Russian hackers.  Now his trial has been indefinitely postponed because of his failing health.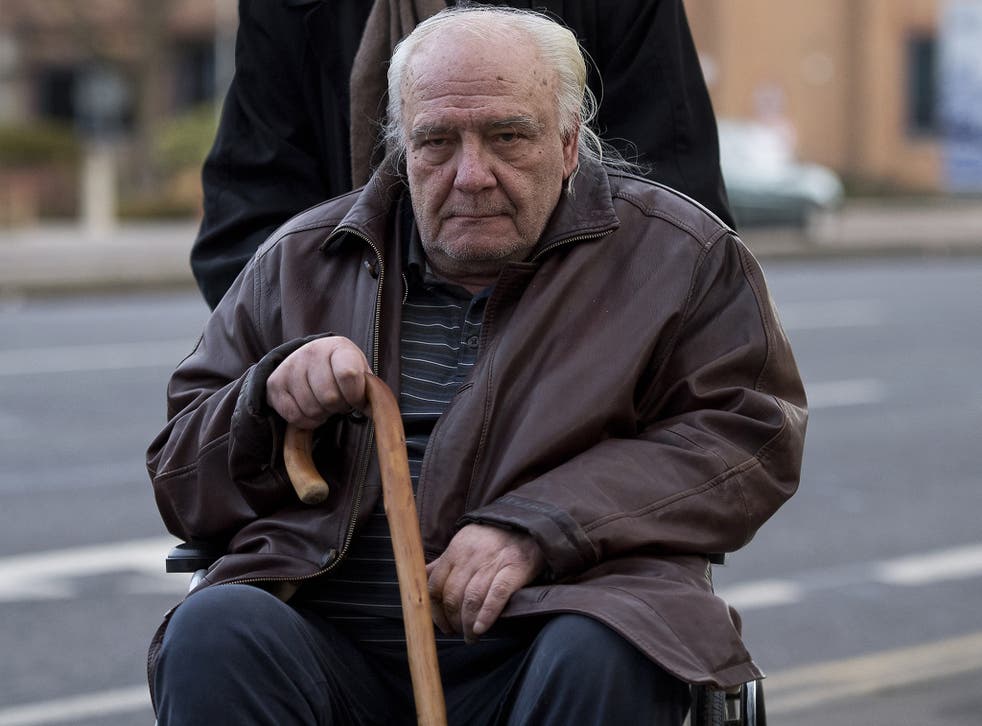 A former Soviet dissident accused of downloading child pornography has had the case against him postponed indefinitely because of his ill health.
Vladimir Bukovsky, 75, who was once Communist Russia's most widely-known prisoner of conscience, had been due to stand trial at Cambridge Crown Court accused of downloading and possessing indecent images of children.
If he had been convicted, it would have brought shame on a man once regarded by his supporters as a hero whose "gigantic moral stature" ranked him alongside Alexander Solzhenitsyn in the eyes of the Russian people.
Bukovsky, however, had been due to plead innocent to five charges of making an indecent photograph of a child, five of possession of an indecent photograph of a child, and one count of possessing a prohibited image of a child.
The Independent was told part of his defence would have involved claiming the child abuse images could have been downloaded by Russian hackers loyal to Vladimir Putin, as part of a Kompromat campaign to silence a vocal critic of the Russian president.
Despite living in Cambridge since 1976, Bukovsky had tried to stand in the 2008 Russian presidential election, and in 2015 he told a British inquiry he was "pretty sure" his friend Alexander Litvinenko had killed in London by a lethal dose of radioactive polonium "on orders from the Kremlin".
In the event, however, the trial never happened. Two previous attempts to hear the case had to be abandoned because of a deterioration in the health of Bukovsky, who has serious heart, lung, liver and kidney illnesses.
The third attempt at a trial was abandoned on Monday after both the prosecution and defence agreed that Bukovsky, who did not attend court, was now too ill to give evidence in his defence.
His Honour Judge Gareth Hawkesworth ordered that the prosecution be stayed, stating it could only be reopened if either Cambridge Crown Court or the Court of Appeal agreed that Bukovsky's health had recovered enough for a trial to go ahead.
Judge Hawkesworth said: "I am quite satisfied, in the light of the continuing deterioration in his health that … When it comes to whether Mr Bukovsky could or should give evidence, he would be placed in a wholly impossible situation. I take the view that it would be wholly unfair to try the man in those circumstances."
The result means that Bukovsky remains an innocent man. It is unclear, however, what the effect will be on his reputation.
When the charges against him were first made public, journalists were briefed that Bukovsky's computer had been hacked and the child abuse images downloaded without his knowledge.
Bukovsky was backed by statements of support from Litvinenko's widow Marina and Garry Kasparov, the chess world champion turned prominent Putin opponent.
They raised the possibility he had been framed, as did a petition, signed by more than 7,000 former Soviet political prisoners, their relatives and descendants that insisted Bukovsky was "a man of gigantic moral stature".
But when the case was opened in December 2016, Cambridge Crown Court heard that when police knocked on Bukovsky's door he immediately told the detectives he had the images.
William Carter, prosecuting, told the court: "On October 28, 2014, police officers went to his home.
"He answered the door. He was immediately arrested on suspicion of downloading and possession of indecent images of children.
"Mr Bukovsky responded immediately by saying that he did indeed download movies.
"They would be in the computer in his study."
Bukovsky was questioned at Parkside Police Station in Cambridge, and there, Mr Carter said, he revealed his attitude to the abuse images.
"In essence," the lawyer told the court, "Mr Bukovsky did not see what harm he was doing.
"So far as the children were concerned, it looked to him as though they were enjoying themselves."
Mr Carter said Bukovsky told police that he became aware of indecent images of children online in the late 1990s.
The court heard that Bukovsky told police he began his 'research' into the images after a becoming interested in the debate surrounding the issue of censorship on the internet.
"His initial curiosity," said Mr Carter, "Turned into a hobby rather like stamp collecting."
The jury, however, never got to hear the case for the defence because the trial had to be abandoned on day two after Bukovsky was admitted to hospital with pneumonia.
With the trial now postponed indefinitely, Bukovsky may feel frustrated that he never had the chance to protest his innocence in court. A statement issued on his behalf on Monday accepted he was now too ill to stand trial, but stressed how he had spent three years fighting allegations that he "has always strongly denied."
In an earlier statement, Bukovsky had been emphatic that all that mattered to him, as he prepared to die, was his reputation.
"Throughout my life," he wrote, "My moral reputation had been spotless.
"I don't care about the risk of being sent to prison. I have already spent 12 years in Soviet prisons. I don't expect to live very long, and it makes little difference to me whether I spend the final few weeks of my life in jail.
"What is fundamentally important to me is defending my reputation."
If Bukovsky had been able to prove that he was framed by Russian hackers, the irony would have been lost on very few of his supporters.
In 1971 it had been Bukovsky who had revealed to the outside world how an earlier authoritarian Russian government was discrediting its critics into silence.
He smuggled to the West 150 pages of documents showing how the Soviet regime was imprisoning dissidents in psychiatric hospitals, declaring them mentally ill, injecting them with drugs that caused convulsions if they protested, and releasing them only if they renounced all their subversive beliefs.
That was but one of the actions that had made him an inspirational symbol of resistance to Communist Russia.
How 'The Independent' reported the collapse of Communism across the eastern bloc countries in 1989

Show all 10
Bukovsky marked himself out as a child by resigning from the Soviet youth organisation the Pioneers.
In 1961 He was expelled from Moscow University on the grounds that his personality "did not correspond to the character of a Soviet student".
He was arrested in January 1967 for "disturbing public order" by organising a demonstration in Pushkin Square.
While his co-defendants offered "sincere repentance", Bukovsky confronted the judge.
"The people on the street will remember that they witnessed a free demonstration," he said. "They will remember that this forgotten method of protest still exists. And you, citizen judge, will not forget either this case or us.
"Later, you too will think about the people who went out to give public expression to their opinions and whom you tried for doing so."
The speech made its way into the samizdat underground press and into Western newspapers, causing it to be referred to President Leonid Brezhnev and his Politburo.
To keep up appearances, they ordered the publication of a four-paragraph local newspaper story about the trial, describing Bukovsky as a jobless troublemaker who "has been warned by the authorities many times for committing anti-social, hooligan actions".
After another three years in captivity, Bukovsky was released in January 1970, and immediately rejoined the struggle for human rights.
In January 1971 he succeeded in smuggling out the documents that proved what was being done to dissidents in the psychiatric institutions of the Soviet Union.
The West was horrified.
Bukovsky, now 29, was seized by the Communist authorities in March, his arrest being preceded by an article in the newspaper Pravda (Truth) which denounced him as "a malicious hooligan engaged in anti-Soviet activities".
Again, at his 1972 trial, he expressed his defiance.
"In condemning me," he said, "The authorities are pursuing the aim of concealing their own crimes—the psychiatric repression of dissenters.
"However long I may have to spend in prison, I will never renounce my beliefs. I will fight for legality and justice.
"And I regret only this: that in the short period—one year, two months and three days—which I have spent in freedom, I succeeded in doing too little to this end."
True to his word, in Labour Camp No 35, near the Russian city of Perm, Bukovsky co-authored the Manual on Psychiatry for Dissidents, a guide for other activists whom the Communists were trying to declare insane.
By 1976, with Solzhenitsyn now in the West, the New York Times was describing Bukovsky as "the most widely-known prisoner of conscience in the Soviet Union."
In December of that year he became one half of a Cold War prisoner swap, exchanged at Zurich airport for Luis Corvalán, the general secretary of the Communist Party of Chile, who had been imprisoned since the 1973 coup that heralded the start of the US-backed Pinochet regime.
Once in the West, Bukovsky was granted an audience with President Jimmy Carter, and became friends with Margaret Thatcher.
But while he continued to criticise Russian governments, he was on occasion unafraid to challenge Western ones.
When George W Bush's government moved towards allowing "enhanced interrogation" techniques in the War Against Terror, Bukovsky warned of "Torture's long shadow", from the perspective of someone who had been on the receiving end of it.
"I have seen what happens to a society that becomes enamoured of such methods in its quest for greater security," he wrote. "It takes more than words and political compromise to beat back the impulse."
With his eye on Russia, he watched the rise of Vladimir Putin with alarm. In July 2006, with the former KGB defector Oleg Gordievsky, he wrote a letter to the Times, warning that the Russian president had succeeded in passing laws that could be interpreted as allowing the assassination of opponents abroad.
"The stage is set," the two dissidents wrote, "For any critic of Putin's regime here [in England] to have an appointment with a poison-tipped umbrella."
Four months later, Bukovsky's friend Alexander Litvinenko was dead, killed by the 21st Century update of the poison-tipped umbrella: tea laced with radioactive polonium-210.
Still Bukovsky was undeterred. In 2008 he travelled to Moscow, announcing he was going to stand in the presidential elections against Putin's preferred candidate Dmitry Medvedev.
"The country is restoring elements of communism," he warned. "We need a strong opposition otherwise the country may become very dangerous."
The Central Election Commission rejected his application to join the presidential race, citing, (laughably), that he had failed to give sufficient evidence of his (globally renowned) activities as a writer, and, more plausibly, the fact that he had not been resident in Russia since 1976.
In truth, it had all been something of a publicity stunt. Bukovsky knew all along that the commission was almost certain to reject his candidacy, and that he did not have the physical strength for a gruelling election campaign.
His health was now on the downward spiral that would see him unable to stand trial in Cambridge.
In the eyes of the law, Bukovsky will now die an innocent man.
But it is unclear whether the suspicions raised by the child pornography allegations will go away.
Before the case against him was opened, a large crowd of supporters had attended his court appearances. On Monday only two people were in the public gallery.
One was Larissa Fradkin, 68, who had left Russia as a political refugee from Communism in 1973.
Having heard the earlier evidence, she did not accept the idea that Bukovsky's case involved Kompramat-style dirty tricks by supporters of Putin.
"I don't think the Russian state had anything to do with it," said Ms Fradkin, a Cambridge-based scientist.
She was, however, adamant that any interest Bukovsky might have had in indecent images of children would have been academic, not sexual.
This, she said, was what Bukovsky himself had told her.
Ms Fradkin told The Independent: "He said it was for a professional interest. He had in mind to write something about internet security and censorship. He wasn't aware of the law forbidding such downloads."
Ms Fradkin insisted: "He is one of the most intelligent people I have ever met, but a lot of very clever people simply don't know certain things that everybody else knows. They can focus very narrowly on what interests them."
"I am upset," she added, "There will no doubt be questions about his reputation. He has lost a lot of support because people don't understand how he could not know about the law against downloading all these horrible pictures.
"But in the Soviet Union, he risked his life, his health to help others. He is a hero."