Wendy house must be pulled down after parents refused planning permission
The playhouse was a birthday present and cost £239
Serina Sandhu
Monday 14 September 2015 18:24 Comments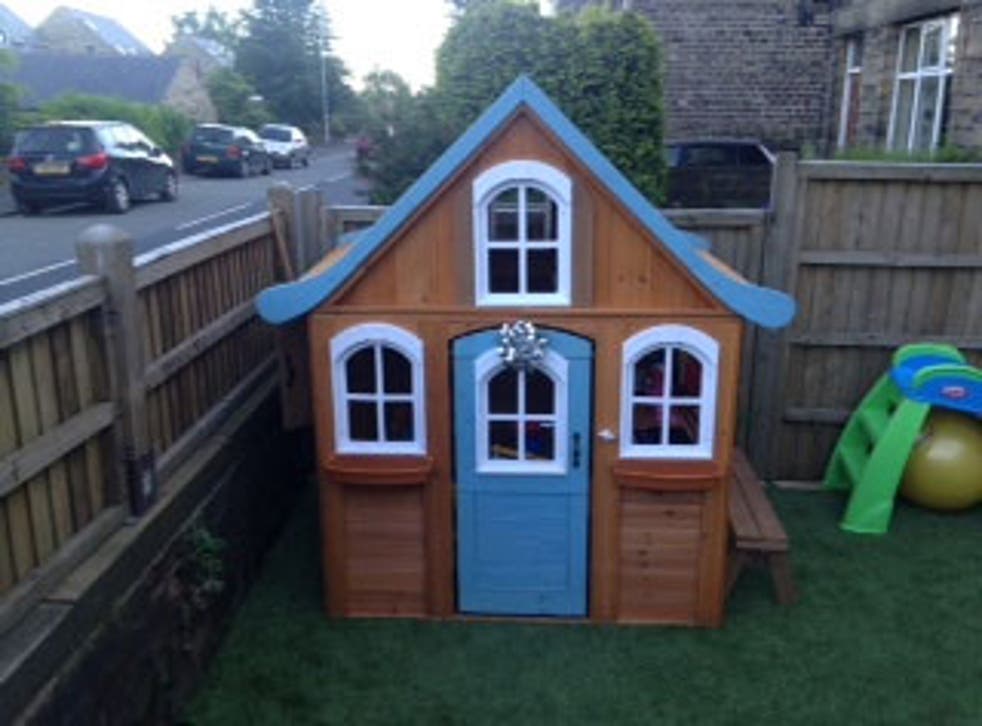 A young boy's Wendy house must be pulled down after the local council refused his parents planning permission.
The playhouse cost £239 and was bought by Michael Heron and Jenna Hulme as a birthday present for their four-year-old son Jacob, as well as their one-year-old daughter.
The family put the playhouse, which measures 1.75m in height, in their front garden in May.
But after a complaint from a neighbour was made to the landlords of the property, First Choice Homes Oldham, Heron was forced to apply for planning permission from Oldham Council.
According to an Officer's Report, the neighbour objected because the Wendy house impaired their view and the council refused the application due to its size.
In the Notice of Refusal of Planning Permission, the council said: "The playhouse by reason of its size and prominent siting appears highly conspicuous within the street scene to the detriment of the visual amenity of the area."
Heron, who paid £172 for the planning application, told the Daily Mail: "I was surprised that we were asked to get permission, but the fact that they've turned it down is totally disgusting."
"The situation is a complete joke and has come about from just one objection. I won't be taking it down unless they come and force me to," said Heron.
Councillor Dave Hibbert, a cabinet member for planning at Oldham Council, said in a statement: "Government legislation state that permission is required for buildings like garden sheds, garages, Wendy houses and many other structures, where the main garden is at the front of the house."
"Whilst we have sympathy with the owner, and nobody wants a child to not enjoy their garden, Government legislation charges us with protecting the visual appearance of the area."
"The Wendy house was refused due to its prominence and detrimental visual impact on the area."
The family can appeal the decision, Councillor Hibbert said.
Register for free to continue reading
Registration is a free and easy way to support our truly independent journalism
By registering, you will also enjoy limited access to Premium articles, exclusive newsletters, commenting, and virtual events with our leading journalists
Already have an account? sign in
Join our new commenting forum
Join thought-provoking conversations, follow other Independent readers and see their replies