Westminster attack: Details of 82 seconds of terror revealed as victims' inquests open
Khalid Masood killed three victims on Westminster Bridge before stabbing police officer to death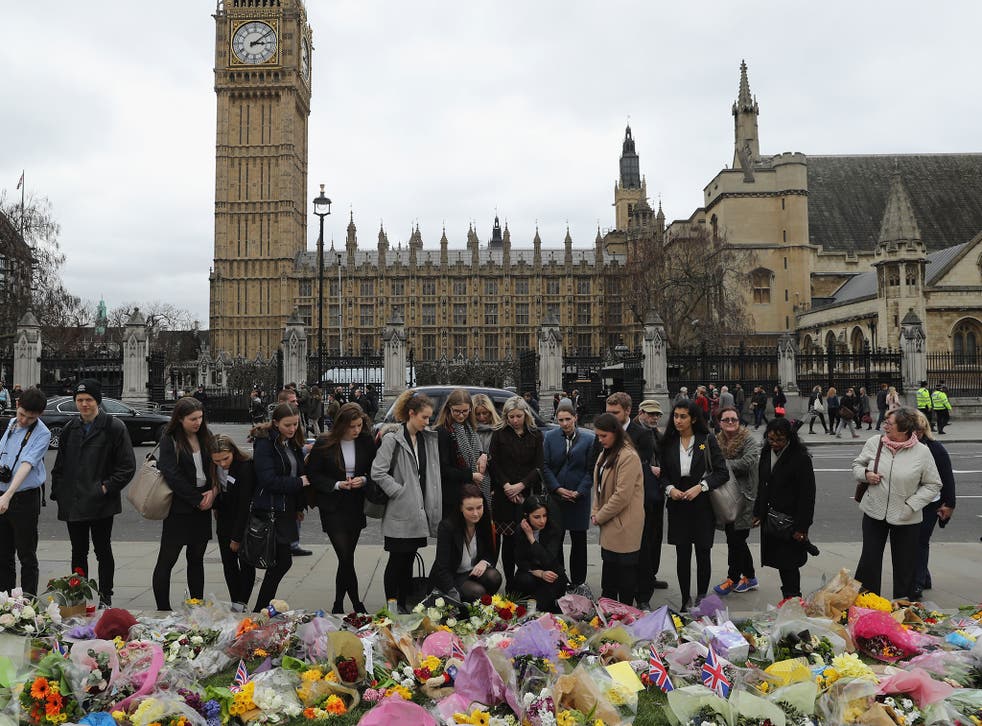 The death and carnage wreaked in 82 seconds during the Westminster attack has been detailed as inquests open into the deaths of four victims.
British mother Aysha Frade, pensioner Leslie Rhodes and American tourist Kurt Cochran died of injuries sustained as Khalid Masood ploughed his car into pedestrians on Westminster Bridge.
He then crashed into railings outside the Houses of Parliament, ran into an entrance and stabbed PC Keith Palmer to death, before being shot dead by armed police.
Opening the inquests at Westminster Coroner's Court, senior coroner Dr Fiona Wilcox told the victims' relatives everything possible would be done to piece together how their loved ones lost their lives.
"It is very much a first step in this inquiry in what will be a long, difficult and complex process," she said.
"But I would like to assure you all that everything that can be done by this court will be done."
Detective Superintendent John Crossley, who is leading the police investigation codenamed Operation Classific, recounted how Masood's attack unfolded to the court.
Two reviews into Parliament security announced following Westminster attack
He said the assault started at around 2.40pm on 22 March, when Masood drove a Hyundai with the registration number EK66 RWO over Westminster Bridge towards the Houses of Parliament.
"The driver mounted the pavement twice in an apparently deliberate attempt to target pedestrians before mounting the pavement for a final time and crashing the car into the east perimeter gates of the Palace of Westminster," Det Supt Crossley added.
"The man then left the car armed with two large knives and ran into the vehicle entrance gateway known as Carriage Gates, at the north perimeter fence of the Palace of Westminster."
The investigator said PC Palmer was attacked with the knives inside the palace grounds and died at the scene.
"The incident lasted approximately 82 seconds – from the first time the vehicle mounted the pavement until the attacker was shot by police," Det Supt Crossley told the court.
More than 35 people were injured in the rampage, he added, suffering wounds ranging from cuts and bruises to extensive bone and skull fractures.
Det Supt Crossley said the first victim to be pronounced dead was Mrs Frade, a 44-year-old British national who had been on her way to pick up her daughters from school when she was hit on Westminster Bridge.
She died at 3.08pm after suffering head and chest injuries, while PC Palmer's death was recorded just under half an hour later at 3.34pm. He will be laid to rest at a full police service funeral to be held at Southwark Cathedral next month.
Mr Cochran, a 52-year-old American tourist who was celebrating his wedding anniversary, died at the scene 5.34pm.
Mr Rhodes, a 75-year-old retired window cleaner, was taken to King's College Hospital with critical injuries but was pronounced dead at 8.25pm the following day, when his life support was withdrawn.
Det Supt Crossley said another person further in hospital in a coma, suffering extensive injuries.
He did not confirm whether that patient was Andreea Cristea, a Romanian woman who fell in the River Thames from Westminster Bridge and is in a condition described as "critical but stable" condition in hospital.
"We are overwhelmed by the love, support and respect for our Andreea," said a statement from relatives of Ms Cristea and her partner Andrei Burnaz, who was injured during the attack but has since been charged from hospital.
Det Supt Crossley said a "wide-ranging inquiry" was being led by the counter-terrorism command, which was looking at a "number of strands of investigation" using a large amount of CCTV footage and images taken by bystanders.
"Currently there are in excess of 1,500 potential witnesses, with accounts being those who are deemed significant," he added. "This is currently in excess of 140."
Dr Wilcox adjourned the inquest while police continue their investigations, and ordered that a pre-inquest review would provisionally be held on 19 May at the Royal Courts of Justice.
She told gathered families: "I wish you all well", and asked them to pass on her condolences to those who were unable to attend the hearing.
In pictures: Westminster attack

Show all 9
Westminster Bridge was closed for a memorial joined by hundreds of Londoners and members of the emergency services on Wednesday afternoon.
An 82-second silence was held beneath Big Ben exactly a week after Masood launched his attack, which is being investigated as an act of Islamist-inspired terror.
Among the crowd were people wearing blue and white T-shirts reading "I am a Muslim – ask me anything", and carrying banners reading "love for all and hatred for none" as part of an Ahmadi campaign similar to that seen after the Berlin attack.
Scotland Yard's acting commissioner, Craig Mackey, was joined by senior police officers for a separate minute's silence at the eternal flame at New Scotland Yard.
Officers continue efforts to establish the motive of Masood, a 52-year-old Muslim convert who had a lengthy criminal history and lived in areas including Sussex, Birmingham and London.
Isis hailed him as a "soldier of the Islamic State" in its claim of responsibility for the attack but the extent of the group's involvement remains unclear.
Investigators are looking for potential accomplices in the atrocity, focusing on Masood's use of the encrypted messaging service WhatsApp just minutes before he launched the assault.
Mr Mackey said the Westminster attack must be a "wake-up call" for technology firms over their efforts to tackle terrorist content online, telling them to "put your own house in order".
Appearing at the London Assembly's Police and Crime Committee, he stopped short of identifying individual companies that host propaganda from Isis and other jihadi groups, adding: "I think these sorts of incidents and the others we've seen in Europe are probably a bit of a wake-up call for the industry in terms of trying to understand what it means to put your own house in order.
"If you are going to have ethical statements and talk about operating in an ethical way it actually has to mean something."
Mr Mackey said the method of causing "large-scale carnage" using "little more than a vehicle and a knife" will "naturally lead to consideration as to whether there is more we can sensibly do to prevent similar attacks".
Isis has released detailed instructions on how to maximise casualties using cars, lorries and knives in its online propaganda magazines and called on followers unable to wage jihad in Syria and Iraq to launch attacks at home.
Boris Johnson, the Foreign Secretary, attacked firms over a "disgusting" failure to remove extremist material while Amber Rudd, the Home Secretary, will raise the matter at a meeting with technology leaders on Thursday.
Twelve people have been arrested in connection with the probe but only one remains in custody after a 58-year-old man from Birmingham was released on Wednesday.
A 32-year-old woman from Manchester remains on bail and 10 others arrested were freed with no further action.
Join our new commenting forum
Join thought-provoking conversations, follow other Independent readers and see their replies