What went wrong for Joanna and the Gurkhas?
Joanna Lumley helped make the plight of former Gurkha soldiers a national debate. But two years on from securing their right to settle in Britain, some claim her involvement has caused as many problems as it has solved.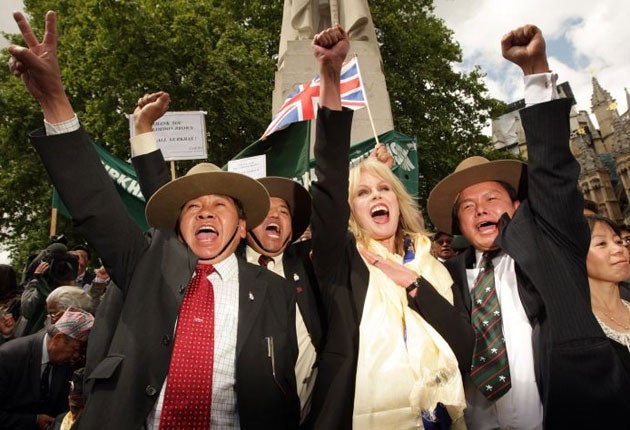 She was the embodiment of irresistible force. Joanna Lumley, blonde tresses flowing, moved at the head of a legion of the British army's most doughty and romantic fighters whose warcry is Jai Mahakali, Ayo Gorkhali – "Glory be to the Goddess of War, here come the Gurkhas!"
She swept all before her: civil servants, MPs, ministers, even the then prime minister. Like some Boadicea of British decency and fair play she forced the last government into a climb-down so that all the former Gurkha soldiers who had served more than four years in the British Army now have the right to settle in the UK if they wish.
But has it now all gone terribly wrong for the actress who was born in Kashmir and whose father served for 30 years with the 6th Gurkha Rifles bringing her up as a "daughter of the regiment" before she turned to more prosaic activities like being a Bond girl, experiencing close encounters with Dracula, saving the world as a New Avenger and ending with a touch of louche living in Absolutely Fabulous?
The Home Office now estimates that since her famous victory in 2009, more than 7,500 former soldiers and their families have been given visas to settle in the UK. They have settled around garrison towns like Aldershot, Reading, Folkestone, Colchester, Catterick and Warminster. But Britain has not proved the land flowing with milk and honey as they had been led to believe.
Instead, according to the British Gurkha Welfare Society, Joanna Lumley's campaign has resulted in thousands of elderly and infirm Gurkha pensioners living in poor accommodation on paltry incomes.
"They are thoroughly miserable," says Chhatra Rai, the general secretary of the Gurkha charity. It would have been far better, he believes, if retired Gurkhas had been paid better pensions and encouraged to stay at home in Nepal.
"We told Joanna Lumley that. We are grateful to her for campaigning but entitlement to come to the UK was not the problem. There is also the pension problem. The whole situation is much more complicated than people realise."
There is not much room for complexity in British attitudes to the Brigade of Gurkhas, whose service to the British Crown goes back as far as 1815 and the days of the East India Company. They have served with immense courage and distinction in numerous conflicts worldwide and yet they remain one of the repositories of British imperial mythology, plucky little natives who had to draw blood once they had drawn their curved kukri blades in the service of their masters.
With what delight the popular press reported an incident only last month in which a Gurkha serving with the British Army in Afghanistan had severed the head of a dead Taliban warlord to bring home proof that the regiment had got their man.
The truth has always been more tricky. The Gurkhas, feared fighters from Nepal recruited into the British Indian Army, were divided in two when India became independent in 1947. Twelve battalions were transferred to the new Indian Army while eight battalions were taken into the regular British Army. The governments of Britain, India and Nepal under the Tripartite Agreement settled that the Gurkhas should receive the same pay and conditions whichever army they had joined.
The British Gurkhas were then based in Malaysia and Hong Kong. After 15 years they were given pensions which would allow them to retire and live as well as a middle-ranking civil servant back in Nepal. But then in 1997 Hong Kong was handed back to China and the Gurkhas moved to Britain. There they served alongside English soldiers whose pensions were three times their own. In 2007, the rules were changed to give Gurkha soldiers who retired after 1997 full pension rights. But there are still about 25,000 Gurkhas who retired before 1997 who still get only about a third of the pension that other British Army regulars receive.
What makes things even more complex is that there are thousands of ex-Gurkhas in Nepal who get no pension whatsoever, because they served less than the minimum 15 years. It is from this group that around 70 per cent of the new arrivals in the UK are drawn. Having no income at all beyond their savings, they rely utterly on the state to survive. Had they been paid even the basic pension, Rai argues, they would probably have stayed in Nepal.
The quality of life for many of these new arrivals is terrible," Rai adds. "They have no money. They are old and frail and have medical problems. They are separated from their family. Many cannot speak English and find it difficult to mix with the community. They are even intimidated by crossing the road."
One such individual is Man Bahadur Sunuwar, 67, who with his wife sleeps on a mattress on the floor of his Gurkha cousin Jit Bahadur Sunuwar, 70, in a cramped one-bedroom flat in Aldershot which has a tiny kitchen and bathroom.
"Life in the UK is very different from what he was told it would be like in Nepal," says Rai. He, like others, had been told their adult children would be allowed to enter the UK to look after them. But relatives are not eligible over the age of 18. Sunuwar's 25-year-old daughter has been denied a visa.
"We told the government that these would be the problems," Rai says. "If they had increased the pension it would have cost, we estimate, an extra £26m. It was a no-brainer."
The British Gurkha Welfare Society and other groups have now taken the pension disparity to the European court of human rights, arguing that it is wrong for someone like Chhatra Rai, who served in the British Army for 20 years before retiring as a Warrant Officer Second Class in 2005, to receive a pension of £290 a month, where his English comrades-in-arms get around £1,000. They also got lump sums of around £22,000 compared to his £3,000. "It doesn't seem right," he concludes, with considerable under-statement. It will be two years before the court rules.
Joanna Lumley, who had remained silent on the issue for some time, has just issued a statement in response to the plight of the Gurkha arrivals.
"We should remember that there would be no Great Britain, no National Health Service and no welfare state were it not for the blood spilt by Gurkhas and others to protect this country in much darker and more dangerous times than those we face now," she says, with her accustomed rhetorical flair.
Her campaign was a success. "It was a wonderful moment in our democratic history, where a public desire for justice turned into a massive campaign that changed government policy in the face of strong resistance from the Ministry of Defence."
She may have forgotten the law of unintended consequences. Political reality is a bit more serpentine than celebrity campaigners sometimes admit.
Celebrity campaigners
Bob Geldof: Africa
The quintessential celebrity campaigner and arguably the one who has achieved most for his chosen cause: raising awareness of extreme poverty in Africa. The former Boomtown Rat co-wrote the 1984 charity song "Do They Know It's Christmas?", organised Live Aid in 1985, Live 8 in 2005 and regularly uses his international fame as a platform to berate western politicians. Although criticised for his abrasive anti-diplomatic style, Geldof has been awarded an honorary Knighthood and the Man of Peace title for his "outstanding contribution to international social justice and peace".
Audrey Hepburn: UNICEF
After retiring from acting in the 1980s, Hepburn devoted her life to raising awareness of the plight of children in the developing world. As well as raising money in the US and Europe, she made frequent visits to Africa and Asia in her role as UNICEF "goodwill ambassador", and was given the Presidential Medal of Freedom by George Bush in 1992 for her efforts.
Wyclef Jean: Haiti
Inspired by Bob Geldof and Bono's work setting up the DATA (Debt, AIDS, Trade in Africa) organisation, Jean set up his own non-governmental organisation in 2005. Yéle Haiti is focused on the development of Haiti through youth programmes in education, sports, the arts and the environment. In its first year, the NGO provided scholarships to 3,600 children. Jean's abortive run for Haiti's presidency in 2010 drew criticism, as did allegations that the charity has mismanaged donations. Jean admitted the organisation had "made mistakes" but said he had never personally benefited from the foundation.
Angelina Jolie: Refugees
When first appointed as a "goodwill ambassador" for the UN refugee organisation UNHCR, staff took bets on whether she would wear high heels on her first field trip – but Jolie quickly proved herself equal to the role. She has taken up politically divisive issues: she visited Iraqi refugees in Syria in 2009, has spoken out against the detention of asylum seekers along the US-Mexican border, and donated $1 million to set up a National Centre for Refugee and Immigrant Children in the US.
Mia Farrow: Human Rights
Farrow has been a tireless advocate of universal human rights for decades. Her campaign to get Steven Spielberg to terminate his involvement with the Beijing "genocide" Olympics proved successful. And she has been vocal on the subject of human rights abuses in sub-Saharan Africa, for which she was awarded the Marian Anderson Award. However, she has been accused of muddle-headedness and reducing complex political issues to morality tales, especially with regards to her abortive 12-day "hunger strike for Darfur". Samuel Muston
Join our commenting forum
Join thought-provoking conversations, follow other Independent readers and see their replies