How widowed parents are being hit again by Tory cuts to bereavement benefits
A widow and her eight-year-old son, speaking to The Independent, urge the Government to halt reforms to the Widowed Bereavement Allowance (WPA) that come into effect in April. It is estimated grieving parents will on average lose out by £12,000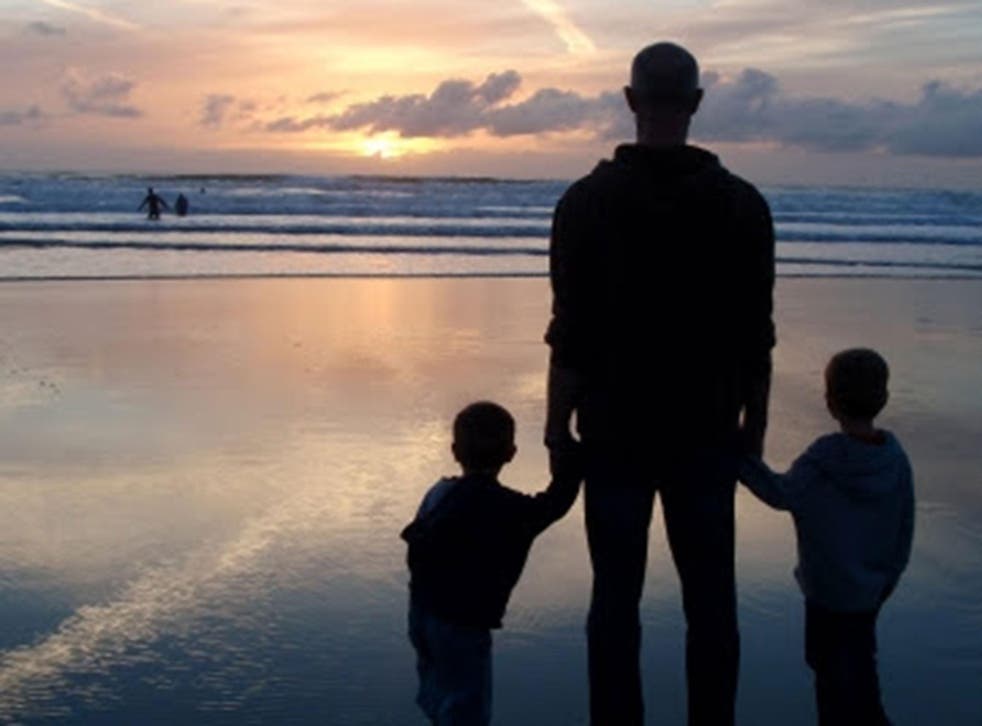 At twenty-to-six in the evening on Thursday 25 April 2013, Dunc, who had just celebrated his 39th birthday, kissed his wife Beth and two young children goodnight. He told them he loved them before leaving for a game of football with friends.
Just 60 minutes later Dunc, a crash analyst at Jaguar Land Rover, suffered from undiagnosed hypertrophic cardiomyopathy – a condition where the muscle wall of the heart becomes thickened and can, in some cases, lead to sudden cardiac death. "He died on the pitch," says 40-year-old Beth almost four years later over coffee in Portcullis House – the modern extension of the House of Commons where MPs meet with campaigners, lobbyists and journalists. "His heart went into an arrhythmia and it wasn't a shockable rhythm," she says. Attempts at resuscitation were unsuccessful and an hour and a half later he was declared dead at the couple's local hospital in Warwickshire. Their sons, Tom and Sam, were just three and five when he died in 2013.
"All of a sudden life changed," Beth adds.
In an attempt to deal with her husband's death, Beth wrote a series of blogs for a well known website. In one entry, five months after Dunc collapsed on the pitch, she posted: "By 8pm, my gorgeous, dedicated, loving husband had died and I was officially a widow. Not just a widow, but a widow with two little boys at home, who were totally expecting me to come back and say that Daddy was fine.
"After all, they knew all about hospitals, and the clever doctors who make you better. Except on this occasion, they couldn't, and my world, and that of our boys, had changed forever."
Beth, who taught students with severe and complex learning difficulties for nine years before her husband died, is now one of thousands of widowed parents receiving a benefit from the Government since the death of a spouse.
But an overhaul of the Widowed Parent's Allowance (WPA) benefit from 6 April will mean bereaved parents will receive payments for just 18 months. Currently grieving parents receive support for lost income until their youngest child leaves school. The Childhood Bereavement Network (CBN), a hub for those working with bereaved children, young people and their families across Britain, estimates that a widowed parent will lose out, on average, £12,000 due to the changes. It will affect those whose partner dies after the 6 April 2017, meaning those who are set to lose out are currently unaware. The CBN describes the change: "A six-year-old whose father died in 2016 will be supported until she leaves school, as long as her mother doesn't move in with a new partner or remarry; a six-year-old whose father dies in 2018 will be supported for just 18 months."
Grieving parents will also be hit by the former Chancellor George Osborne's austerity measures to cut £12bn from welfare – specifically the "two-child" policy. In a months time child tax credits will only be paid for the first two children in each family. CBN estimate that over 23,000 parents died in 2014, leaving around 40,000 newly bereaved children. The organisation adds that around 13 to 16 per cent of grieving families will be affected by the two-child limit. Ministers have also caused much anger after refusing to extend bereavement entitlement provisions to cohabiting couples that were not married. The CBN add that one in five parents raising children can't claim bereavement benefits if their long-term partner dies, because they were not married or in a civil partnership before the death.
During a debate in Westminster Hall on the changes a fortnight ago Stella Creasy, the Labour MP for Walthamstow said the cut – expected to save the Government over £100m – is a "short-term saving with a long-term loss" and the justifications sounded similar to "something from the dark ages". She added: "Grieving does not stop at 18 months, so why should the support that we offer to families affect by this sort of tragedy?"
Conservative minister Richard Harrington, however, defended the plans, adding: "I hope the honourable lady will agree that the old system could be unfair and complex, and could act as a trap preventing people from readjusting."
Sitting across the table from Beth in Portcullis House is her eight-year-old son Sam, clutching a teddy bear he has purchased from Westminster's souvenir shop (he's named it Theresa, after considering Elizabeth for a short while). They have travelled from Warwickshire to attend a debate on the reforms and Sam has sent a letter to his MP. It reads: "I hope this letter encourages you and the Government to change your minds about WPA and help children who do not know their mums or dads are going to die yet. I was devastated when my daddy died and others will be too. They deserve to be treated better when this terrible tragedy hits them".
Initially, the Government proposed terminating the benefit 12 months after a death, which would have been "disastrous", says Beth. "The first anniversary is such a big milestone and a horribly emotional time and to then hear you're losing your allowance…" Her son Sam interrupts: "It's the children that get you up every morning. Otherwise mum says she would have been asleep and just wouldn't have woken up".
The Government's main point, Beth continues, seems to be "the money they are putting in will see you through the most difficult months".
"We are now 48 months into this… we're saying what is this magic 18 months?"
"Tom was three years and two months when Dunc died and he didn't know what death meant. He only said to me last October 'Daddy really isn't coming back, is he?' – and he was six and a half by then. He's now grieving now and behaving in a very challenging way. He's feeling extremely emotional and we need some extra external support and that's four years later."
Debbie Abrahams, the shadow Work and Pensions Secretary, has urged the Government to scrap "callous" reforms to bereavement allowance. "Financial pressures will compound not help families experiencing such grief," she added. "It is impossible to imagine how difficult it must be for a family to lose a parent. In 2015, over 40,000 children were affected. Under these circumstances, it is only right that the social security system steps in to help families cope with their loss and get back on their feet."
The Department for Work and Pensions (DWP) say they are updating an "old system that was based on the outdated assumption that a widowed parent relied on their spouse for income, and would never work themselves". This, they add, does not reflect people's lives today.
In a statement the DWP added: "The 18-month Bereavement Support Payment helps with the immediate costs when someone loses their spouse or civil partner and the support can help protect families from sudden financial difficulties. Once the payments come to an end, there are means-tested benefits which can continue to support the bereaved, especially those who are bringing up children.
"The new payment is easier to claim, won't be taxed and doesn't affect the amount received from other benefits, helping those on the lowest incomes the most."
But Beth is hoping the Government will at least delay the changes and commit to a review. "They are pushing forward with these reforms and they reckon they will save them £100m over two years. But they keep saying it wasn't intended to save money it was just that they needed reforming.
"They want to get us back in the job market. Most of us if we were working before our partner died want to be back in work. I like working – I love my job. I spent three years at university getting a First class degree for it. I don't want to sit at home not being part of society but it's got to be manageable. And now my main job has to be to bring these two up and in it the effect that loosing my husband has on them.
"I can't ever change that. It's happened. But I really want to make sure that they still achieve their full potential, academically and socially. Be the best people they can be. What it means for me personally is that they get the same experience as they would have got before their dad died."
Beth continues: "For those people for whom the financial concerns are an issue as well I cannot imagine what that must be like. I really struggle with the plate spinning and trying to just manage everything."
"Those of us who claim the widowed parents allowance at the moment – it doesn't affect us. What we are concerned about is the fact that those people who are about to be widowed, they don't know. We didn't know this time four years ago that we were about to lose their daddy. It's been put in through the backdoor really because the people it's going to affect don't know, which is why we are doing our best to make sure people do know".
Join our new commenting forum
Join thought-provoking conversations, follow other Independent readers and see their replies