Government scraps proposed women's 'community prisons' in new strategy to reduce female offending
Campaigners warn funding offered for community focussed plans is 'wholly inadequate'
Lizzie Dearden
Home Affairs Correspondent
Tuesday 26 June 2018 20:40 Comments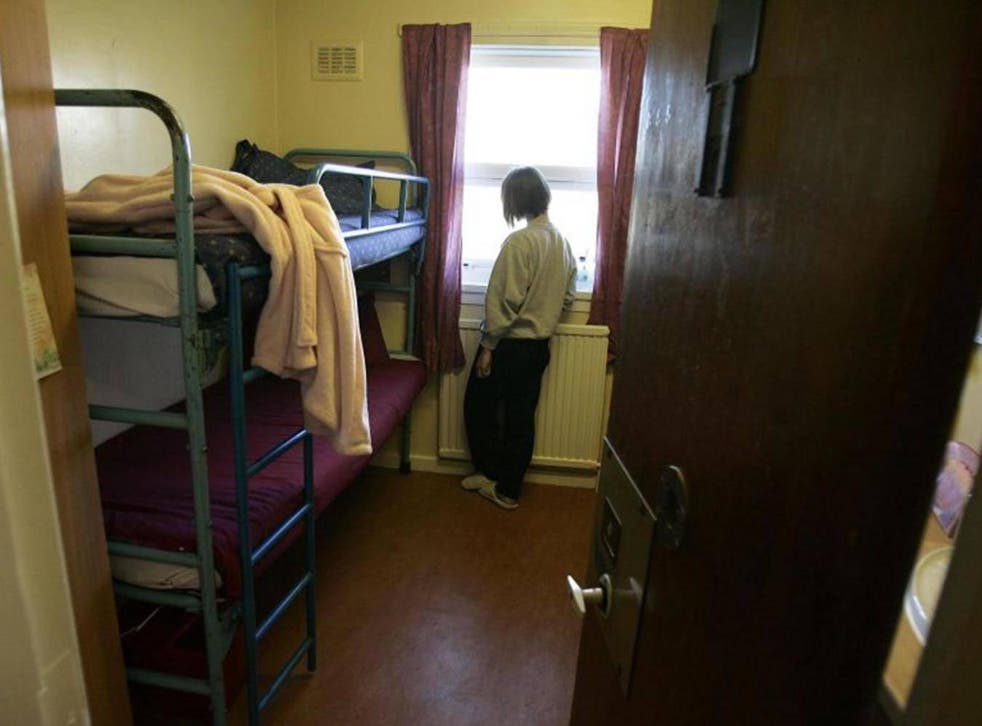 The government has scrapped proposals to create "community prisons" for women as part of a delayed strategy aiming to combat female offending.
The Ministry of Justice (MoJ) had pledged to build and open five new facilities by the end of 2020, claiming they would allow women to be detained closer to home and maintain family links, but met widespread opposition.
The new strategy is moving "emphasis from custody to the community" and trying to bring the female prison population down. "We want to ensure that the public and judiciary have confidence in non-custodial sentences – such as effective community orders – which directly tackle the causes of reoffending, including alcohol or drug abuse," said the MoJ.
"We will be looking at what more we can do to emphasise that short custodial sentences should be viewed as a last resort."
Community sentences – such as unpaid work, addiction programmes and rehabilitation activities – have been shown to be cheaper and more effective than imprisonment.
But judges have lost confidence in the private companies charged with enforcing them by Conservative-led reforms that were branded a "mess" by MPs last week.
A Justice Committee report said convicts were being made to carry out "meaningless" unpaid work like moving mud from one pile to another in graveyards, or turning up to placements and finding no one there.
But the Ministry of Justice's female offenders strategy, originally supposed to be published in early 2017, has put a focus on non-custodial sentences and community services.
David Gauke describes shocking videos emerging from UK prisons
Instead of women's prisons, the government is to pilot five new residential women's centres providing stable accommodation while they complete court orders and access to education, training and support.
The government cited statistics showing almost 60 per cent of female offenders have experienced domestic abuse – an estimated 24 to 31 per cent have dependent children and those in jail or on probation are more than twice as likely to suffer mental health issues as men.
Almost half of all female prisoners in England and Wales say they committed their offence to support the drug use of someone else, the Ministry of Justice said, while many more are substance abusers themselves.
The estimated annual cost of female offending is around £1.7bn, while 71 per cent of women jailed for under a year, and 56 per cent of all female convicts, go on to commit more crime.
There are currently more than 3,800 women in prisons in England and Wales, making up 4.7 per cent of the overall population.
"Evidence clearly shows that putting women into prison can do more harm than good for society, failing to cut the cycle of reoffending and often exacerbating already difficult family circumstances," said David Gauke, the justice secretary.
"While public protection will always be our priority, and prison must remain the only option in the most serious cases, I want that to be a last resort."
Mr Gauke, who is the fifth MP to hold the vital post in just three years, called for a shift in attitudes to how Britain deals with female offenders. He said: "This ultimately benefits everyone – offenders, their families and the wider community, as we see fewer victims and cut the cost of reoffending."
The government is investing £5m over two years in community services and early intervention programmes.
Local areas will have to bid for grants, and the government is relying on specialist organisations to design dedicated services.
UK news in pictures

Show all 50
Kate Paradine, CEO of the Women in Prison charity, said the funding was "wholly inadequate" for the government's vision and raised concern over a potential postcode lottery.
"Women's centres are key to delivering the strategy, and the funding crisis they currently face is serious – that is the key issue that I don't see being addressed here," she told The Independent.
"The messaging is very positive, but for us it's about what is going to be delivered on the ground."
Dr Paradine warned that some centres were facing closure, ending projects and making staff redundant, adding: "It's all about action matching vision, and that requires funding and a plan.
"All of our services are affected by the crisis in the criminal justice system."
Dame Vera Baird QC, the Association of Police and Crime Commissioners' lead on victims, also raised the alarm, warning that "for the strategy to achieve its intentions it needs to be properly funded".
"The Ministry of Justice has handed back £50m to the Treasury that was earmarked for new prisons for women; as this building work is now rightly not happening, the money should be invested in to this strategy," she added.
Peter Dawson, director of the Prison Reform Trust, said the government had not allocated the resources needed to deliver the changes, or a timetable to drive them.
"The strategy is welcome recognition of the futility of short prison sentences for women whose offending is often driven by abusive relationships or unmet mental health needs," he added.
"If the government turns its good intentions into action, many thousands of women and families, including victims, will benefit. That work must start immediately."
The Howard League for Penal Reform said one self-harm incident is recorded in women's prisons every hour, totalling 8,300 last year, and one in five inmates are released homeless.
The vast majority of female offenders are handed short sentences of six months or less for minor crimes, with a quarter imprisoned for under a month, but the time inside can still cause women to lose their jobs, homes and contact with children.
Frances Crook, chief executive of the Howard League for Penal Reform, said: "Women's centres can achieve what prisons cannot – working with other organisations in the community to turn lives around and reduce crime. It is essential that they are properly funded to continue this success."
Register for free to continue reading
Registration is a free and easy way to support our truly independent journalism
By registering, you will also enjoy limited access to Premium articles, exclusive newsletters, commenting, and virtual events with our leading journalists
Already have an account? sign in
Join our new commenting forum
Join thought-provoking conversations, follow other Independent readers and see their replies