York floods: Hotel gives homeless families free rooms as hundreds of volunteers offer help to swamped city
A rest centre was overwhelmed with food donations as residents continued to be evacuated from their homes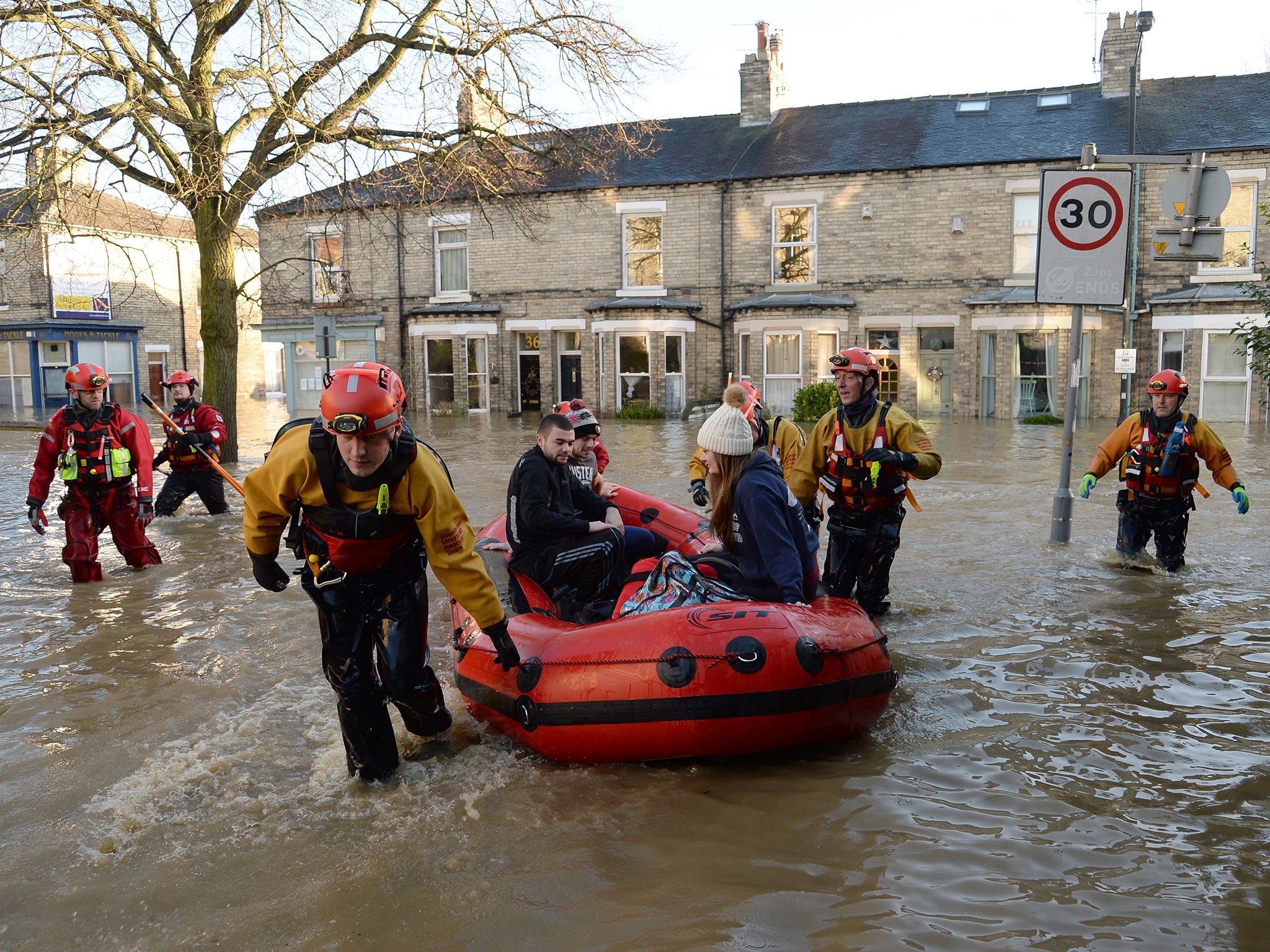 Hundreds of volunteers are converging in York to help victims of the worst floods to hit the historic city in over a decade.
One hotel is offering its rooms to homeless families for free, while rest centres are being inundated with food donations and local people are volunteering their time to do anything they can to help.
When stocks at the York Foodbank were threatened by rising water overnight, a call for help on Twitter resulted in 40 people bringing five vans and several cars to move the food to safety.
Laura Chalmers, the foodbank's manager, wrote a message on Facebook to thank all the volunteers.
"Being an hour away and turning up to see a sea of volunteers and numerous vans and cars was incredible," she said. "I cannot thank you enough."
Food donations were also being taken to Archbishop Holgate's School, which has been taken over as a rest centre for evacuated residents.
After receiving several requests by people wanting to help, the school said food donations would be welcomed at the school canteen.
Less than four hours later, staff sent a tweet out saying they had more than they need and the city council urged well-wishers to stop bringing provisions.
Meanwhile, young people from the Ahmadiyya Muslim Youth Association travelled from Huddersfield to York to help fill sandbags and build more defences.
A member of staff at The Grange Hotel, a Regency townhouse in the city centre, told the Independent it was housing residents who were happy to give their identity and had been directly affected by the floods.
It is near York's famous minster, which opened its doors for free on Sunday, waiving the usual admission fees to give people "some peace amongst the flood chaos".
Many local people were also taking to social media to ask what they could do to help affected communities.
Water levels were continuing to rise along the city's two rivers this afternoon as the Army and emergency services worked to get residents trapped in flooded houses and flats to safety.
Police alerted more than 600 homes overnight and evacuated vulnerable people to Archbishop Holgate's, while 3,500 properties are feared to be at risk.
One man living in Navigation Road, next to the River Foss, said dozens of people were stranded in blocks of flats submerged in "chest depth" floodwater.
UK floods: North bears brunt
"We are surrounded by water. It is really alarming," he said. "We have been trapped since last night. It's not nice at all but we are trying to keep calm. We have got a few supplies to last a couple of days.
"The whole of town is flooded, it is really extreme - I've never seen anything like this. Half of York is underwater."
The River Ouse is up to four metres above its typical level but will not peak until tomorrow afternoon, while the River Foss is hitting record heights in urban areas.
York is accustomed to annual flooding but residents say it is the most severe since the devastation in 2000 - the worst since records began in 1625 – which sparked a new round of defences.
In Pictures: Floods hit the UK
Show all 17
Dozens of severe flood warnings remain in place in Yorkshire and the North East, and engineers are working to restore power to more than 7,500 homes in Greater Manchester and Lancashire that have been left without power.
The flooding has been caused by "unprecedented" heavy rain across northern England, causing every river in Lancashire and many in Yorkshire to reach record levels.
David Cameron chaired an emergency Cobra meeting on the flooding today and promised to deploy more troops "as part of a plan to do whatever is needed".
Liz Truss, the Environment Secretary, said the current priority was protecting lives and people's homes, but pledged to review failing flood defences.
Additional reporting by PA
Join our commenting forum
Join thought-provoking conversations, follow other Independent readers and see their replies