Almost half of girls as young as 11 say they are harassed when they go online, study shows
More than 10 per cent stay off social media altogether because the problem is so bad, according to survey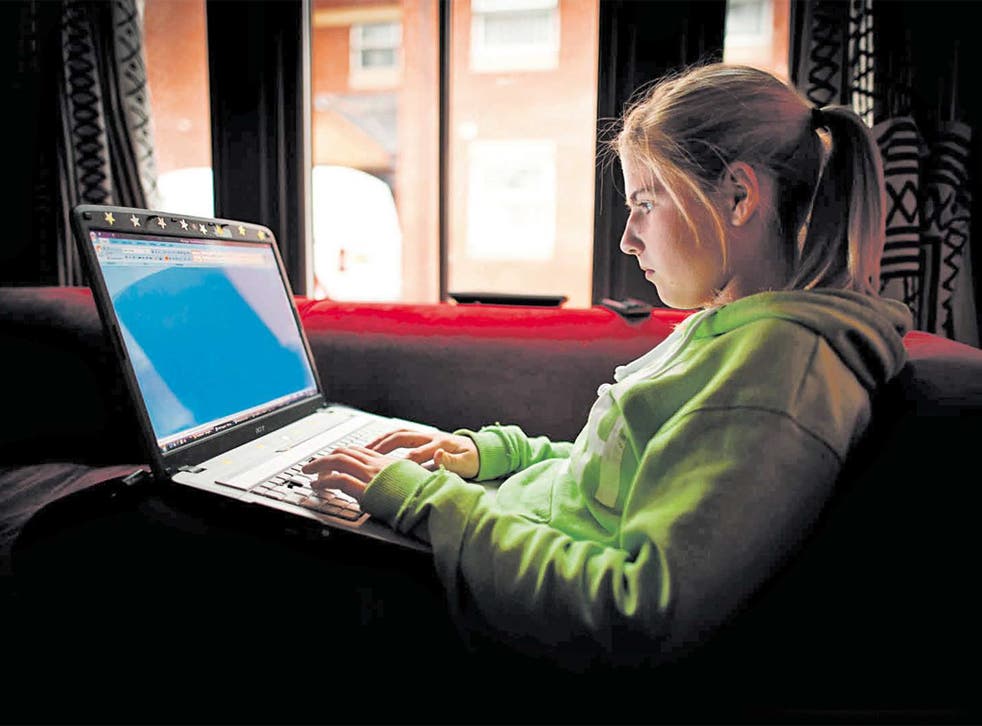 Nearly half of girls aged 11 to 18 have suffered harassment or abuse on social media, new findings show.
A poll more than 1,000 girls and boys in that age group in the UK found 48 per cent of female respondents had experienced some form of harassment or abuse on social media, such as receiving upsetting messages, having images shared without their consent or feeling harassed through regular contact.
In a sign of the gravity of such attacks, almost three in four (73 per cent) had to take action to avoid criticism online, such as blocking other users or staying off sites altogether, according to the survey, which was carried out by humanitarian organisation Plan International UK.
More than two in five girls had blocked other users (43 per cent), while a third had opted not to participate in a debate or conversation online for fear of being criticised (34 per cent) and 13 per cent had stopped going on social media.
The proportion of boys reporting harassment and abuse was slightly lower, at 40 per cent, with 59 per cent of them having to take some form of action.​
Plan International UK released the findings as it launched its #girlsbelonghere campaign, which it is calling to be integrated into sex and relationship education in schools.
Tanya Barron, chief executive of Plan International UK, said the findings raised concerns that the long-existing problem of harassment against young girls on the street was now "spilling over" into the digital world.
"Girls have previously told us that they face harassment in schools and are scared every day on the street," she said.
"This new survey now shows that what they're experiencing in the physical world is spilling over into their digital world – and we mustn't allow this to happen.
"What's really concerning is that our research shows girls are self-censoring on social media for fear of backlash from others."
Responding to the findings, a Department for Education spokesperson said: "Bullying of any kind is unacceptable. Schools should be safe places where children are taught to tolerate and respect others.
"To help support this, the Government is investing more than £4million in anti-bullying projects and has introduced new cyber-bullying guidance which provides advice for schools on understanding, preventing and responding to cyberbullying
"We will soon be consulting on the range of issues which should be included in the updated Relationship and Sexual Education guidance."
UK news in pictures

Show all 50
The poll comes after the Children's Commissioner for England warned parents to stop their children from "bingeing" on social media, comparing it with consuming time online "like junk food".
Anne Longfield's stark warnings followed a report by research firm Childwise, which found that children across all age groups are spending longer periods of time online, with youngsters aged five to 15 spending an average of 15 hours a week on the web.
Use of social media sites among children has also, however, been promoted as a way of building up their resilience. A recent report by the Education Policy Institute (EPI) found that using social media helped children to develop their social skills, collaborate better with peers, and access help and emotional support more easily.
Register for free to continue reading
Registration is a free and easy way to support our truly independent journalism
By registering, you will also enjoy limited access to Premium articles, exclusive newsletters, commenting, and virtual events with our leading journalists
Already have an account? sign in
Register for free to continue reading
Registration is a free and easy way to support our truly independent journalism
By registering, you will also enjoy limited access to Premium articles, exclusive newsletters, commenting, and virtual events with our leading journalists
Already have an account? sign in
Join our new commenting forum
Join thought-provoking conversations, follow other Independent readers and see their replies