Ireland will stand with Ukraine for as long as it takes, vows Leo Varadkar
Ireland's premier held a press conference after an hour-long meeting with President Volodymyr Zelensky.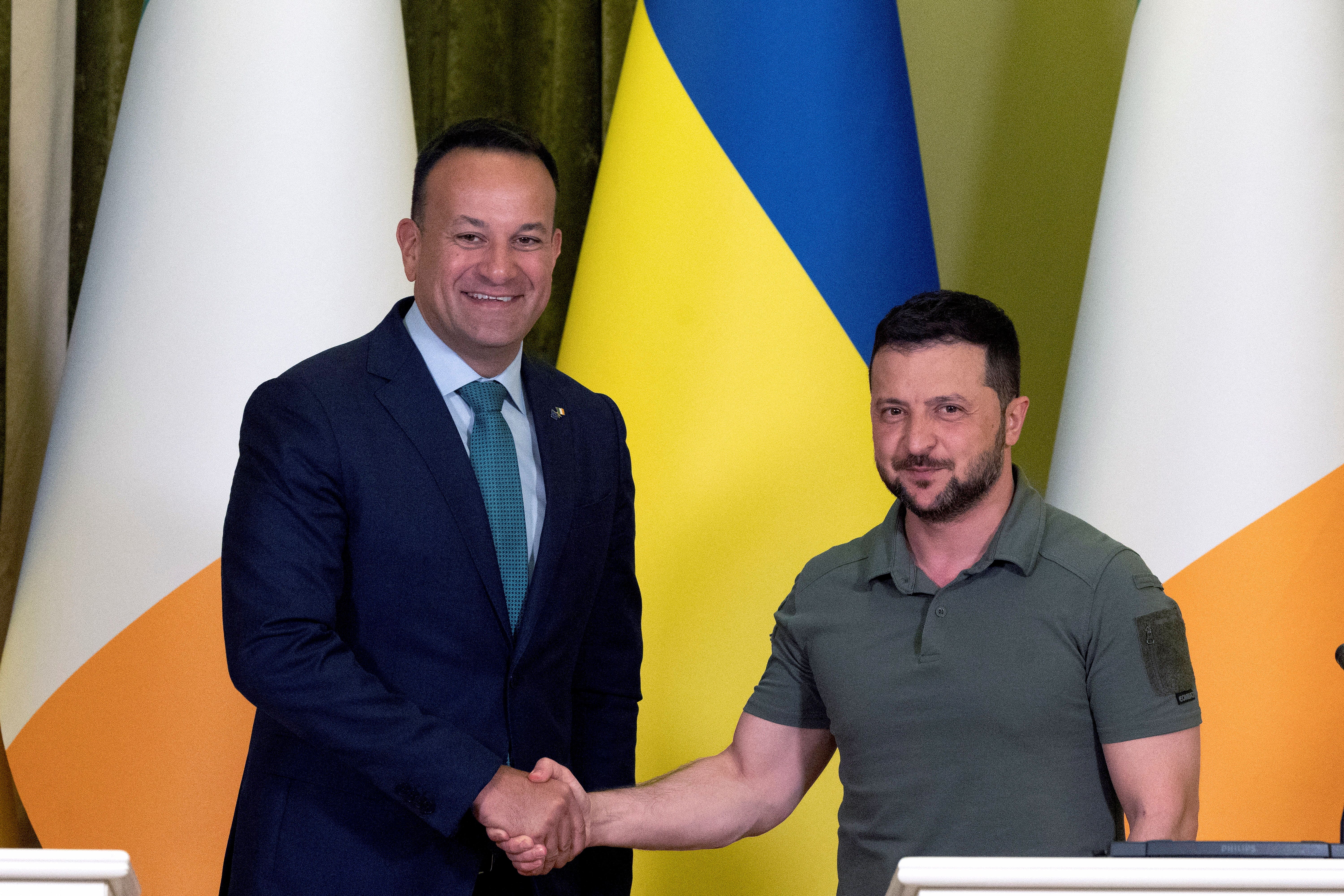 Ireland's premier has vowed to stand with Ukraine for as long as it takes after holding talks with President Volodymyr Zelensky on a visit to Kyiv.
Taoiseach Leo Varadkar visited the sites of several atrocities committed in the early weeks of the Russian invasion, before meeting the Ukrainian leader in the capital.
After an engagement with the president, Mr Varadkar then met Ukraine's Prime Minister Denys Shmyhal and the chairman of the Verkhovna Rada parliament, Ruslan Stefanchuk.
Mr Varadkar also paused for a moment's silence at a memorial in central Kyiv for the children who have died in the conflict, placing a toy lamb among the other teddies.
At a press conference after an hour-long meeting with Mr Zelensky, Mr Varadkar insisted Ukraine would win the war.
"Perhaps Russia believes that it can break the resolve of the Ukrainian people, but I know from the way you fought for the past few years, and from my visit here, that it cannot," he said.
"My visits to the sites of these atrocities this morning, and my meeting here in Kyiv, has confirmed to me that Russia will not succeed, and Russia cannot be allowed to succeed.
"This is the 21st century and the idea that national boundaries can be changed by violence, or the democratically elected governments can be overthrown by foreign invasion, must perish.
"We need to make sure that Ukraine succeeds, that it wins this war, so that no other country gets attacked.
"If Russia thinks that targeting civilians and essential infrastructure will discourage Ukraine's friends, including Ireland, well, it's wrong.
"Volodymyr Zelensky, we will stand with Ukraine for as long as it takes. Ukraine will prevail and Ukraine will be rebuilt."
Mr Varadkar also reiterated Ireland's support for Ukraine's accession to the EU and called for the process to start before the end of the year.
He also committed in taking a lead role to set up international tribunals to prosecute crimes committed in Ukraine and to assist in efforts to de-mine areas.
He made clear that while Ireland was militarily neutral it was not politically neutral, and announced an additional five million euro in humanitarian funding to help respond to the attack on the Kakhoka dam and other areas.
Mr Zelensky thanked the people of Ireland for taking in tens of thousands of Ukrainian refugees since the Russian invasion began.
"I, first of all, would like to extend words of gratitude to you and to the whole people of Ireland for hosting our nationals in Ireland. This is a significant moral support to our nation," he said.
"You've hosted 86,000 Ukrainian citizens, you've provided them with accommodation, with funding, with access to education and health support, this is very important."
Mr Zelensky said it was a "fruitful" meeting where they spoke about the sanctions package against Russia, about how to stop Russia producing missiles and Ukraine's accession to the EU.
He also informed Mr Varadkar about the recent Russian attacks on its port cities, including Odesa. He said Russia was targeting residential areas and food infrastructure, which was not only an attack on Ukraine, but on "global stability".
"It's important that every country of the world which is striving for peace, for normal life, on all continents, it's important for them to condemn the Russian terror and participate in common efforts to overcome this aggression.
"Ireland is participating in such common efforts."
Mr Zelensky also said he was "very grateful" that the Taoiseach began his visit in Kyiv's suburbs, stating that he had "seen with your own eyes the consequences of the war, the consequences of Russia's aggression".
Mr Varadkar began an intensive schedule of engagements with a visit north of the city to the Kyiv Oblast region.
He was taken to the small cities of Bucha and Irpin, where scores of civilians were killed during a period of Russian occupation at the start of the war.
In Bucha, Mr Varadkar visited the Church of St Andrew where a mass grave was discovered after Russian soldiers retreated from the area.
Inside the building he was shown an exhibition of images of the graphic scenes captured during the exhumation process.
Ukraine's prosecutor general Andrei Kostin accompanied the Taoiseach on the visit and explained the work done to collect evidence for war crimes investigations and secure justice for those killed.
The Taoiseach's tour also took him through the village of Horenka, where he was taken to an apartment block that was heavily damaged in a Russian aerial bombardment.
The shelling blew a huge hole in the side of the building and the interiors of the apartments that were destroyed are clearly visible.
Among the debris was a painting of an old man enjoying a bath, representing the defiance of residents.
Horenka is where Irish-born cameraman Pierre Zakrzewski was killed in a Russian attack in March 2022.
Mr Zakrzewski, 55, who worked for Fox News, was killed alongside 24-year-old Ukrainian freelance journalist Oleksandra "Sasha" Kuvshynova.
The Irish premier also visited Moschun, a village that witnessed a pivotal battle in the fight to repel a full-scale invasion of Kyiv.
Mr Varadkar laid flowers and observed a moment's silence to commemorate the Ukrainians fighters, most from the territorial reserves, who were killed in defence of the capital.
He also visited a bridge in Irpin where Russian forces bombed civilians fleeing the conflict. The bridge was later blown up by Ukrainian troops in an effort to prevent Russian tanks entering Kyiv.
Later in the morning, Mr Varadkar visited Mikhailivska Square (St Michael's Square) in central Kyiv, where he watched as two Ukrainian soldiers laid a wreath on behalf of the Irish Government at a ceremony at the Wall of Remembrance of the Fallen for Ukraine.
The Taoiseach was then shown the remnants of several Russian tanks and other military vehicles on display in the square.