Life on the streets: Homelessness is about more than just poverty
Hazel Sheffield volunteered to help the homeless at a local Crisis centre. Humbled by the experience, she asks why the Government isn't doing more to help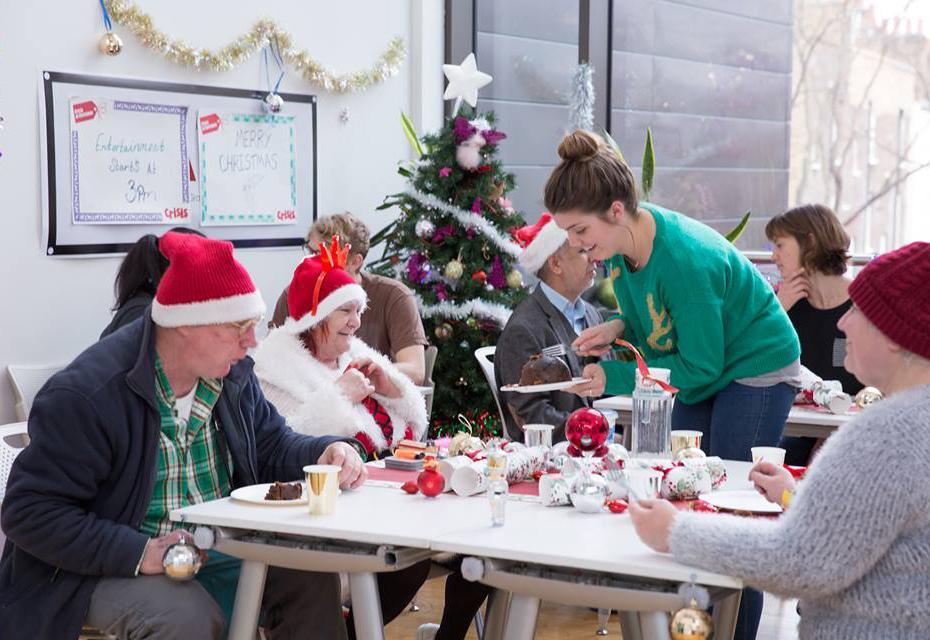 Homelessness is getting worse. Around 3,500 people sleep rough every night in the UK, double the number in 2010. Behind the headline figures, many more people have lost their homes. Some sleep on friends' sofas. Almost 170,000 are hidden away in emergency B&Bs and hostels.
Crisis takes over schools and sixth form colleges over Christmas to provide warmth and hot meals for 4,000 homeless people with help from around 10,000 volunteers. This year I joined them, blinking over a cup of hot tea at 7.45am as leaders explained our tasks for the day. We were quickly put to work, cleaning toilets and showers, preparing food and manning doors. One morning, we served more than 300 hot breakfasts to people who came in after a bitter night in the cold. Some were visibly distressed and freezing, barely able to feel their hands. Others sat in three overcoats cradling cup after cup of sugary tea and and said nothing.
Each evening, Crisis would put out the call for more last-minute volunteers, trying to boost capacity at centres across London, Edinburgh, Birmingham and Newcastle. Working for Crisis taught me that homelessness is not solely a matter of poverty. Many of the visitors I met were dealing with complicated issues involving addiction, mental health and the breakdown of relationships that left them with nowhere to go. But after years of measures to tackle the varied causes of homelessness in the UK, slow but devastating cuts to private tenancy and housing benefits are pushing up the numbers of people forced out of their homes.
Loss of private tenancy is the biggest cause of homelessness in London, accounting for 40 per cent of all cases. It's responsible for some of the 8,000 people who slept rough last year, an increase on the previous year of six per cent. Rising homelessness did not happen overnight. Right to buy, revived in 2005, reduced the amount of council housing available. Then George Osborne froze housing benefit for four years, believing incorrectly that this would encourage landlords to cut rent. Instead, by the time this policy ends in 2020, families on benefits in four-fifths of the country will be unable to afford rent.
Slowly, government policy has made housing less affordable for those who need help most. "After 50 years of fighting homelessness we know that it primarily comes down to a shortage of affordable homes," says Roger Harding, director of communications, policy and campaigns at Shelter.
One of my favourite jobs as a volunteer was working on the nail bar, where I met a man who had become homeless in the past year. He was probably in his fifties, with wide eyes, white hair and a smile that lit up his whole face when I beckoned him over. He looked about as nervous as I felt. But I smiled back as he sat down and then got to work, trying to gently remove layers of dirt from his hands using warm water and baby wipes; rubbing in layers of cream to try and smooth sore skin.
Culture news in pictures
Show all 33
He didn't talk much and we had been told not to ask too many questions, but I understood that he had been on the streets in central London for several months and that he had spent Christmas alone. I remembered what the staff told us at the start of the day: some of these people go days without being acknowledged on the street. While I worked, my guest cracked his bright smile and broke the silence to tell me it felt good. It felt good to me too. A few minutes later, he thanked me and disappeared into the anonymous throng of people gathering in the dining hall. I didn't see him again.
"Rising levels of homelessness and rough sleeping in London are beyond shameful in one of the richest cities in the world and it's a sad fact that for years some of London's most vulnerable people have been let down and ignored," said Sadiq Khan, mayor of London. Khan has earmarked £50m to invest in accommodation for people moving from hostels to longer-term independent living. Part of the money will go towards securing two-year tenancies for women running from abusive relationships to help them prepare for independent living and to free up hostel beds.
Roger Harding from Shelter said the new funding needs to work in tandem with the mayor's longer-term goal to build 90,000 affordable homes. "It's only by building homes that people on lower incomes can actually afford to live in that we will put an end to homelessness for good," he said. Far more needs to be done to stop people ending up on the street in the first place.
At the moment, homeless people in England and Wales can be turned away by councils if they are not considered a priority, even if they have nowhere else to stay. A Homelessness Reduction Bill, tabled by Conservative MP Bob Blackman and supported by MPs from all parties, aims to change this by forcing councils to talk to private landlords and helping people reorganise their finances so they don't end up losing their homes.
The bill was passed unopposed during its second reading in Parliament on October 28, but it could still be blocked unless enough MPs turn up to the next reading in spring. "We urge the public to help by calling on their MP to back this crucial bill," said Jon Sparkes of Crisis. "We need to make sure people can get help all year round, ideally before they become homeless in the first place."
The Crisis centre I worked in closed last week. Back at work, I thought about the English man with the bright smile and wondered where he was sleeping and how he was staying warm during the day. Charities can only do so much. Legislation is needed to prevent people from losing their homes in the first place and to provide an important safety net to protect the vulnerable. Without it, more people will face the isolation and fear that comes with living on the streets.
Join our commenting forum
Join thought-provoking conversations, follow other Independent readers and see their replies