Lions play with old Christmas trees at Cambridgeshire zoo
The fur-friendly way of getting rid of your festive fir
Kiran Moodley
Tuesday 06 January 2015 14:32 Comments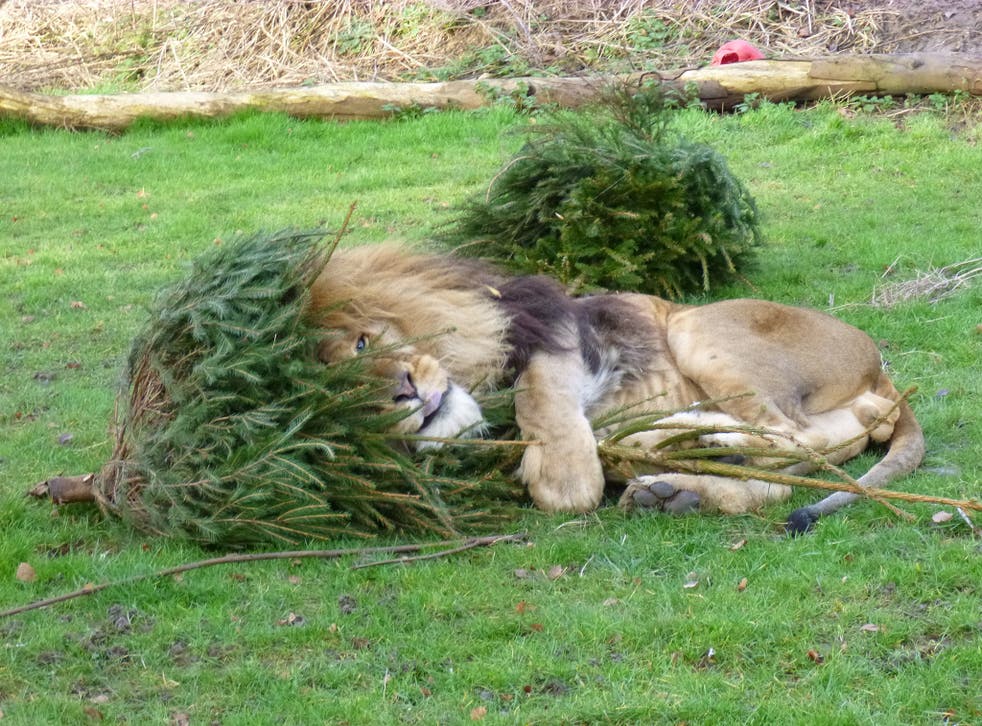 If the sight of used Christmas trees lying on pavements across the country is too sad, then there may be another, far more entertaining way to recycle your fir and keep the festive spirit alive just a little longer.
Lions at Linton Zoo in Cambridgeshire are being given old trees to play with as households across the county get rid of their unwanted shrubbery.
Linton Zoological Gardens' director Kim Simmons said that Christmas trees are "like catnip" to lions, with video showing the mammals rolling around and rubbing up against the prickly branches.
With a number of nurseries as well as members of the public dropping off trees, Linton Zoo also use some of the festive fir in the bio-burner to provide additional heating for the buildings during the January cold.
The video from Linton shows the youngest pair of African lions, Zuri (male) and Safina (female) enjoying their post-Christmas treats, although Zuri seems to hog the new toys most of the time.
Simmons said, "Before you throw your Christmas trees on the rubbish pile please spare us a thought. Greenery is very important to our animals, so live rooted and growing trees can be given a second chance at life by being planted in one of our animal enclosures or our new woodland area."
Register for free to continue reading
Registration is a free and easy way to support our truly independent journalism
By registering, you will also enjoy limited access to Premium articles, exclusive newsletters, commenting, and virtual events with our leading journalists
Already have an account? sign in
Join our new commenting forum
Join thought-provoking conversations, follow other Independent readers and see their replies