Man on a leash in Farringdon, London: Mystery of 'walkies' solved
BDSM or a PR stunt? Neither, actually.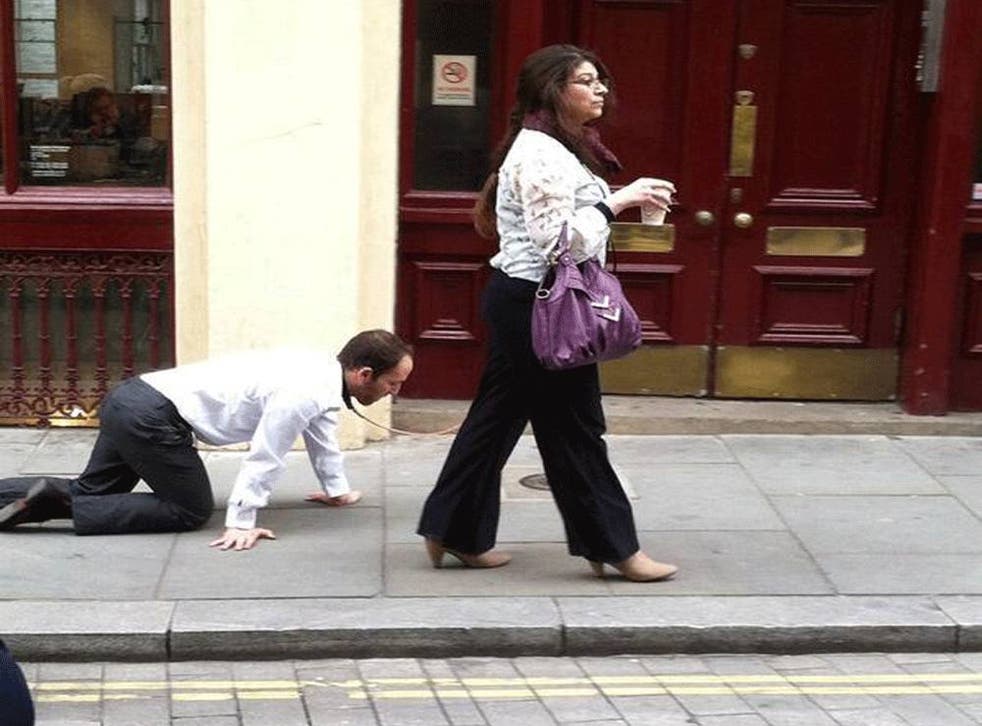 A man being walked on all fours by a woman wielding a leash managed to raise eyebrows even in Farringdon, with Londoners taking pictures, tweeting and filming the pair as they strutted and crawled on the dirty pavement.
The whole affair was shrouded in mystery, lascivious imaginations pricked. Was it BDSM role-playing or a PR stunt perhaps? Yet now the woman involved has come forward to reveal that their 'walkies' was actually an acting project and the director was the man on the leash.
Revealing herself as Eden Avital Alexander, she told The Independent she had been a stage actress for 20 years and got involved in the project because of its focus on audience reaction. A camera was to film the reactions of passersby as she walked a man a leash. They would then cut three minutes of the best reactions people had.
She said that many people did approach her and one even had an argument with her about human rights. "Another one asked me to make my dog smile to her camera, while walking behind us for five minutes. A few people asked me if it was my husband. I replied to all within character."
Walking a man on a leash raised interesting responses on gender equality and also the blurred lines between our personal and public lives, she reflected. adding: "I do believe that a lot of people raised important issues in their response; such as equality of gender, human rights, animal rights, where PR stops and personal life begins."
She said she didn't come forward sooner out of respect to the director of the shoot but was proud of taking part in the project. "I believe that artists, actors especially, should take the audience out of their normal everyday life and make them think and feel other things, in this case was to make them laugh, but while doing it different things came up." She said she would keep the identity of the director private as well as the project, but found it the role on acting website 'Shooting people'.
The media's coverage of the issue was oddly fragmented according to Ms Alexander. She said: "Weirdly only five of the pictures taken that day were released on the media (some people took pictures of us from the front) and the only videos were published was of us crossing the road (which was only the first five minutes) even though people took much more."
She added: "I am proud of being part of this project, even if it was just to make someone laugh: we should do that more often."
Register for free to continue reading
Registration is a free and easy way to support our truly independent journalism
By registering, you will also enjoy limited access to Premium articles, exclusive newsletters, commenting, and virtual events with our leading journalists
Already have an account? sign in
Register for free to continue reading
Registration is a free and easy way to support our truly independent journalism
By registering, you will also enjoy limited access to Premium articles, exclusive newsletters, commenting, and virtual events with our leading journalists
Already have an account? sign in
Join our new commenting forum
Join thought-provoking conversations, follow other Independent readers and see their replies