A businessman is being walked on a leash in Farringdon
For reasons unknown
Christopher Hooton
Friday 11 April 2014 16:06 Comments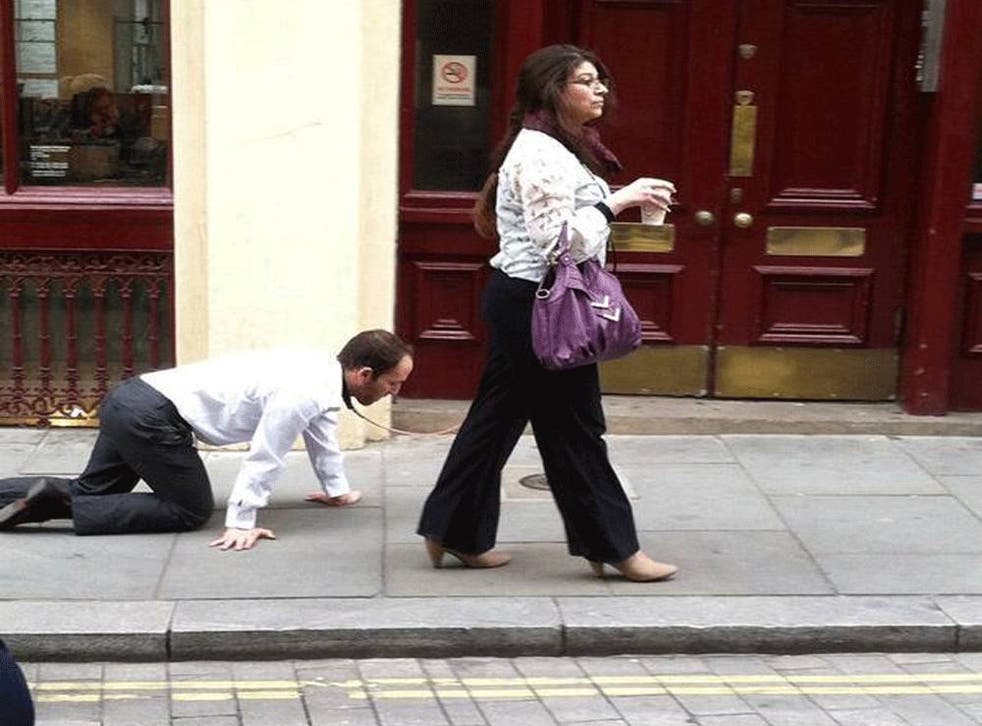 Today on the streets of London, a man wearing a suit is being walked like a dog by a woman nonchalantly drinking a coffee.
The man was spotted on all fours by commuters at 8.30am this morning in the Farringdon area, and may have made it as far as Holborn by this point.
Smartphone pics of the pair flooded Twitter, as people questioned whether it was down to BDSM role-playing or the man having simply grown tired of bipedalism.
It's possible that the man-dog walk was a PR stunt, but so far likely suspects Agent Provocateur and Peta have both confirmed it is nothing to do with them.
Photo and video evidence:
"Managed to stop and stare on Greville Street, only for a few seconds though," one witness commented. "Odd, as all other worker bees seemed not to."
We'll keep you posted on all the #manonleash news and any leads we have (har har), should he start barking, pop a squat or run wildly into traffic.
UPDATE 3.26pm: Multipurpose sanitiser company Aquaint have killed off the joke with this tweet, the 99.9% of bacteria-killing bastards:
Register for free to continue reading
Registration is a free and easy way to support our truly independent journalism
By registering, you will also enjoy limited access to Premium articles, exclusive newsletters, commenting, and virtual events with our leading journalists
Already have an account? sign in
Join our new commenting forum
Join thought-provoking conversations, follow other Independent readers and see their replies