A field day for the Tory old guard
It is a fight for the future of the Tory party. So will a key Cameron ally be deselected tonight over an affair with an MP? Report by Andy McSmith
Andy McSmith
Monday 16 November 2009 01:00 Comments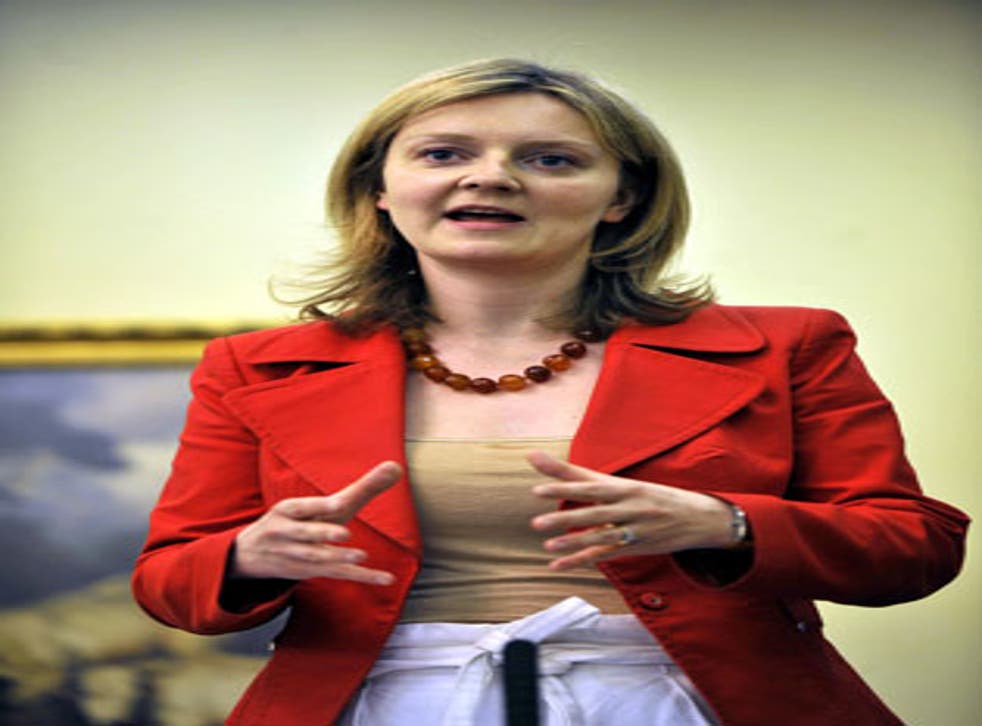 David Cameron faces a major challenge to his authority today as local Conservative Party activists meet to decide whether to sack a woman candidate, whom he had favoured, because she once had an extra-marital affair.
The battle raging inside the South West Norfolk Conservative Association between those who are for or against their new parliamentary candidate, Elizabeth Truss, is the most visible symptom of a power struggle between local activists – dubbed the "Turnip Taliban" – and Mr Cameron's "Notting Hill set".
The woman at the centre of it, a 34-year-old councillor from Greenwich, in south-east London, is exactly the type of candidate Mr Cameron wants to enlist to modernise the public image of the Conservative Party.
The product of a comprehensive school, who won a place at Oxford University, she is deputy director of the London think tank Reform, worked for big-name companies before turning to politics, and is a media-friendly woman in a notoriously male-dominated party.
By the end of today, she will either be a high-flyer with golden prospects of promotion in a Cameron-led government, or her political career will have taken a nose dive because she once strayed from the straight and narrow.
The fact that Ms Truss had had an affair with the Tory MP Mark Field when they were both married to others was well known in Westminster. Details could be found on the internet. But, as neither Ms Truss nor Mr Field were from the area, the news had not reached most members of the Norfolk South West constituency party, who found out from a Sunday newspaper the day after they had chosen Ms Truss as their parliamentary candidate.
Mr Cameron's personal authority is on the line because he has not only praised and supported Ms Truss in public but it was even revealed that he had rung a senior member of the local association, Sir Jeremy Bagge, in an attempt – albeit in vain – to enlist his support and prevent Ms Truss facing deselection.
Sir Jeremy, a former high sheriff of Norfolk, who owns a 1,200-acre estate and knows the Royal Family socially, told BBC Radio 4's The World This Weekend: "I have absolutely nothing against her as an individual. I voted for her and what she got up to four years ago doesn't concern me. What concerns me is Conservative Central Office, the headquarters, failed to actually advise us that we could be subjected to embarrassment, which we have been subjected to."
Sir Jeremy said that when concerns were raised that Ms Truss had not mentioned her affair in her selection interview, the national party responded that the panel could have found out about it by putting her name into Google. "I get seriously upset with regard to their general arrogance," he said. "In my view it is deceit. They have betrayed us as an association and they have also betrayed Ms Truss as a candidate."
The association's chairman, David Hills, who initially sought Ms Truss's deselection, is now understood to have thrown his support behind her. Party officials are reported to have threatened the local association that they would have an all-women shortlist imposed on them at their next selection if they removed Ms Truss.
In a departure from normal procedure, local party members were not told who was on their shortlist before the selection meeting on 24 October, so they had no chance to research the candidates' backgrounds. Ms Truss easily won the selection on the strength of her performance on the day.
It is also rumoured that party staff had arranged that, at the meeting, the candidates would be asked whether there was anything in their private lives that should be told, in order to give Ms Truss the opportunity to clear the air, but that the person who was supposed to ask the question did not do so.
In 2005, Ms Truss was chosen to fight Labour-held Calder Valley as a last-minute replacement for Sue Catling, who was accused of having an illicit affair with a fellow Tory. She probably would not have been selected if the Calder Valley party had known about her affair with Mark Field, which had not then become public.
The row is just one symptom of the friction within the Conservative Party, as Mr Cameron's determination to use the selection procedure to modernise the party comes up against the cherished independence of local associations. A public row erupted last month when the party chairman, Eric Pickles, was accused of trying to intervene in the selection procedure in Congleton, Cheshire, where the Tory MP, Sir Nicholas Winterton, is stepping down after 29 years. It is alleged that he tried to have the shortlist lengthened to include Matt Hancock, who is chief of staff for the shadow Chancellor, George Osborne.
Mr Cameron came close to provoking a major rebellion in the shires last month when he told a Commons committee that, from January, the party would introduce all-women shortlists in some constituencies to increase the number of women MPs. His words were a reaction to the fact that the previous eight candidates chosen in winnable Tory seats were all male, and that male Tory candidates outnumber women by more than two to one.
The Labour Party introduced all-women shortlists 14 years ago but the idea has been bitterly opposed in Conservative circles, not least by eminent women Tory MPs such as Ann Widdecombe and Nadine Dorries.
It has long been alleged that rural Conservative Associations are full of people who do not think women should be in Parliament at all, but expect to get two for the price of one when they select a male MP with a wife who is prepared to help out in the constituency, and that they are doubly horrified by the sight of a professional woman who has admitted to having an extra-marital affair. Another accusation is that Tories in rural seats do not trust candidates from the metropolis.
Ms Truss's marriage to Hugh O'Leary, a finance director, survived the affair and, she says, became stronger. They have two children.
Mark Field: The man in the case
His position as an MP has not been affected by the revelation of his affair with Elizabeth Truss, although in 2006 his marriage broke up and, in the same year, his hopes of being a government minister faded. The son of an Army officer, he entered Parliament as MP for the City of London and Westminster in 2001, at the same time as David Cameron and George Osborne, and kept pace with them by being promoted to the Tory front bench as shadow minister for culture after only two years.
But he did not get on with David Cameron as party leader and he was dropped in 2006. He has been a backbench MP since. His affair with Ms Truss began in 2004 and lasted several months. His first marriage ended in divorce in 2006. He has since married the celebrity agent Victoria Elphicke.
Register for free to continue reading
Registration is a free and easy way to support our truly independent journalism
By registering, you will also enjoy limited access to Premium articles, exclusive newsletters, commenting, and virtual events with our leading journalists
Already have an account? sign in
Join our new commenting forum
Join thought-provoking conversations, follow other Independent readers and see their replies