'A terrible mistake': Taxpayer to foot £40 million bill over Government's controversial decision to strip Virgin Trains of West Coast rail franchise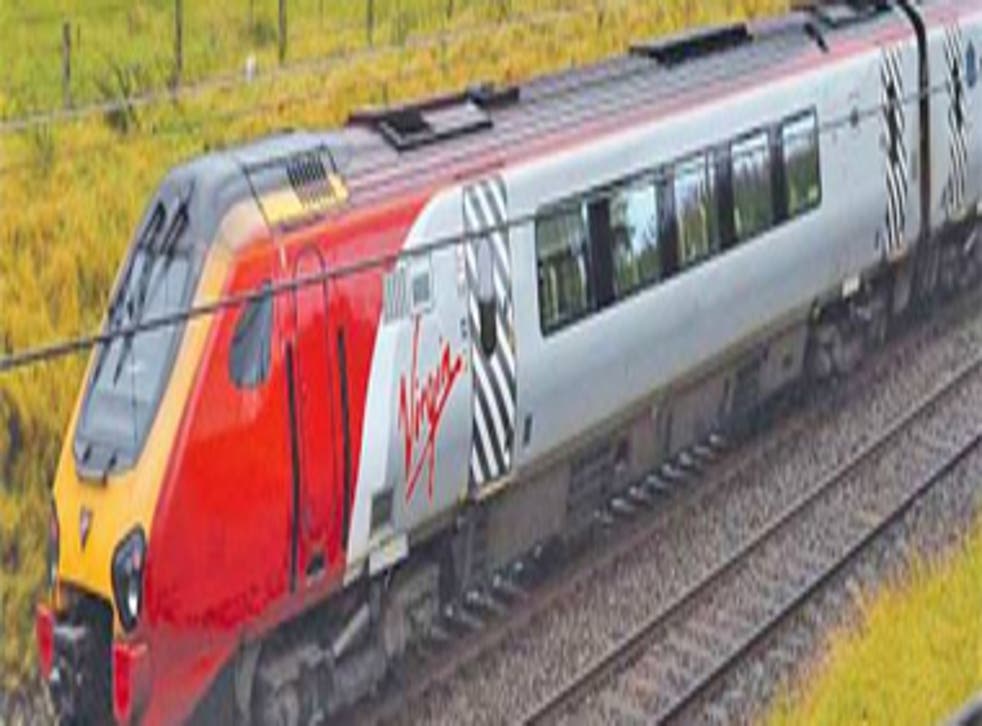 The Government today admitted making "a terrible mistake" in awarding the West Coast rail franchise to FirstGroup, stripping Virgin Trains of the contract.
The Transport Secretary Patrick McLoughlin announced that the bidding process for the London to Glasgow line would now be re-run.
The new process is set to cost the taxpayer £40 million.
Three officials at the Department of Transport have been suspended over the fiasco which was overseen by Mr McLoughlin's predecessor Justine Greening.
She had insisted before being moved in last month's reshuffle that the process had been "robust" and dismissed Virgin complaints about the process as "ill-founded and misconceived."
Mr McLoughlin's decision came a day before the Government was due in High Court to defend its handling of the franchise process that gave the £13.3 billion contract to FirstGroup.
The Department of Transport has also suspended the franchise assessment process for three future rail contracts while an investigation is carried out.
Speaking this morning Mr McLoughlin said he was "very angry" about what had happened.
"The fault of this lies wholly and squarely with the Department for Transport," he said.
"I want to make it absolutely clear that neither FirstGroup nor Virgin did anything wrong. Both of those two companies acted properly on the advice that they were getting from the Department."
He added that West Coast decision was "embarrassing and regrettable" and said he was very sorry it had happened.
Mr McLoughlin said the problem lay with Department for Transport modelling which failed to take into account inflation and elements of projected passenger number increases.
Sources in the department said Mr McLoughlin was first made aware of the problems yesterday which had been unearthed as lawyers prepared its defence to the Virgin challenge.
He told the BBC Radio 4 Today programme: "I want to make sure what lessons need to be learnt from what went wrong with this have not been repeated."
Asked how much it would cost to reimburse the costs of the four companies who entered into the bidding process, he replied: "We estimate that to be in the region of about £40 million. We need to get to the bottom of what went wrong as far as that is concerned."
He revealed that he had spoken to the parties involved last night, including Sir Richard, saying that what had been found was "deeply regrettable".
Virgin has run the West Coast line since 1997, more than doubling annual passenger levels and introducing high-speed tilting Pendolino trains on the London to Scotland route.
Sir Richard, who had questioned FirstGroup's ability to live up to its franchise promises for the whole length of the 13-year 4-month contract, welcomed Mr McLoughlin's decision today and said he was hopeful that Virgin would carry on running the franchise.
FirstGroup said it was "extremely disappointed" at the news, adding that it had submitted "a strong bid, in good faith and in strict accordance with the DfT's terms".
The failings in the bidding process were condemned by both Labour and business groups who said it was indicative of "bigger problems" across Whitehall.
Dr Adam Marshall, Director of Policy at the British Chambers of Commerce (BCC), said: "Whitehall has bungled major procurements for years. These mistakes and problems increase risk for companies, threaten jobs, and harm Britain's reputation as a destination for inward investment.
"Britain needs procurement professionals across government with the same level of skill and ability as their counterparts in the private sector."
Simon Walker, Director General of the Institute of Directors, added: "It is shocking that such a crucially important process has gone so seriously wrong. Businesses need a stable, reliable rail network and certainty in the provision of key infrastructure. Government tendering processes must be whiter than white, or firms will be deterred from applying to take contracts on, which will harm service delivery.
The Labour leader Ed Miliband blamed ministers for the mistakes.
"When you look at the latest fiasco with the West Coast line - another Government screw-up, another Government mistake, another case of them blaming someone else, apparently they are saying it is the fault of their civil servants - I think competence is an issue."
Join our new commenting forum
Join thought-provoking conversations, follow other Independent readers and see their replies