Air strikes in Syria: Jeremy Corbyn faces Shadow Cabinet revolt over his opposition to British military action
Labour leader writes to his MPs warning them he can not support David Cameron's proposals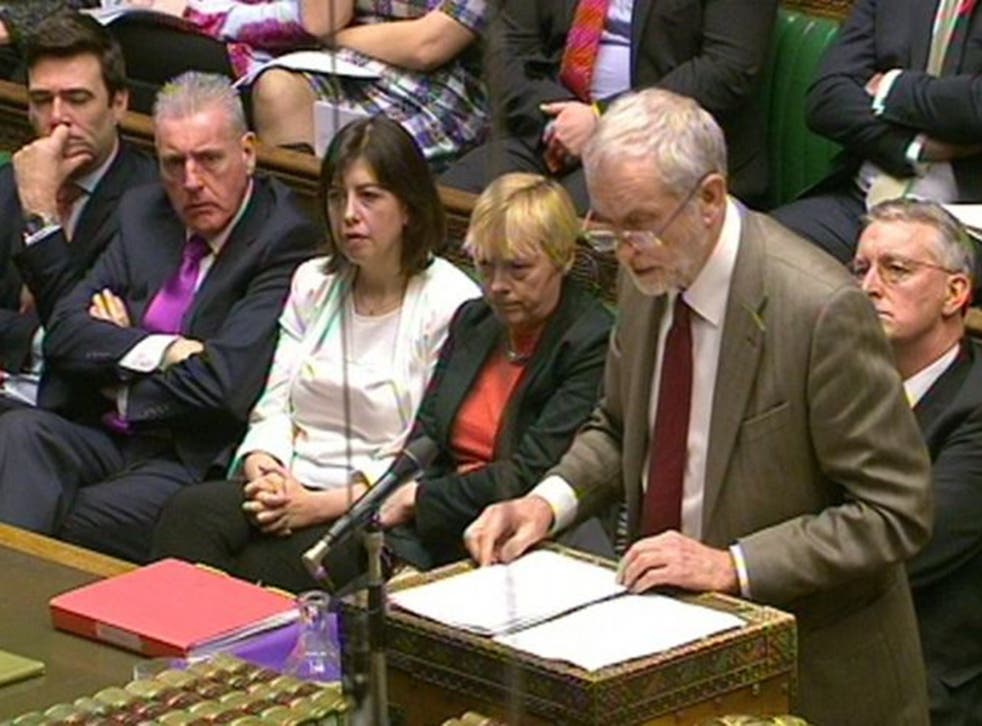 Jeremy Corbyn is facing an open revolt from a majority of his Shadow Cabinet after he warned his MPs that he could not support British military action in Syria.
At an extraordinary meeting of Labour's frontbench team this afternoon, shadow ministers lined up to support David Cameron's position and called for the party to vote with the Conservatives in favour of air strikes.
Those in favour of action are understood to include the shadow Foreign Secretary Hilary Benn, Mr Corbyn's deputy, Tom Watson, as well as his Justice, Education and Health spokespeople. Only three shadow cabinet ministers out of 31 voiced opposition to air strikes at the meeting.
PM: Bombing Syria is necessary
Afterwards, sources close to Mr Watson described the case made by Mr Cameron as "compelling", while Mr Benn came out publicly to say that there was a very strong case for Britain to play "our full part" in the coalition against Isis. But within hours of the meeting breaking up Mr Corbyn wrote to his party's MPs warning them that he could not support the Prime Minister's proposals because they would not protect Britain's security and did not amount to a "coherent strategy" to tackle Isis.
Senior colleagues were given no warning of Mr Corbyn's letter and had believed that he would keep his position open until after another meeting of the Labour front bench on Monday.
One senior source said that if Mr Corbyn attempted to impose his view on MPs he would "destroy" the party. "This is about whether we can be a credible opposition," they said. "At the moment we are not."
They suggested that any attempt to impose a "whip" on the vote could result in a number of resignations from the Shadow Cabinet, adding that Mr Corbyn's position was more to do with "ideological pacifism" than any an objective assessment of the case for war made by Mr Cameron.
Another added that Mr Corbyn would now have no choice but to give Labour shadow ministers a free vote on the issue when, as expected, it comes before the House of Commons next week.
Labour's disarray came as Mr Cameron used a Commons statement to outline his case for air strikes against Isis asking: "If not now, when?"
The Prime Minister said the UK could not afford to "stand aside", adding it was "morally" unacceptable to leave the US, France and other allies to carry the burden. He said there was strong legal justification for extending the current military action in Iraq on grounds of self-defence, and insisted that the Government saw military action as part of a "comprehensive" strategy to bring peace to Syria.
"The reason for acting is the very direct threat that Isil [Isis] poses to our country and our way of life," he said.
In pictures: Syria air strikes (2014)

Show all 20
"They have already taken the lives of British hostages and inspired the worst terrorist attack against British people since 7/7, on the beaches of Tunisia.
"I am in no doubt that it is in our national interest to stop them. And stopping them means taking action in Syria, because it is Raqqa that is their headquarters. We shouldn't be content with outsourcing our security to our allies."
But Mr Cameron faced some scepticism from MPs over his claim that there were around 70,000 moderate opposition troops on the ground in Syria who could capitalise on air strikes, while the SNP and Liberal Democrats suggested that they would not back the Government.
The SNP leader in Westminster, Angus Robertson, said that his party's MPs will not vote for air strikes in Syria unless they are convinced that there is effective ground support and a fully-costed plan for post-war reconstruction.
The Lib Dem leader, Tim Farron, said that Mr Cameron would have to provide "much more evidence" that moderate forces on the ground "are sufficient and have the capability and the credibility" to deliver what was needed against Isis.
But the chairman of the Commons Foreign Affairs Select Committee – which earlier this month released a report urging caution over Syria – said he was now ready to back military action.
"It is now my personal view that, on balance, the country would be best served by this House supporting his judgements that the UK should play a full role in the coalition," said Crispin Blunt.
In the Commons chamber Mr Corbyn did not reveal whether or not he was convinced by Mr Cameron's arguments – instead reading a pre-prepared list of questions.
But in a letter to MPs released late in the afternoon he made clear his continued opposition to air strikes. "I do not believe that the Prime Minister today made a convincing case that extending UK bombing to Syria would strengthen our national security," he said. "Nor did it satisfactorily answer the questions raised by us and the Foreign Affairs Select Committee.
"In particular, the Prime Minister did not set out a coherent strategy, co-ordinated through the United Nations, for the defeat of Isis. Nor has he been able to explain what credible and acceptable ground forces could retake and hold territory freed from Isis control by an intensified air campaign.
"For these and other reasons, I do not believe the Prime Minister's current proposal for air strikes in Syria will protect our security and therefore cannot support it."
Mr Corbyn is hoping that a co-ordinated lobbying campaign of Labour MPs this weekend, by many of the party members who supported him, could increase the pressure on his opponents ahead of another shadow cabinet meeting on Monday which aims to thrash out Labour's position.
But senior sources said they believed that any compromise was now impossible, with the only solution being to allow all MPs a free vote and for the leadership line to be heavily defeated on the floor of the House of Commons.
Register for free to continue reading
Registration is a free and easy way to support our truly independent journalism
By registering, you will also enjoy limited access to Premium articles, exclusive newsletters, commenting, and virtual events with our leading journalists
Already have an account? sign in
Register for free to continue reading
Registration is a free and easy way to support our truly independent journalism
By registering, you will also enjoy limited access to Premium articles, exclusive newsletters, commenting, and virtual events with our leading journalists
Already have an account? sign in
Join our new commenting forum
Join thought-provoking conversations, follow other Independent readers and see their replies