Alex Salmond unwittingly steals the show at SNP conference
Seconds after he started to speak into the microphone, the delegates rushed back to their seats and shouted and roared him back towards the big stage
James Cusick
Monday 30 March 2015 06:46 Comments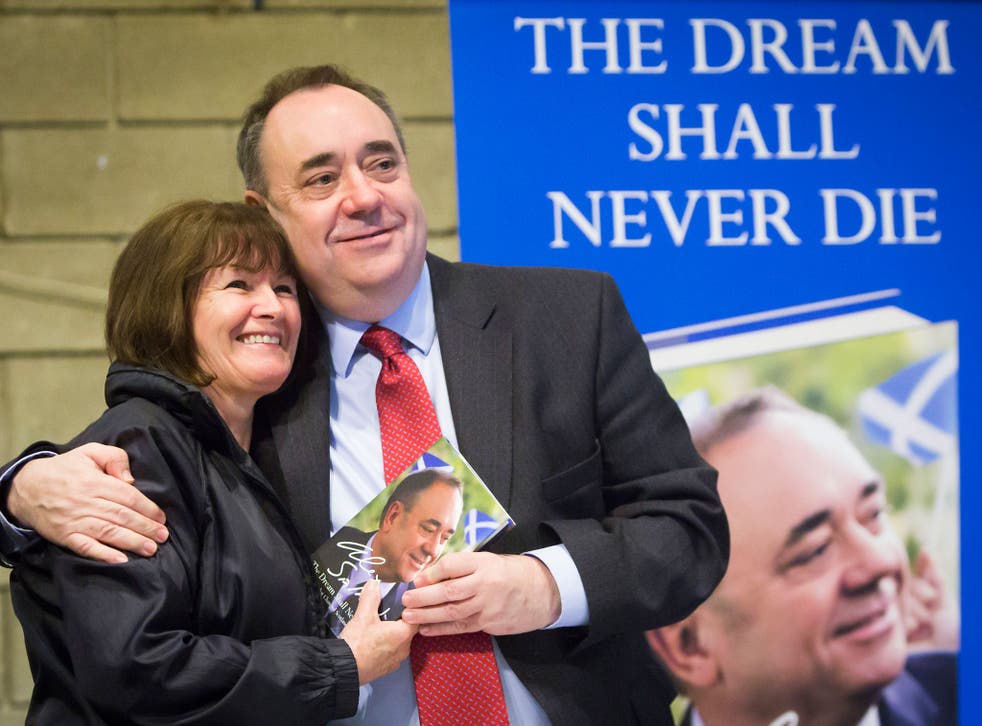 If someone tried to side-line Alex Salmond and keep him well away from the centre-stage of the largest-ever SNP clan gathering, then the plan back-fired – spectacularly.
With the stage lights switched off for the conference lunch-break, and covers snapped on to the lenses of the conference TV cameras, the former First Revolutionary of the independence cause was allocated few off-stage wooden boxes to plug his new book.
But the words "Salmond"and "fringe event" don't work together. And seconds after he started to speak into a faulty, faint microphone the conference hall, two thirds full and growing, delegates rushed back to their seats, sandwiches in hands, and shouted and roared Salmond back towards the big stage.
Then the lights went on, the cameras blinked alive, and once again, the tartan Robespierre, the man historically responsible for the forecast reign of SNP terror on Westminster after May 7, was back.
His away-days in the London last week made life awkward for his successor, Nicola Sturgeon. She has been repeatedly asked who actually leads the SNP? From the hero that nobly lost last year's referendum and departed, Salmond, predicted to be among the 40 or so nationalists who are weeks away from sitting on the Commons' green benches, was suddenly becoming a rogue factor and the most dangerous thing any leader fears – an uncontrollable threat.
The six-party election: key figures

Show all 12
Sturgeon had just told Sky News, again, that she led the SNP, that Salmond was just a valued asset, and she would lead negotiations if the nationalists held the balance of power. There was both warning and slap-down for her former mentor as she made clear that "of course" the SNP would be demanding a slot on every Westminster committee and would play "a full part" in the structures of Westminster.
Introduced by his long-term friend and sometime foe, MSP Mike Russell, as the "man who will force the pace in London and make them wake up to Scotland's demands", one elderly delegate punched the air and shouted "He's back!" And amid talk of hashtags of 'angrySalmond' and 'sexysocialism' Salmond chose the words of Walter Scott to announce that those who forecast a mannered demise may have got it all wrong.
To shouts and whoops that usually greet popstars at the SECC, Salmond quoted from Scott's poem about the Jacobite general, John Graham - "Bonnie Dundee". Standing reading from his book, he said "You've not seen the last of my bonnet and me".
If this didn't sound like a valediction, it's because Salmond has no intention of leaving the onward route to independence to others. He said Scotland's "psyche" had been changed by the referendum, was a different country, and was being kicked because it was now feared and worth kicking.
Exiting the stage to sustained cheers and shouts that could only have upset the lunch of party leaders sitting upstairs from main auditorium, a delegate prodded her friend, pointed and said "That, mister, is not a man waving cheerio."
Register for free to continue reading
Registration is a free and easy way to support our truly independent journalism
By registering, you will also enjoy limited access to Premium articles, exclusive newsletters, commenting, and virtual events with our leading journalists
Already have an account? sign in
Join our new commenting forum
Join thought-provoking conversations, follow other Independent readers and see their replies