Amber Rudd urged to change law to treat misogyny as a hate crime
Cross-party MPs tell Home Secretary to 'do the right thing' by toughening up sentences for crimes motivated by gender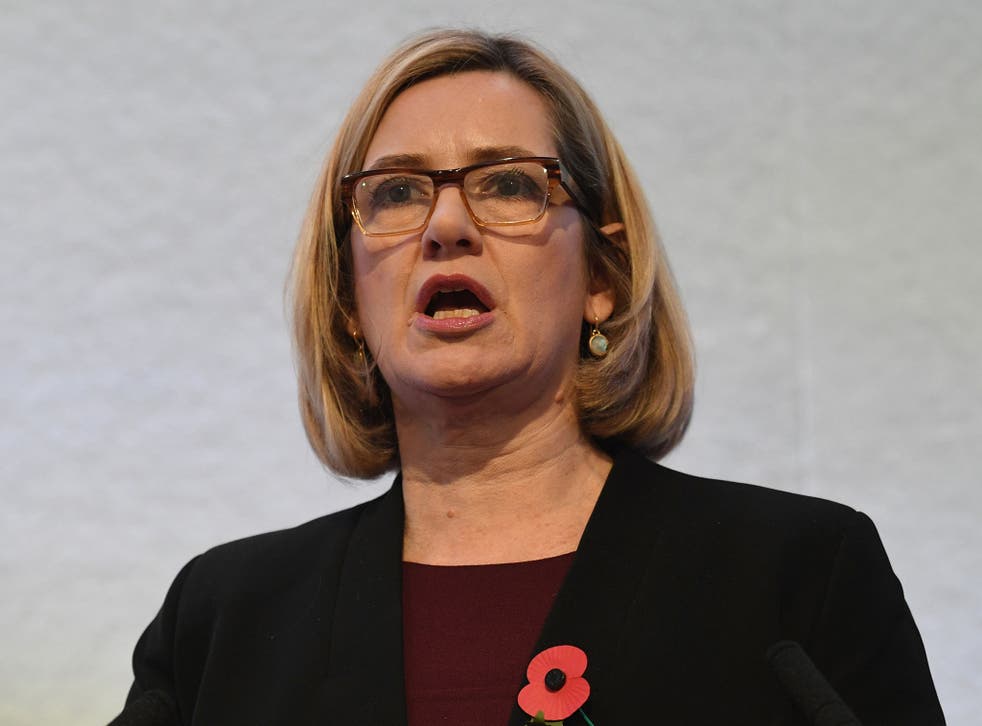 Amber Rudd has been urged to consider treating misogyny as a specific hate crime to bolster protections for women from sexist abuse and harassment.
Senior female MPs from across the political spectrum have penned a letter to the Home Secretary calling on her to put aside opposition to proposals to strengthen the law governing unwanted sexual advances and assaults clearly motivated by gender.
Crimes in which a victim has been targeted as a result of their race, sexuality or disability are already be classified as aggravated offences but gender is not included among these factors under current laws.
It comes as Theresa May used the centenary of the first votes for women to warn that "aggressive attitudes" on social media could be putting women off involving themselves in public life.
In an open letter from Green Party deputy leader Amelia Womack - signed by Helen Pankhurst, the great-grandaughter of suffragette Emmeline Pankhurst - the MPs said: "From unwanted sexual advances to verbal and physical assault, acts of misogyny are part of everyday life for women in the UK.
"A poll by End Violence Against Women found that 85% of women between 18 - 24 had experienced unwanted sexual attention, while campaign group Hollaback! found that 90% of women experienced street harassment by the age of 17. This demands urgent action.
"Making misogyny a hate crime would send two clear messages to the public. It would give women the confidence to speak out against aggressors and abusers, and it would make clear to men that misogynistic behaviour will no longer be tolerated."
Police chiefs are said to be considering whether to record unwanted sexual advances and verbal contact such as wolf-whistling as hate crimes, after a pilot scheme in Nottingham revealed cases of misogyny were reported every three days in July and August 2017.
Ms Rudd told the BBC's Andrew Marr that the Government was not planning to move ahead with the changes but she would always look at the suggestions from women's rights groups, such as the Fawcett Society, which has been campaigning on this issue.
Ms Womack, who has spoken out over her experience of being an abusive relationship, said: "Every day women are victims of crime because they are women. Whether it's being harassed on the tube or groped in a bar, misogyny is everywhere. It's time these crimes were recorded for what they really are - hate crime.
"The Home Secretary has the chance to make it clear misogyny will not be tolerated, and empower women to speak out about abuse. In Nottingham where police have already started recording misogyny as a hate crime women already feel more confident their reports have been taken seriously.
"I urge Amber Rudd to do the right thing and make misogyny a hate crime immediately."
UK news in pictures

Show all 50
Ms Pankhurst, advisor with CARE International, said: "Making misogyny a hate crime gives women the language they need to report crime in a way which will be taken seriously.
"The success of the scheme in Nottingham has shown the difference this simple step can make to both the reporting and investigating of sexual harassment and abuse."
Register for free to continue reading
Registration is a free and easy way to support our truly independent journalism
By registering, you will also enjoy limited access to Premium articles, exclusive newsletters, commenting, and virtual events with our leading journalists
Already have an account? sign in
Register for free to continue reading
Registration is a free and easy way to support our truly independent journalism
By registering, you will also enjoy limited access to Premium articles, exclusive newsletters, commenting, and virtual events with our leading journalists
Already have an account? sign in
Join our new commenting forum
Join thought-provoking conversations, follow other Independent readers and see their replies