Amber Rudd tells police not to ask for more money amid growing terror threat and rising violent crime
Police call Home Secretary's response to research her department commissioned 'a bit rich'
Lizzie Dearden
Home Affairs Correspondent
Wednesday 01 November 2017 13:57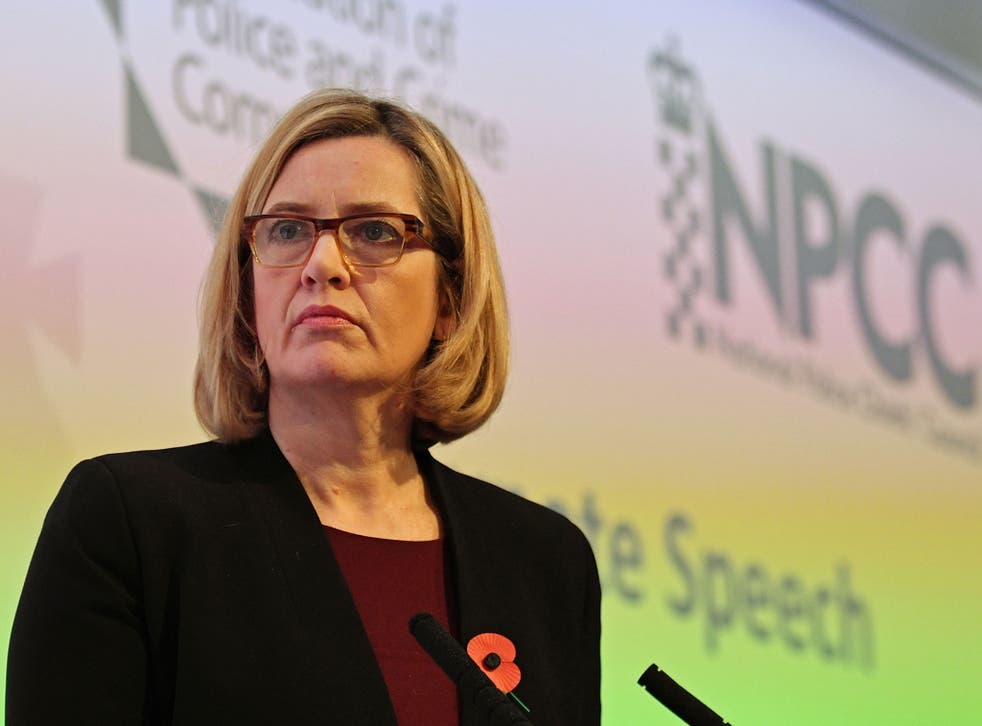 Police have reacted angrily after Amber Rudd said she does not want them "reaching for a pen to write a press release asking for more money" amid an increase in recorded crime and unprecedented terror threat.
The Home Secretary told senior officers gathered at a summit in London that they need to draw up their own plans to make their local communities safer.
Ms Rudd said being a Police and Crime Commissioner (PCC) "mustn't just be about lobbying the Government for money".
"It needs to be about cutting crime, delivering on the priorities you were elected on and being held to account by local people in your area when you don't," she told the APCC and NPCC Partnership Summit in London.
"So when crime stats go up, I don't just want to see you reaching for a pen to write a press release asking for more money from the Government.
"I want you to tell your local communities and the victims in your area what your plan is to make them safer."
Paddy Tipping, the Police and Crime Commissioner for Nottinghamshire, said calls for increased funding and 5,000 extra police officers had arisen from a demand report commissioned by the Government itself.
"The reality is we were asked to write this report for the Home Office, it has been written in cooperation with them and it's a bit rich now for the Home Secretary to say 'put your pens away, lads'," he said.
The Chief Constable of West Midlands Police, Dave Thompson, said forces have a "professional obligation" to alert the Government to issues that affect their response to a widening spectrum of crime.
He said it was right for senior officers to "set out the challenges as we saw them" following the general election and that very little of the debate had been played out in public.
Mr Thompson said: "The Home Secretary said policing makes a difference – I say 5,000 coppers would make a big difference."
Chief Constable Sara Thornton, chair of the National Police Chiefs' Council (NPCC), said that when serious offences like gun or knife crime rise, commanders' first priority is to reverse the trend.
"The whole issue about press releases is not even secondary, it's tertiary," she added. "The primary issue is what we can do to stop these rises, what we can do to lock up these people who are causing harm in our communities."
David Lloyd, the chair of the Association of Police and Crime Commissioners (APCC), said forces had researched needs for the Home Office "dispassionately and quietly" to reveal higher demand.
"The question now for Government is how you match that," he added.
As well as dealing with the increased terror threat, recorded crime is up 13 per cent and police are receiving record levels of 999 calls and growing demand for mental health and public safety.
"The police service is stretched and our staff are feeling it, and the public is beginning to notice it," Ms Thornton told summit delegates ahead of Ms Rudd's speech.
"We have jointly raised this stretch with Home Office ministers and officials. It has become clear that the 2015 settlement of flat cash for forces is unsustainable.
"Forces are being asked to absorb pay rises and inflation pressures, and this is leading to cuts in services...undermining crime prevention and proactive police work."
Ms Thornton warned that while the Crime Survey for England and Wales shows a reduction in crime from a peak in 1995, the offences recorded by police have increased by 13 per cent in the last year.
She said that while some of the rise can be accounted for by a requirement to record more lower-level crime like harassment, there are "worrying signs" of a national increase in violent crime including attacks using knives and guns.
"So could this be the beginning of the end of the great crime decline?" Ms Thornton asked.
"I do not think we can risk viewing this rise in crime as a blip...I think we are seeing a shift, rather than a blip in crime."
CCTV captures suspected acid attack in east London
The Metropolitan Police has announced it is stopping investigating some lower-level crimes as it works to save £400m – a figure disputed by the Home Office – and other forces are believe to be publicly and privately exploring similar measures.
Ms Rudd highlighted programmes to prevent the sale of knives to under 18s online, a crackdown on acid and moves to ensure police feel able to chase moped criminals.
The Home Secretary announced the award of £27.45m in "police transformation" funding to another 10 projects, including £1.9m for the Metropolitan Police to design a single call handling system and centralised control rooms for London's emergency services.
Another chunk of the fund is going to South Wales police for a project joining up with health and social services to support vulnerable people, including criminals who had traumatic childhoods.
Ms Rudd said "a number" of forces had been asking for additional money but told them "funding need to be based on evidence and not assertion".
"We appreciate that the increase in complex, investigatory work has put pressure on forces, as well as the efforts to deal with the unprecedented wave of terrorist attacks we've sadly seen this year," the Home Secretary added.
"But police financial reserves now amount to more than £1.6bn and the independent inspectorate remains clear that there is more forces can do to transform, with greater efficiencies still available."
UK news in pictures

Show all 50
Mr Tipping accused Ms Rudd of being "disingenuous" on police reserves, saying several forces had run out.
He warned that as police work to save £350m by 2020, "flat cash" settlements from the Government were driving additional real-term funding cuts.
"As well as the 20,000 officers we've lost, we'll also lose another 6,000 officers," Mr Tipping predicted, adding that the police spending per capita in the UK was falling.
The latest figures from 2015 show that the UK spent £119 per capita on the police service, compared with £163 in Denmark, £207 in the Netherlands and £215 in Germany.
Questioned on concerns that Brexit will make policing more difficult by reducing access to European systems, Ms Rudd stressed that a third-party treaty drawn up by the Government would maintain British involvement in all databases including the SIS and Europol.
She added: "I don't underestimate the challenge of pulling this together but my initial conversations with European partners have been very positive.
"They say they want this to happen…our participation is keenly looked forward to.
"We're very committed to making sure that we will continue to keep people safe as we leave the European Union."
Register for free to continue reading
Registration is a free and easy way to support our truly independent journalism
By registering, you will also enjoy limited access to Premium articles, exclusive newsletters, commenting, and virtual events with our leading journalists
Already have an account? sign in