As it happened
ended
1468256650
Theresa May says 'Brexit means Brexit and we will make a success of it' in first speech as leader - latest live updates
Latest news as Andrea Leadsom resigns from race, paving way for May to lead party
Adam Withnall
,
Caroline Mortimer
Monday 11 July 2016 11:55 Comments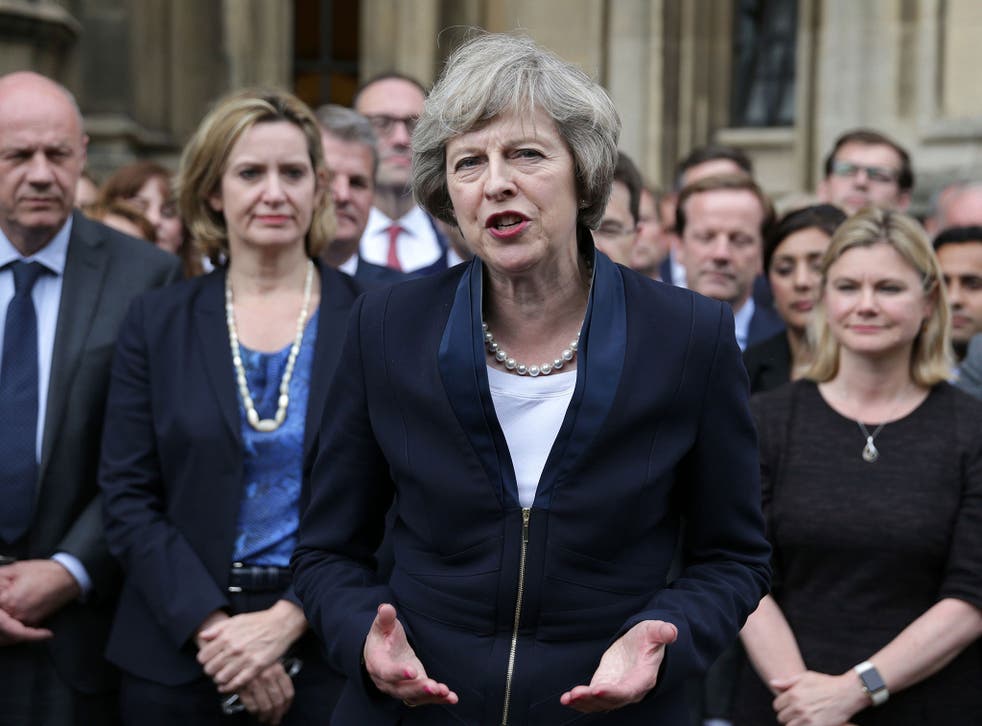 Here are the latest updates:
Theresa May will take the keys to No 10 by Wednesday evening, David Cameron has confirmed.
The Prime Minister said he was "delighted" that the Home Secretary would succeed him in Downing Street and he will go to the Palace to offer his resignation to the Queen on Wednesday afternoon.
Mr Cameron will chair his last Cabinet meeting tomorrow morning and appear in the Commons for the final time as premier when he takes to the Despatch Box for Prime Minister's Questions at noon on Wednesday.
1468236930
Graham Brady, the chair of the 1922 Conservative Committee, has said the party will "formally confirm Theresa May as leader" once the committee has met in the coming days.
But of the chances of reopening the contest, he said: "none whatsoever". 
That appears to confirm it is simply a matter of time before Theresa May is the new Prime Minister.
Adam Withnall
11 July 2016 12:35
1468236982
Michael Gove says May has his "full support as our next Prime Minister". 
Adam Withnall
11 July 2016 12:36
1468237318
Confirmation here that Theresa May will be Britain's next Prime Minister:
Adam Withnall
11 July 2016 12:41
1468237538
Boris Johnson has said he has "no doubt Theresa (May) will make an excellent party leader and Prime Minister'' and called for the handover of power to begin "immediately''.
Adam Withnall
11 July 2016 12:45
1468237675
Chris Grayling, a leading Brexiteer who was nonetheless part of Theresa May's campaign team, speaks in Westminster, saying "now is the time to unite as a party". He described Andrea Leadsom as a "principled politician".
Adam Withnall
11 July 2016 12:47
1468237915
David Cameron was speaking a short while earlier at the Farnborough air show, before it was confirmed Theresa May would be the next Prime Minister.
He said the UK was in a "new reality" after the EU referendum decision just a few weeks ago.
Here's his speech in full: Mr Cameron said: "Just over a fortnight ago the British people voted to leave the European Union.
"That went against what I recommended and I don't resile from what I said, from my warnings of a short-term shock, medium-term uncertainty and some long-term risks.
"Indeed we've already had a taste of the turbulence in global markets and in terms of the value of the pound and there will be other problems ahead.
"But I want to be clear - we will deal with them from a position of strength. With a growing economy, a greatly reduced deficit, with low inflation and more jobs and businesses than ever before in our country.
"Above all though, we must recognise we are in a new reality now. We must accept it, we must make it work.
"That's the way British business is responding to the referendum result."
Mr Cameron claimed the impact of the Brexit vote had created the biggest challenge to the British political system for 40 years.
He outlined what he believes are "the key things we need to get right" - Britain's relationship with Europe, its "underlying productivity challenges", the need to grow exports faster and encourage more inward investment.
"Above all, we need to think big and think radically about how to ensure the best possible outcome for the United Kingdom in these new circumstances," he told the audience.
"This amounts to the biggest challenge for the British political system that we have faced for around 40 years.
"It will require a massive national effort, not just for government departments, civil servants and ministers, but an effort that means working together with business and industries in a way we've never seen before."
The Prime Minister said the country needs to "make the most of the cards in front of us" and remain "very close" to the EU for trade, business and security.
He went on to "strongly advise" his successor that an "all-government effort" is required to tackle the UK's various challenges.
"When we are trying to break into new markets and sign new trade deals, we need all our economic, business and industrial might working together in the same direction - our business leaders, universities leaders and more," Mr Cameron said.
"When we are examining ways of driving up productivity, we need all the economic departments at the table - not just the Treasury, but education, infrastructure, regional planning, everyone.
"The threats we face don't neatly fit into one department's remit. I would say they are everyone's remit.
"Now it's a matter for the next prime minister what structures to set up, but I would strongly advise taking an approach like the one I have just set out."
Adam Withnall
11 July 2016 12:51
Register for free to continue reading
Registration is a free and easy way to support our truly independent journalism
By registering, you will also enjoy limited access to Premium articles, exclusive newsletters, commenting, and virtual events with our leading journalists
Already have an account? sign in
Join our new commenting forum
Join thought-provoking conversations, follow other Independent readers and see their replies