Andy McSmith's Diary: Cameron is one of us, says French National Front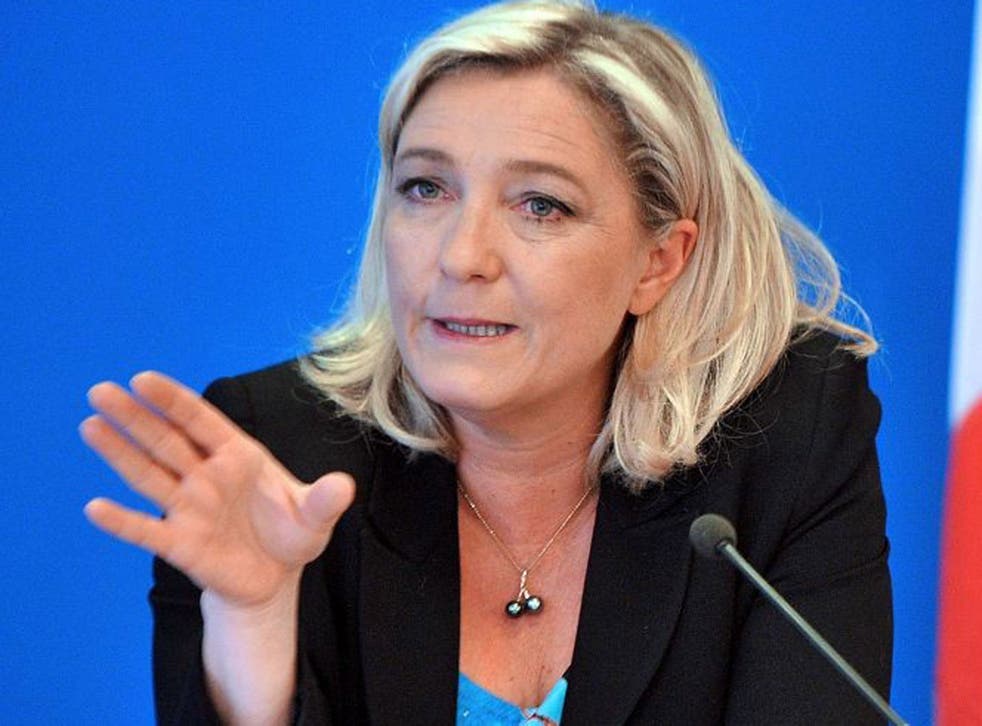 After the mixed reaction to David Cameron's immigration speech this week, the Prime Minister might be pleased to know that a prominent French politician has heaped praise on it. "The speech by the British Prime Minister has smashed the taboo surrounding the unsustainable cost of immigration for European nations. At a time of mounting unemployment and widening deficits, it has become urgent to start giving priority to our own nationals in jobs, housing, social benefits and health," he said.
Then again, Mr Cameron might not be pleased. The speaker was Louis Aliot, Vice President of the far-right Front National, led by Marine le Pen (pictured).
David Miliband: 'the Herol Graham of British politics'
"The British admire nothing so much as someone who's lost," said David Miliband, in an interview in GQ magazine, exactly a year ago. That is not universally true, as some of the reactions to his departure from British politics demonstrate. Damian McBride, Gordon Brown's former attack dog, remembered how David Miliband would appear to be limbering up for a leadership challenge, only to back down. Miliband was the political equivalent, he suggested, of Herol Graham, a first-class British boxer who floundered every time he challenged for the world title. "His huge moment was summer 2008," said McBride. "GB was massively destabilised, but we monstered him because of his timidity."
Neighbours who may not be best of friends
One person who may not be entirely happy if – as expected – the leader of South Tyneside Council, Iain Malcolm, inherits David Miliband's Commons seat is his parliamentary neighbour Stephen Hepburn, MP for Jarrow. Relations between the Jarrow and South Shields Labour Parties have always been patchy at best. In 1994, when Hepburn and Malcolm were both councillors, they had an argument that came to blows. Hepburn was fined £75 for assault.
For Councillor Malcolm, it has been a long wait. He wanted to go for the seat when the previous MP, David Clark, pulled out on the eve of the 2001 general election, but was warned off. It was explained to him that Clark's sudden resignation was a decision made in Downing Street, under which Clark would create an opening for Miliband and receive a peerage in return.
Hands puts his foot right in it
A resignation that passed unnoticed by almost everyone has set off an extraordinary spat between MPs. Ian Mearns had a minor job on the Labour front bench, which he quit to take part in a backbench rebellion over the way claimants were made to do unpaid work for firms such as Poundland. Greg Hands, a Tory whip, remarked on Twitter that the resignation "marks the latest 2010 David Miliband supporter to leave".
He was right about Mearns voting for David Miliband in 2010, but mistaken in supposing that was why he resigned. David Miliband's old supporters are often to be heard complaining that Ed Miliband is too cosy with trade union leaders, but on this issue, confusingly, the Miliband brothers were both on one side, the union leaders were on the other, and Mearns was backing the union line.
The Labour MP Ian Austin, who was not particularly close to either of the Miliband brothers, thought this a "very stupid" error, even by Greg Hands's "cretinous standards" and took to Twitter to say so. In a subsequent message, he suggested to Hands: "You incoherent moron: grow up."
Hands naturally protested at being attacked so personally, and suggested that Austin may have had too much to drink. "No," came the reply, "my stone cold sober assessment of you is that you are one of the most stupid and unpleasant MPs I've met." In a later tweet. Austin even claimed: "The fact that you are the most unpleasant and one of the of the most stupid Tory MPs is Labour's official policy."
Official policy? Will they put it in their manifesto?
Register for free to continue reading
Registration is a free and easy way to support our truly independent journalism
By registering, you will also enjoy limited access to Premium articles, exclusive newsletters, commenting, and virtual events with our leading journalists
Already have an account? sign in
Register for free to continue reading
Registration is a free and easy way to support our truly independent journalism
By registering, you will also enjoy limited access to Premium articles, exclusive newsletters, commenting, and virtual events with our leading journalists
Already have an account? sign in
Join our new commenting forum
Join thought-provoking conversations, follow other Independent readers and see their replies