Andy McSmith's Diary: How Tory right wing makes Britain an unlikely bedfellow of Putin's party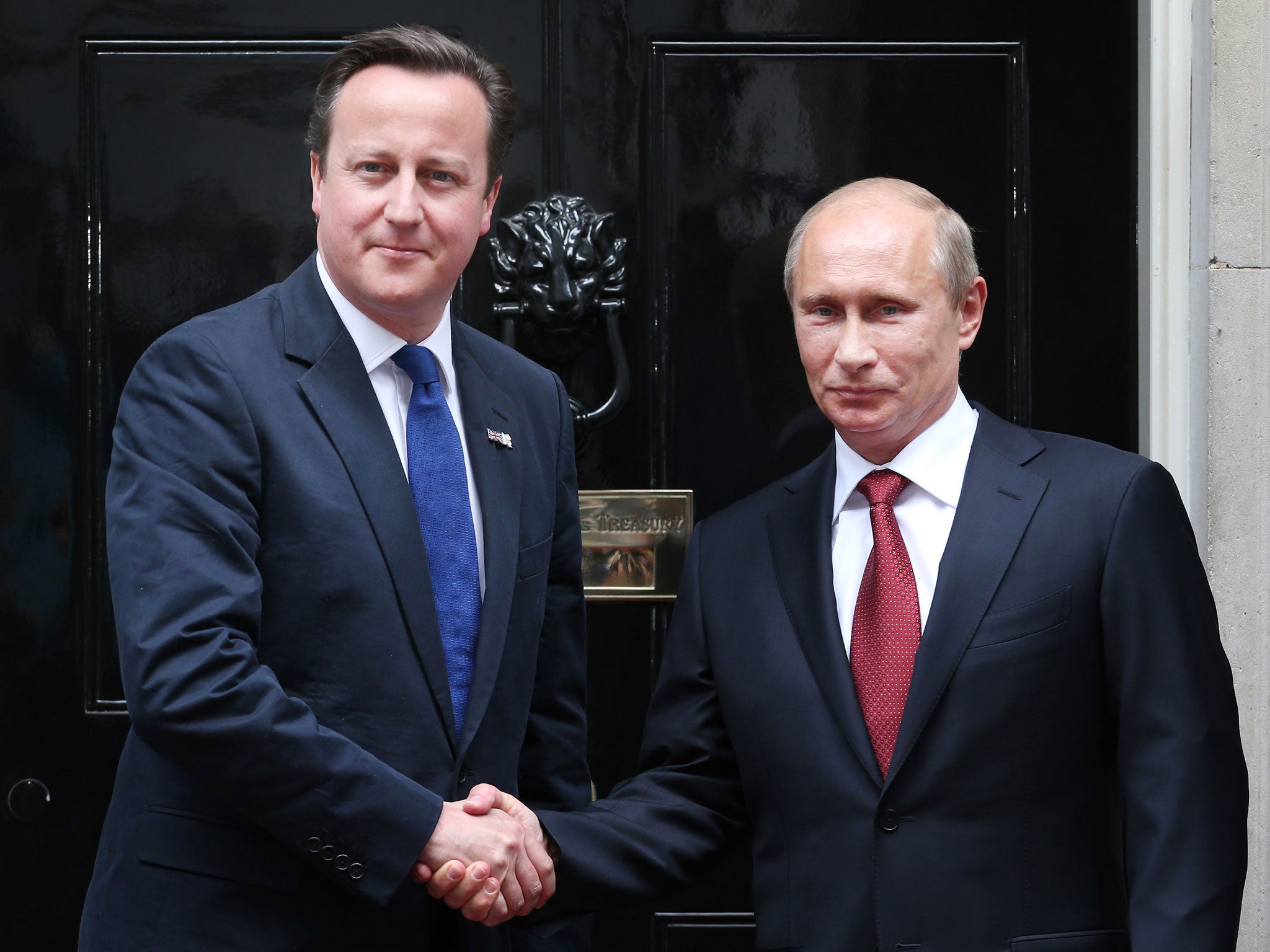 David Cameron heads off to Russia on Thursday for the G20 summit of world leaders, promising that he is not going to shy away from tackling Vladimir Putin, pictured, about a couple of very serious differences between Russia's regime and ours.
While Syria is the bigger and more urgent, the Foreign Office has said that the Prime Minister will also raise the question of the law that the Russian parliament passed in June, banning the "promotion of non-traditional sexual relations".
What with that and the suspicious deaths of the Russian lawyer, Sergei Magnitsky, and the defector, Alexander Litvinenko, you might think that the British Conservatives are not exactly soulmates with Putin's United Russia party.
But here is a strange thing: whenever the parliamentarians who make up the Council or Europe meet, almost all the leading European centre-right parties – including Germany's Christian Democrats, whose leader is Angela Merkel, and France's Union pour un Mouvement Populaire, founded in 2002 by Jacques Chirac – go into one room, while the Tories walk wistfully by and into another room, to commune with the delegates from United Russia.
The reason is that when Mr Cameron was running for the Tory leadership, back in 2005, he promised to pull the party out of the grouping called the European People's Party, to which other conservative parties belong, because it is too enthusiastically pro-EU. There are disadvantages to belonging to no political group in Europe, so the Conservatives landed themselves with their strange bedfellows in the European Democrat Group.
It was reported that Mr Cameron was going to pull the Tories out five years ago, when Russia was behaving aggressively towards Georgia, but they are still there, because of an election promise he made eight years ago, as a sop to his restive and generally ungrateful right wing.
Can Tony avoid pitfall?
Tony Blair has been called upon to help sort out a crisis that is threatening 1,700 jobs in a copper mine on the edge of a vast desert. He will shortly be making a trip to Mongolia to advise them on how to negotiate with Rio Tinto Zinc, whose annual earnings match the country's GDP. It owns two-thirds of a vast new mine, Oyu Tolgoi, on the edge of the Gobi desert. The other third is owned by the Mongolian government.
This is one of the biggest investments in Mongolia's history, and the government is anxious to extract as much as possible to finance the country's growth.
RTZ is not in such a hurry: its concern is to cut costs and reduce debt – though last month the company announced underlying earnings of $4.2bn (£2.7bn) in the first six months of this year. Mongolia's GDP in the year 2011 was $8.7bn. The argument has yet to be sorted. Over to you, Mr Blair.
Stop wasting police time, Yvette
One thing you might suppose the public is entitled to know is how quickly they can rely on their local police to answer a 999 call. Staff working for Yvette Cooper, the shadow Home Secretary, thought they would ask around, to see if police cuts were making police responses slower, so sent a Freedom of Information request around the various forces.
We do not know how long it takes us to answer a 999 call, Dyfed Powys's finest replied. They added that finding out would entail plodding through records of every 999 call made for four years, and since they receive up to 68,000 such calls a year, answering the question would use up 8,471.26 hours of police time. Move along, please.
Porn sites top of Parliament's list?
The Huffington Post website reveals that thousands of attempts have been made from computers on the parliamentary network to access pornography – 114,844 in the peak month, last November, though only 15 this February.
The total of almost 300,000 requests (more than 800 a day) was released by Palace of Westminster IT chiefs in response to an FOI request. It is all for research purposes, I am sure.
Avoid those cliches like the plague
Bloomberg journalist Robert Hutton has just produced a book on newspaper slang and cliches, which tears the lid off a spiralling wave of blistering jargon engulfing readers. This inspires me to pay tribute to the Sky News website, which headlined a story about a US police officer who used a picture of a councillor for target practice "Police Chief under fire for 'Shooting' Councillor". Was he 'under fire' or was he 'firing'? The intro does nothing to end the confusion: "A Pennsylvania police chief says he expects to be fired …"
Join our commenting forum
Join thought-provoking conversations, follow other Independent readers and see their replies