Angela Eagle accuses BBC interviewer of pandering to 'Corbynista meme' during Iraq War questioning
Former shadow business secretary says 'I'm not crying now, am I?' during Radio 4 interview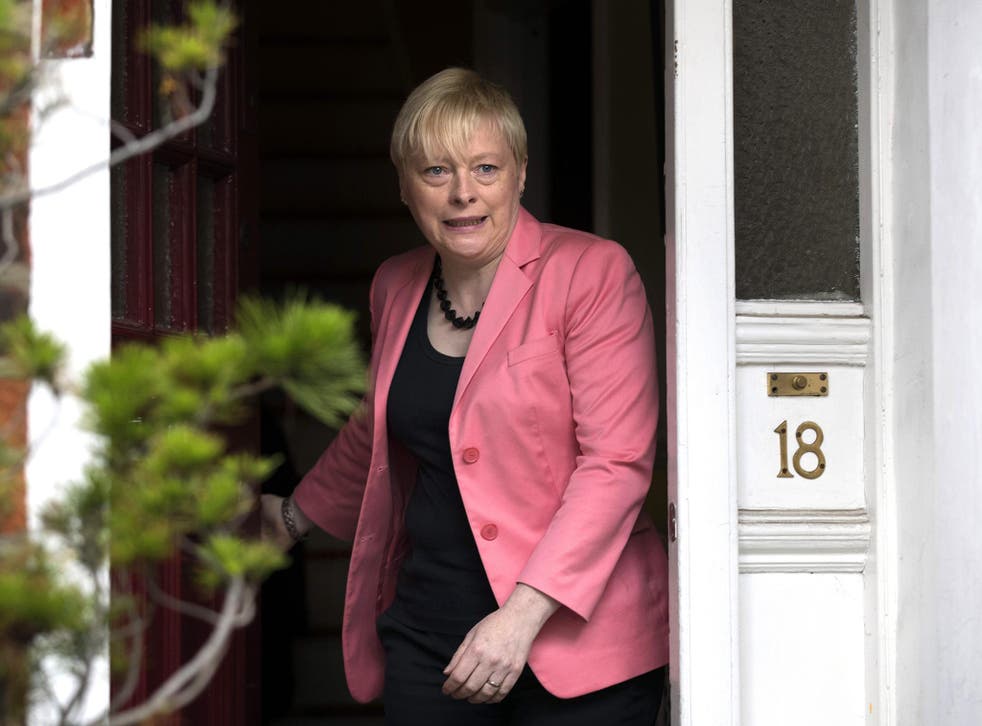 Angela Eagle has dismissed questionning about her vote in favour of the Iraq War, by accusing interviewer John Humphrys of pandering to a "Corbynista meme on Twitter".
The former shadow business secretary was questioned about her leadership credentials and emotional strength during an interview on BBC Radio 4's Today programme.
Quizzed about her decision to vote for the war during a heated exchange, Ms Eagle said: "You're not going to repeat a Corbynista meme that's going round Twitter are you?"
The awkward moment when Angela Eagle realised journalists had all left her leadership bid launch
She also defended crying over Jeremy Corbyn during media interviews as she continued her bid to become the next Labour leader.
"You used the word 'strong' to describe yourself, and you'll accept you have to be pretty ruthless if you're going to be a political leader of a party," Mr Humphrys said.
"Yet the nation heard you shedding a tear a couple of times on the radio and on television when you were talking about Jeremy Corbyn.
"Many people might have thought 'Hang on - do we want someone who weeps in the face of this sort of thing, confronting Putin for instance?'"
The MP for Wallasey replied: "I tried for nine months to fulfill my promise to Labour party members to try to make Jeremy Corbyn's leadership work. And it was just emotion that I had been unable to deliver that.
"There's more than one way to be a leader and I think being in touch with your emotions is an important thing. It was a difficult day. Politicians ought to be human beings and leaders can be human beings."
During an interview on the World at One on Radio 4 in June, Ms Eagle's voice audibly cracked as she criticised Mr Corbyn's ability to lead the Labour party into the next General Election.
She continued: "I'm not crying now, am I? The issue here is whether you've got a vision for the country, whether you can provide strong leadership to unite the Labour party and heal our country in these dangerous times. I believe I have got all of those qualities."
The most ridiculous claims made about Jeremy Corbyn

Show all 11
Ms Eagle added she was "looking forward to a contest of ideas" during her leadership challenge and said trade unionist Len McCluskey had been watching "too many am-dram performances" for suggesting anti-Corbyn MPs had "betrayed" the Labour party.
On Tuesday morning, it was reported a brick had been thrown through the window of Ms Eagle's constituency office in Wallasey, Merseyside, overnight and numerous abusive messages had been left on her parliamentary answer phone.
It is believed Ms Eagle may face a vote of no confidence at a Wallasey Labour party meeting on Friday.
Ms Eagle announced her leadership bid on Monday morning, with the support of over 50 MPs and MEPs.
Register for free to continue reading
Registration is a free and easy way to support our truly independent journalism
By registering, you will also enjoy limited access to Premium articles, exclusive newsletters, commenting, and virtual events with our leading journalists
Already have an account? sign in
Register for free to continue reading
Registration is a free and easy way to support our truly independent journalism
By registering, you will also enjoy limited access to Premium articles, exclusive newsletters, commenting, and virtual events with our leading journalists
Already have an account? sign in
Join our new commenting forum
Join thought-provoking conversations, follow other Independent readers and see their replies