Angela Merkel calls for 'one in, one out' immigration deals with North Africa to stem refugee crisis
The German Chancellor also demanded EU states take more refugees who have already landed in Greece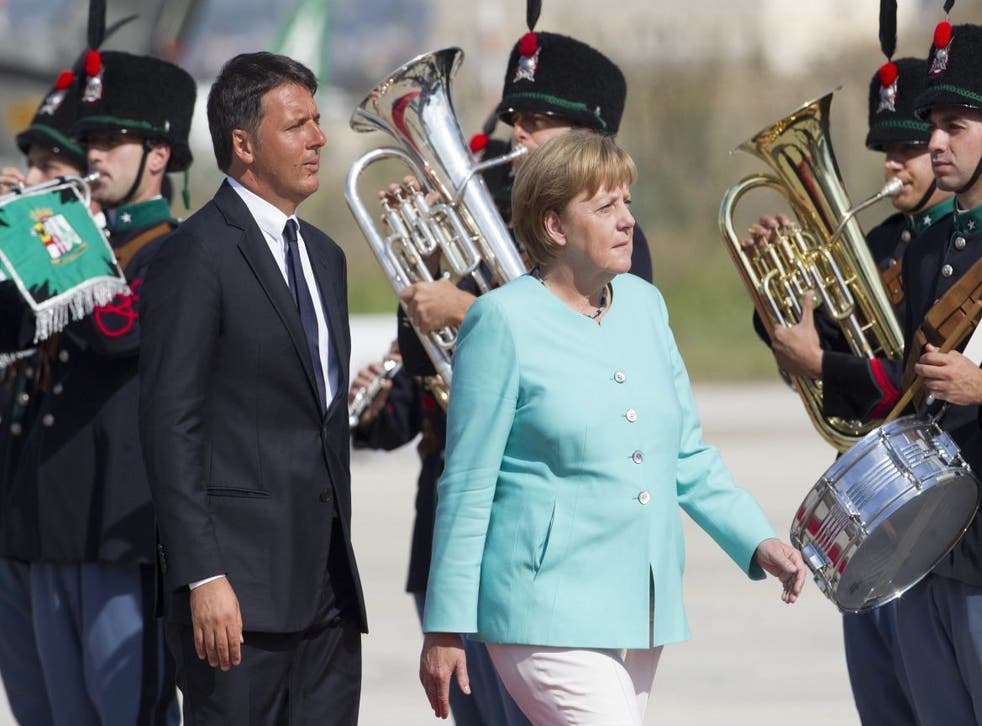 Angela Merkel has called for the EU to sign Turkey-style "one in, one out" deals with North African states in a bid to avert a growing summer immigration crisis.
The German Chancellor signalled that the deal with Turkey, which saw billions of euros pledged to the country, could form a blueprint for others.
Her call came following a meeting with leaders of France and Italy and after a UN warning that the immigration crisis in which thousands have drowned in the Mediterranean, is once again about to explode.
The UN special representative for international migration reported that 95,000 people had already made the perilous journey across the sea from Africa to Italy this year, with numbers set to soar in September and October.
Under the EU-Turkey agreement, Ankara agreed to take back one Syrian who made it to Greece in return for being allowed to send one from its extensive refugee camps to the bloc, in a more orderly redistribution programme.
The deal also pledges billions of euros in EU aid for Turkey, visa-free European travel for Turkish citizens and accelerated EU membership talks.
While the agreement has come under intense pressure since last month's bungled military coup in Turkey, Ms Merkel backed the concept as a way forward elsewhere.
She told regional daily Neue Passauer Zeitung: "We must agree on similar deals with other countries, such as in North Africa, in order to get better control over the Mediterranean sea refugee routes.
Refugee crisis - in pictures

Show all 27
"Such agreements are also in the interest of the refugees themselves." Citing the existing deal she went on: "It is safer for them and there are good reasons for them to remain in Turkey, close to their homeland, where the cultural and language barriers are lower."
The German Chancellor said the Turkey deal is still "correct" and that the EU "should work to ensure that it lasts".
She also urged EU partners to step up to their responsibilities in taking refugees who had arrived in Greece
Earlier today UN special representative Peter Sutherland warned that numbers coming from Libya to Italy are expected to rise as high as 170,000, despite 3,100 having drowned trying to make the trip in 2016. There are already 140,000 migrants, mainly from Libya, living in camps in southern Italy, putting a huge strain on the country.
Asked whether he thought Brexit had partly been caused by voters seeing pictures of the immigration crisis, Mr Sutherland said: "It certainly was. Immigration was and is a huge issue, there's no question about that. But that doesn't alter the fact that … Europe is the solution, not the problem.
"The only way that we can deal with the migration problem is by having a European policy. If every country simply cowers behind borders and agrees not to cooperate as a result of a response to nationalism then Europe really will be in a mess."
Join our new commenting forum
Join thought-provoking conversations, follow other Independent readers and see their replies