Animal Aid website will let voters check politicians' animal welfare credentials
"Animal welfare raises a host of ethical issues"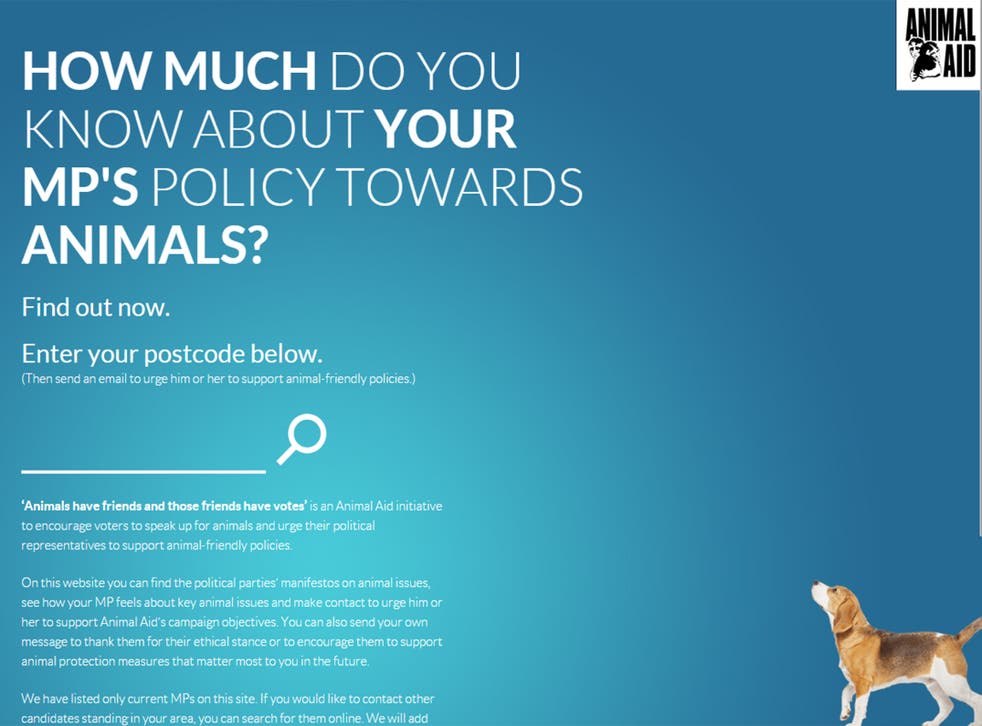 Voters will for the first time be able to rate the commitment to animal rights of MPs and parliamentary candidates, thanks to a new website that compares their records on issues including hunting, vivisection and badger culling.
The site, launched today by Animal Aid, also contains information on politicians' voting records and views on such topics as the installation of CCTV cameras in slaughterhouses to prevent cruelty, and circus animals.
Animal Aid hopes that VoteForAnimals.org.uk will put pressure on MPs and parliamentary candidates to show their support for animal welfare ahead of the general election in May.
Data on whether MPs have signed motions relating to animal issues can be obtained by searching by names or postcodes. Constituents are encouraged to contact their MP directly through the site to ask him or her to support key animal welfare issues.
Kate Fowler, the head of campaigns at Animal Aid, said: "This is a unique resource to help constituents make an informed choice when it comes to voting next spring. There are animal-friendly MPs in all parties, and we want to keep those MPs in place.
"The big issues dominate all the papers – immigration, finance, the NHS, understandably – but animal welfare is such an untapped area where people have views on a host of ethical issues."
The company praised three politicians who proactively campaign for animal rights: Mary Creagh, the Labour MP for Wakefield and former shadow Environment Secretary; Tracey Crouch, the Conservative MP for Chatham and Aylesford; and Caroline Lucas, the Green Party MP for Brighton Pavilion.
It heralded Mrs Creagh for vehemently opposing the badger cull, as well as the use of wild animals in circuses. Ms Crouch is one of few Tory MPs who opposed the badger cull and supported the Hunting Act 2004, which outlawed hunting in England and Wales. Ms Lucas regularly takes on personal campaigns for the better treatment of animals.
Animal Aid has previously named Jim Paice, the former Environment, Food and Rural Affairs minister, as "the worst animal-welfare minister in living memory". The Conservative MP for South-East Cambridgeshire overturned a host of bans to protect animals during his two years in office, from 2010 to 2012.
The former Environment Secretary Owen Paterson, the Tory MP for North Shropshire, is also rated badly by charities. He was criticised for extending the badger cull in last year after initial targets were missed.
Join our new commenting forum
Join thought-provoking conversations, follow other Independent readers and see their replies