Anti-austerity marchers told to 'go wave your banners while grown ups run the country' by Westminster councillor
Richard Holloway mocks protesters in dismissive tweet ahead of mass demonstration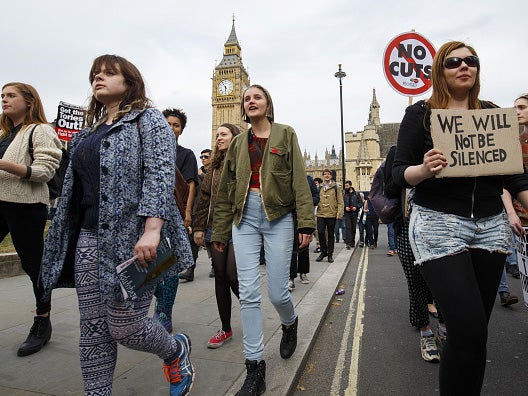 A central London councillor has mocked anti-austerity protesters on Twitter telling them to "go wave your banners" while the "grown-ups get on running the country".
Using the #EndAusterityNow hashtag , Conservative Westminster city councillor Richard Holloway dismissed the protest:
The protest is expected to draw 75,000 people according to its organisers who are a broad coalition of left-wing political groups.
It began outside the Bank of England at noon followed by a march to Parliament Square where a rally is expected to take place from 2:30pm until 5:30pm.
Hundreds have gathered with placards reading "No cuts" and "Stop Union Busting" and celebrities such as Russell Brand and Charlotte Church have joined protesters on the street.
The people vs austerity: The best pictures from recent protest marches
Show all 10
But police are said to be cracking down on protesters after disturbances at earlier demonstrations, according to the Guardian.
Activists linked with political party Class War who were arrested and bailed say they were handed fresh bail conditions banning them from attending the rally or entering Trafalgar Square, Whitehall and Parliament Square.
Labour leadership contender Jeremy Corbyn, who will be addressing the rally, told BBC Radio 4's Today programme that austerity was a "cover" for increasing inequality.
He said his party had "bought into the Conservative agenda of cutting public expenditure" during the election campaign.
"Britain has become a more unequal society, is becoming a more unequal society and austerity is a cover for actually deepening that level of inequality.
"We have more people than ever using foodbanks, we have a greater number of people being homeless and many people in housing stress.
"I think we need to rebalance the social direction of this country and austerity is not the way to do it."
Join our commenting forum
Join thought-provoking conversations, follow other Independent readers and see their replies