Autumn Statement: Local authorities allowed to increase council tax by two per cent to spend on adult social care
The councils will have to spend the extra funds on adult social care to help spiralling costs
Paul Gallagher
Wednesday 25 November 2015 18:52 Comments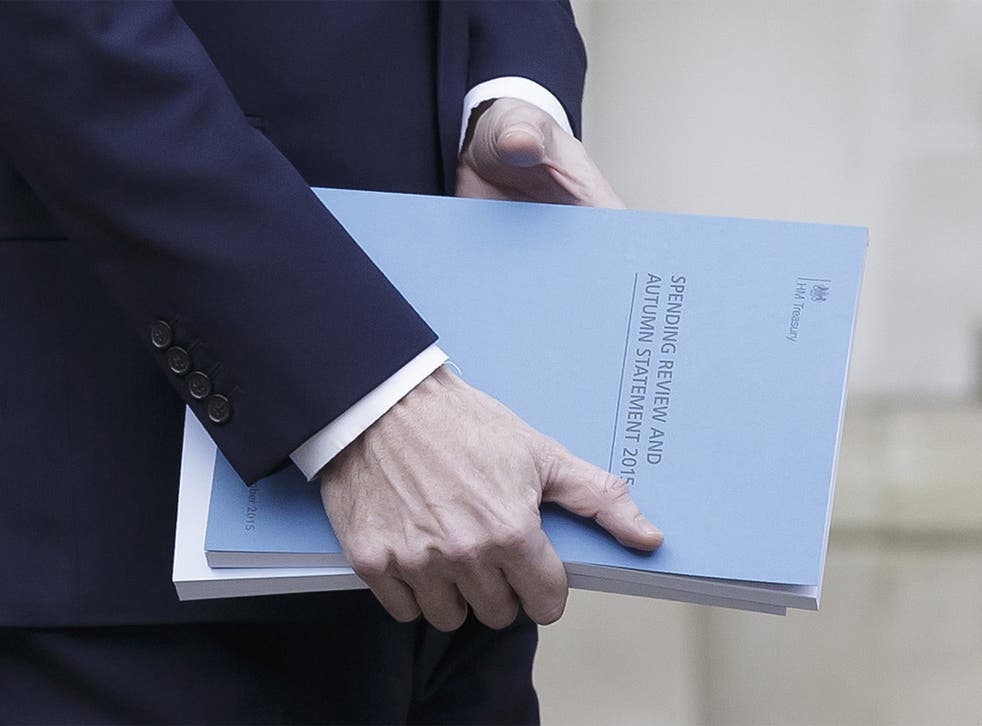 Local authorities will have the ability to increase council tax by up to two per cent and must spend the extra funds on adult social care to help spiralling costs.
The "social care precept" could raise almost £2 billion a year by 2019-20, but only if all councils in England and Wales introduce the rise.
The Chancellor said: "The health service cannot function effectively without good social care. The truth we need to confront is this: many local authorities are not going to be able to meet growing social care needs unless they have new sources of funding."
He said the precept was part of "the major reform we're undertaking to integrate health and social care by the end of this decade".
The average Band D taxpayer will see a rise of £96 in their bill but the Local Government Association said wealthier boroughs would benefit much more from the change.
Sharon Taylor, LGA Deputy Chair, said: "If all councils providing social care increased council tax by an extra two per cent each year they would raise £1.7 billion by 2020. These council tax raising powers do not represent guaranteed money as not every council will be able to or will want to raise council tax in this way.
"Wealthier areas could benefit more because they collect more of their budgets through council tax and are less reliant on government funding. More deprived areas could then be hit doubly hard because they will have to cope with deep government funding cuts while being unable to use council tax raising powers without dragging low-income families into financial difficulty."
Video: Osborne delivers 'big' review
Analysis by consultants iMPower suggested that Conservative-controlled boroughs such as Richmond and Rutland could increase their adult social budgets by almost five per cent, but the gain in largely urban, Labour-run authorities such as Newcastle and Liverpool, as well as inner London boroughs such as Hackney and Wandsworth, would be much lower, at around two per cent.
Martin Cresswell, iMPower Chief Executive, said: "The social care precept is good politics for George Osborne and bad politics for local government. He's devolving the political risk of trying to keep social care functioning at a decent level."
Shadow social care minister Barbara Keeley said the changes would fail to plug the widening funding gap in social care.
UK news in pictures

Show all 50
The Chancellor also announced a moderate rise in the Better Care Fund to support integration so that local authorities can access "an extra £1.5bn by 2019-20". The BCF provides financial support for councils and NHS organisations to jointly plan and deliver local services
The combined effect would mean by the end of the Parliament social care spending will have risen in real terms, he said.
Critics said any promised money was simply recycled from elsewhere in the NHS budget and that councils will be free to ignore the policy.
Professor Martin Green, Chief Executive of Care England, which represents independent care providers, said: "The increase in Better Care Fund will not reach the independent care sector, because there is no evidence it has so far. A lot of this is just recycled cash already in the NHS and local authorities. The notion that the money will be for front line services is a myth.
"And not all councils will increase tax by two per cent, so what happens when they don't? We live in a system where local authorities are not monitored by anybody. They are a law unto themselves. The Chancellor's announcements do not provide the funding social care needs."
Case study: '£3.50 extra won't help'
Andrew Lebbon, 36, is a carer at Teignbridge Council in Devon. He lives in Teignmouth with his partner and daughter.
I thought there would be a U-turn on cutting tax credits from George Osborne simply because of the huge social pressure on him, but I expected more provisions and allowances for social care from the statement. In the NHS problems like bed-blocking are still huge because the lack of funding for social care forces the elderly to go to hospitals.
I care for my elderly mother who is partially blind after a cataract operation but she also lives in a private care home. The additional £3.35 Osborne announced she will receive per week won't really help much with the weekly service charge she pays. She's worried about losing her benefits allowance because she struggles to attend all the appointments with advisers that she's required to go to.
Having worked in care for the elderly since I left school at 16, I've seen the decline. Before, money wasn't so tight and there were a lot more staff who were able to give each patient care and attention. But now staff numbers are so stretched you can't really get to know the patients... you don't build the same sort of relationship with them any more.
Register for free to continue reading
Registration is a free and easy way to support our truly independent journalism
By registering, you will also enjoy limited access to Premium articles, exclusive newsletters, commenting, and virtual events with our leading journalists
Already have an account? sign in
Join our new commenting forum
Join thought-provoking conversations, follow other Independent readers and see their replies