Autumn Statement: Government faces legal threat over controversial plan to make students pay £6,000 extra on loans
Government quietly publishes decision to freeze the student loan repayment threshold at £21,000 for five years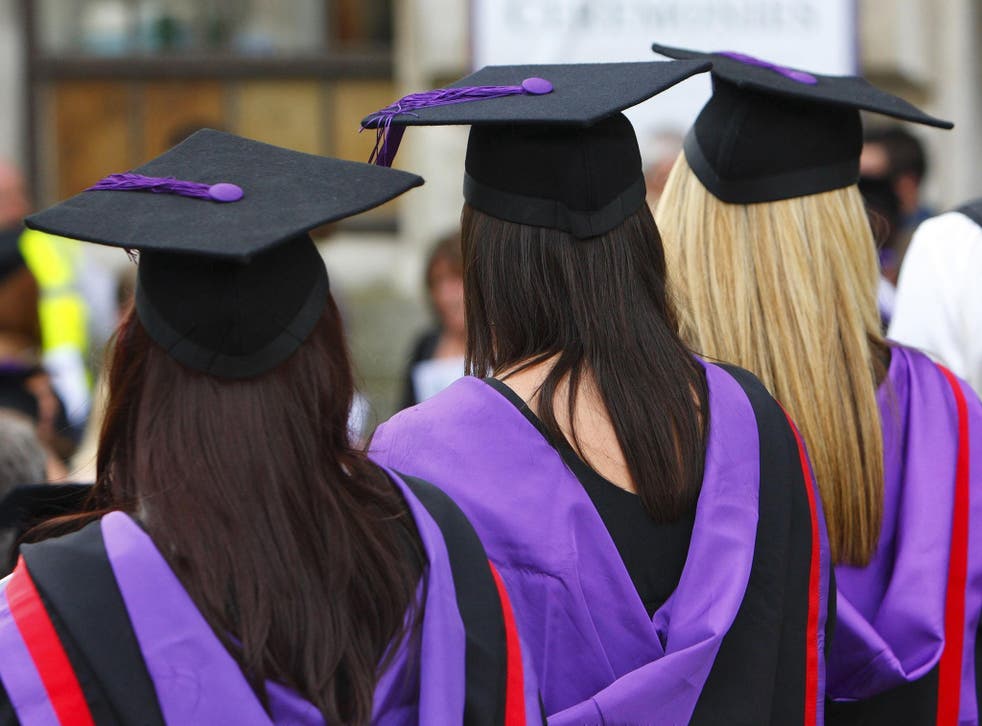 Ministers could face a legal challenge after being accused of sneaking out a "socially regressive" announcement that will lead to thousands of students having to pay back up to £6,000 more on their tuition fee loans.
Under changes made in the Government's Autumn Statement, the threshold at which students have to start paying back their loan will be frozen at £21,000 for the next five years and will be applied retrospectively for all those who started degrees since 2012.
It means students will have to start repaying their loans earlier and will hit middle earners the most, who will have to pay an extra £6,000 on average, according to the Institute for Fiscal Studies.
Women, ethnic minorities and disabled graduates will be hit the hardest, according to the Government's own assessment of the change, which was quietly published on Wednesday - at the same time as a host of other spending decisions were announced in George Osborne's Autumn Statement and Comprehensive Spending Review.
Martin Lewis, the consumer rights campaigner, accused the Government of "disgracefully" trying to "hide" the hike in repayment costs and said George Osborne "didn't even have the balls" to mention the change in his House of Commons statement.
He described the move as a "breach of trust by the Government that betrays a generation of students".
Previously the Government had promised students that the £21,000 threshold would increase along with inflation, but with average yearly wage rises at 4 per cent, the freezing of the threshold will drag thousands more graduates into repaying their loans sooner than they expected.
The Department for Business said the change had been made because graduate earnings had not risen as much as expected.
Labour told The Independent that the Government was guilty of mis-selling and could be open to a legal challenge over the move because students had decided to go to university on the back of the Government's promise that the £21,000 repayment threshold would be uprated by the time they had to start repaying their loan.
Gordon Marsden, shadow minister for further education, said: "It's no surprise that they've sneaked this out today because it illustrates the panicked situation that they're in with the gaping big hole in terms of repayments. But this is going to do little in the short-term to address that.
"This is actually equivalent to mis-selling because after all people signed up on this agreement in 2012.
"Now the government wants to basically reinvent the wheel.
"I'm not even sure what the legal position would be if anybody wanted to take a judicial review on it."
"The basic principle that this is going to be socially regressive because it's going to hit people in the middle and the whole idea of this is to try to encourage people to take out loans so they will then get a reasonable salary thereafter.
"But it is actually mis-selling and it doesn't do anything for confidence, along with the other things they announced today."
The repayment threshold will be frozen at £21,000 from April next year until 2021.
The Treasury's Autumn Statement document predicts the change will raise £680m in savings over the next five years.
Mr Lewis, who founded the Money Saving Expert website and ran the independent task force on student finance information, said: "It is risking fundamentally threatening any trust people have in the student finance system.
"It is one thing to set up a system that is unpopular but it is entirely different to make retrospective changes that mean you cannot even rely on what you were promised at the time you started to study. Even though it was warned of the huge dangers of doing this, it's still blundering ahead, ignoring all right thinking concern.
"The fact that the Chancellor didn't even have the balls to put it in his Autumn Statement speech shows that he knew how unpopular it would be. If a commercial company made retrospective changes to their loan terms in this way they'd be slapped hard by the regulator – the Government shouldn't be allowed to get away with it either.
"I'm deeply saddened, it's chosen to act in this way."
A spokesman for the Department for Business said: "When the £21,000 threshold was set in 2010, assumptions had to be made about earnings growth between 2010 and 2016.
"While the economic recovery is underway, it is not yet fully reflected in earnings, so the threshold is higher in real terms than originally intended.
"Making this change helps contribute to the current government's debt reduction targets."

Register for free to continue reading
Registration is a free and easy way to support our truly independent journalism
By registering, you will also enjoy limited access to Premium articles, exclusive newsletters, commenting, and virtual events with our leading journalists
Already have an account? sign in
Register for free to continue reading
Registration is a free and easy way to support our truly independent journalism
By registering, you will also enjoy limited access to Premium articles, exclusive newsletters, commenting, and virtual events with our leading journalists
Already have an account? sign in
Join our new commenting forum
Join thought-provoking conversations, follow other Independent readers and see their replies