Government expands badger cull to five new areas despite warnings it doesn't work
Farmers say the animals spread tuberculosis to their cattle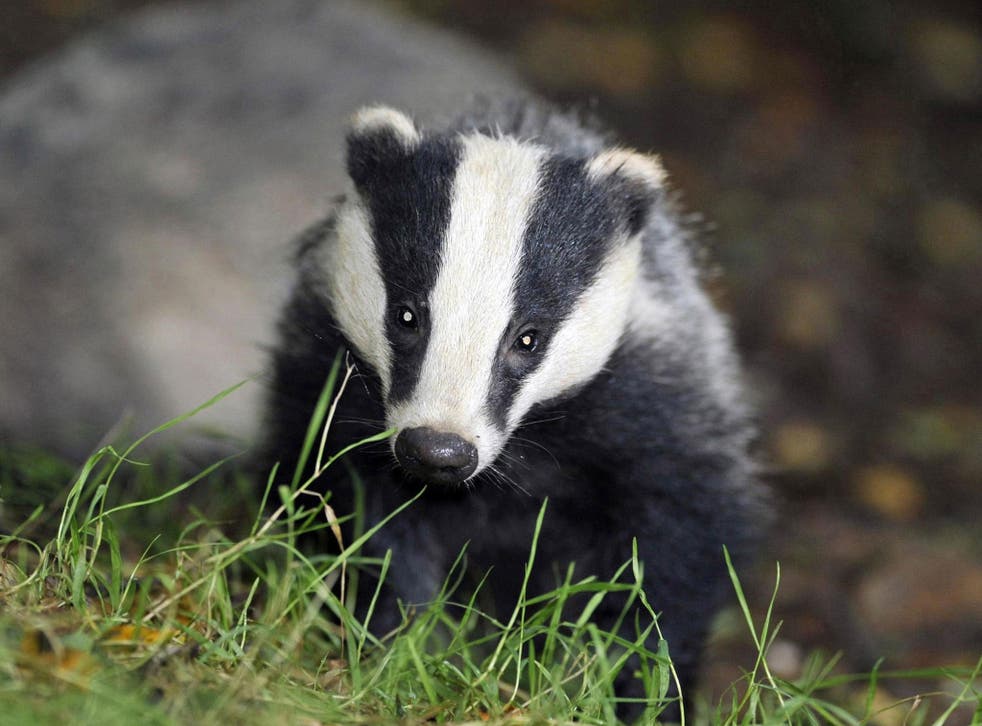 The Government is expending its controversial badger cull to five new areas despite warnings by campaigners and scientists that it is both expensive, ineffective, and inhumane.
Herefordshire, Gloucestershire, Cornwall, Devon and Dorset are being added to the list of areas marked for animal killings.
Animal welfare groups have warned against the cull while some veterinary experts have criticised it an ineffective way of controlling bovine TB.
Farmers generally back the killings because they blame badgers for spreading tuberculosis to their cattle, hitting profits.
David Bowles, the RSPCA's head of public affairs, said the policy was inhumane and expensive.
"We have huge sympathy for farmers and we want to work with them to try to tackle this disease but we are extremely concerned as we believe that culling badgers will not help to eradicate bovine TB," he said.
"The trouble is that the Government has moved away from using scientific evidence as a basis for the scheme and are now killing badgers for the sake of it. Government is fixated on the idea that killing badgers will solve the problem of bovine TB but it is a costly distraction that is not helping anyone.
"As culling can't be selective, many healthy badgers have been slaughtered as collateral damage. As many as six out of seven badgers killed by the cull could be bovine TB free, but we will never know as none of the badgers killed as part of the cull have been examined to see if they have TB."
He added: "We believe there is a huge amount of opposition to the badger culls not just from animal welfare campaigners but also the public, scientific experts and from many in Parliament itself.
"Bovine TB is a devastating disease and it is of major concern for cattle and dairy farmers – but we do not believe culling badgers is an effective way to manage the disease.
"Methods should be based on available scientific evidence and expert opinion. Alternatives include stricter controls on the movement of cattle, increased levels of cattle testing, improved biosecurity, and vaccination of both badgers and cattle."
Professor Alastair MacMillan, veterinary advisor for Humane Society and an ex-Defra advisor, said: "The Government-appointed independent expert panel showed that, in the first year, almost a quarter of the badgers shot were extremely likely to have suffered for more than five minutes. Post-mortem reports have shown that a high proportion of badgers shot were hit outside the target area of the body necessary to ensure a quick death.
"We are concerned that, in the coming months and years, many more badgers will continue to be wounded in this way and will retreat to their setts to suffer and die painfully and slowly underground. The science is unambiguous and the evidence is clear – the culling of badgers is absolutely causing suffering, and it will make no meaningful difference to the spread of bovine TB in cattle in the UK."
Independent Advisory Panel scientist Professor Timothy Coluson previously accused the Government of abusing the scientific process and "wilfully" ignoring evidence in pursuit of the cull.
"They just want to cull badgers, regardless of whether the population or humaneness consequences can be assessed," he said at the start of the cull.
Dominic Dyer, the chief executive of the Badger Trust charity, also said at the time that the Government's own evidence contradicted the policy.
"Defra's own data suggest that while 15 per cent of badgers may test positive for bovine TB, just 1.6 per cent of them are capable of passing on the disease," he argued .
"This means 98.4% pose no risk whatsoever to cattle and 85% are likely to be completely bovine TB free. Trying to control bovine TB in cattle by culling badgers that don't have it doesn't make any sense."
Figures released last year showed taxpayers forked out £7,000 for every badger killed under the cull. The Government has also admitted that not all badgers killed have TB.
In pictures: Protesters demonstrate against badger culls

Show all 11
Farming Minister George Eustice said: "Our comprehensive strategy to eradicate bovine TB in England is delivering results, with more than half the country on track to be free of the disease by the end of this Parliament.
"Bovine TB has a devastating impact on farms, which is why we are taking strong action to eradicate the disease, including tighter cattle controls, improved biosecurity and badger control measures in areas where the disease is rife.
"The veterinary advice and the experience of other countries is clear - we will not be able to eradicate this disease unless we also tackle the reservoir of the disease in the badger population as well as cattle."
Chief vet Nigel Gibbens said: "Action to prevent infection of cattle from significant reservoirs of TB infection in local badger populations is an essential part of the Government's 25-year strategy to eradicate bovine TB in England.
"Proactive badger control is currently the best available option and the licensing of further areas is necessary to realise disease control benefits at regional rather than at local levels."
Meurig Raymond, president of the National Farmers Union, said: "Bovine TB remains a huge threat to beef and dairy farmers in large parts of the country. More than 28,000 cattle were slaughtered in England last year because of it and nearly 4,000 herds that had previously been clear of the disease were affected by it.
"Farmers facing a daily battle against bovine TB in those areas that have been granted licences for badger control operations this year will welcome the news that finally action is being taken to tackle the reservoir of disease in wildlife in these areas. Today's announcement means that badger control will now be taking place in ten per cent of the area where cattle are at the highest risk of contracting bovine TB.
"There is still a huge amount of work ahead to ensure the eradication of bovine TB from this country."
The cull was launched in 2012 on a trial basis and expanded by successive environment ministers.
Join our new commenting forum
Join thought-provoking conversations, follow other Independent readers and see their replies