Banking reforms 'in place by 2019'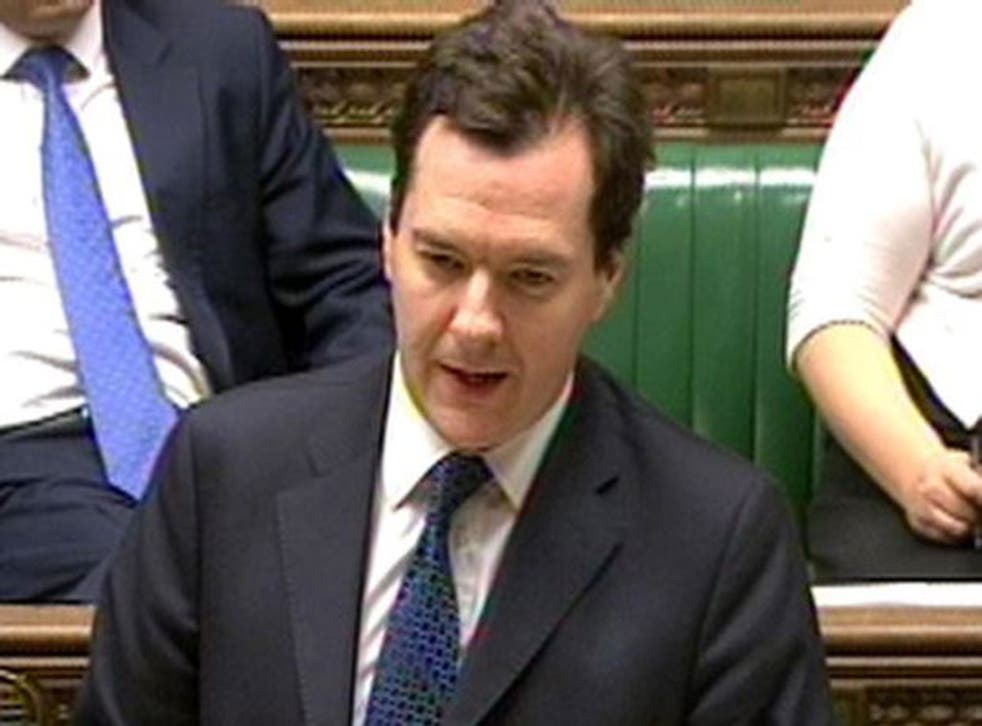 Reforms to the banking system designed to prevent a repeat of the financial crash are to be implemented in full by 2019, Chancellor George Osborne announced today.
The reforms will create a "ring-fence" around the high street banks which handle consumer and small business accounts, to insulate them from the risks run by "casino" operations within the same group.
And banks will be required to hold equity capital of 10% - some three percentage points higher than the level proposed in the international Basel III agreement - to act as a "cushion" against potential losses.
Meanwhile, the Chancellor revealed that the largely state-owned RBS bank has been ordered to cut back on its investment activities to concentrate on becoming a "stronger, safer bank, able to maintain lending to businesses and consumers".
And he said that changes to be in place by September 2013 will enable individuals and small businesses to switch banks swiftly and easily, as part of a drive to boost competition in the sector.
In a statement to MPs detailing the Government's response to the Vickers Report, Mr Osborne said that the changes amounted to "the most far-reaching reforms of British banking in our modern history".
He told MPs: "Our objective is to make sure what happened in Britain never happens again, that taxpayers are protected and that customers get a better service...
"We want to separate high street banking from investment banking to protect the British economy, protect British taxpayers and make sure that nothing is too big to fail."
He said the changes will cost the industry £3.5 billion to £8 billion a year and lead to a reduction in GDP of £800 million to £1.8 billion.
But he told MPs the costs would be "far outweighed" by the benefit of avoiding future financial crises, which he said would reach £9.5 billion a year on "modest" assumptions.
Legislation to implement the reforms will reach the statute book before the 2015 election, with a requirement for banks to erect ring-fences "as soon as practically possible" after this date and to implement the changes relating to loss-absorbency by the end of 2019.
A White Paper will set out the changes in detail in the spring.
Sir John Vickers, who chaired the Independent Commission on Banking, welcomed Mr Osborne's commitments, which he said were in line with the recommendations of his report, published in September.
"The costs and dangers of unreformed banks are plain for all to see," said Sir John. "With the architecture for reform now settled, a more stable structure should now be built."
Shadow chancellor Ed Balls said: "It is vital that the Government now implements these important banking reforms without foot-dragging, back-sliding or watering them down."
But the British Bankers Association said that many of the Vickers proposals were already in place, with banks having built up capital "far beyond" current requirements and accepted the principle of ring-fencing retail and investment activities.
"The challenge now is to ensure this can be implemented while restoring financial stability, promoting economic recovery and ensuring regulatory reform meets the needs and expectations of all participants in the banking system - principally customers," said BBA spokeswoman Lesley McLeod.
John Walker, national chairman of the Federation of Small Businesses, said: "For too long, the banking sector has been dominated by a few big players and the recommendations should help to bring stability to the banking sector and open up competition, which in turn will help give small businesses more choice and a better deal."
But John Longworth, director general of the British Chambers of Commerce, warned of the danger of "collateral damage" among UK businesses as a consequence of banking reform.
"While there is clearly a need to ensure our banking system is robust, new regulations, however desirable in principle, must not inadvertently derail the recovery or hinder businesses' access to finance," warned Mr Longworth, who called on ministers to consider the creation of an SME Bank with a remit to lend to small and medium-sized enterprises.
Under the reforms, the deposits and overdrafts of ordinary consumers and small businesses will be handled only by "ring-fenced" banks, which will be barred from getting involved in risky investment activities.
The retail banks will have their own boards and be legally and operationally independent from the rest of their corporate groups, with limits on the amounts they can lend to the rest of the group.
Larger corporate deposits and lending and private banking can be conducted within the ring-fence or outside, but riskier wholesale and investment banking will have to be outside, he said.
Mr Osborne acknowledged that the ring-fence system would not prevent retail banks from failing.
But he added: "It does mean that if banks get into trouble, those elements of the banking system that are vital for families, businesses and for the whole economy can continue without resort to the taxpayer."
Capital requirements will apply not only to UK operations of British banks, but also to non-UK operations of banks with headquarters in the UK, unless they can prove they do not pose a risk to British taxpayers.
The Chancellor also confirmed that the Government will introduce a principle of "depositor preference", under which unsecured lenders to banks will have to take losses ahead of ordinary consumers if things go wrong.
PA
Join our new commenting forum
Join thought-provoking conversations, follow other Independent readers and see their replies