Baroness Warsi says UK must recognise Palestine now
Former minister says 'behind the scenes' efforts are ineffective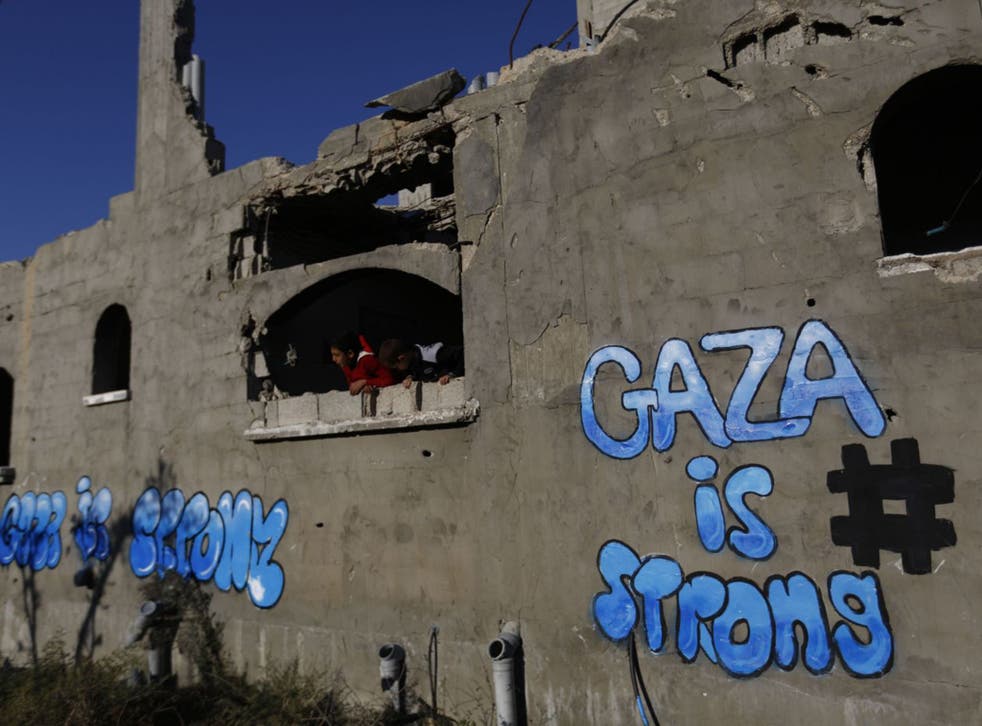 Britain must unilaterally recognise Palestine as an independent nation because "quiet" diplomacy has failed to persuade Israel to meaningfully pursue a two-state solution, the former Foreign Office minister Baroness Warsi has told The Independent.
Speaking after her first visit to the occupied territories since resigning over Britain's stance on the conflict in Gaza, Baroness Warsi said the UK Government's policy of "Israeli appeasement" was not working.
And she called on ministers to unambiguously condemn Israeli settlement expansion in the West Bank which, she said, was potentially becoming an insurmountable obstacle to a two-state settlement.
"These settlers are illegal occupiers of illegally occupied land," she said. "It is clear concerted policy of the Israeli Government to do this and that is why we've got to recognise Palestine and set down a marker. We have to say these are illegal; people who live there are illegal and they will have to be removed."
She added: "We say that we believe in a two-state solution but we are only recognising one of the states. It's really simple logic. If you don't even allow one of the states that you believe should exist to be recognised in our own country how are we going to be able to get the Israelis to recognise them?
"The right to have a state is not a gift that we need to give. It is a right that the Palestinians have. For us to say you can only have a state at the end of a negotiation – are we therefore saying if there is no negotiation there is no state?"
Baroness Warsi was also strongly critical of the Government's argument that it could exert greater influence on the Israeli Government behind the scenes if it pursued a policy of being supportive in public. "The argument we use is that we don't upset the Israeli Government because we want to maintain political capital to be able to influence them [behind the scenes]," she said. "We tried to build up that political capital during Gaza by not being critical – and by not condemning the appalling human rights abuses that were happening at the time. But at the end of the period Israel just announced more settlements and no consequences ever followed.
The famous on Israel-Gaza

Show all 21
"So this great capital that we built up – I see no example of influence being exercised."
On her four-day trip to Israel and the West Bank, which was organised by the Council of Arab British Understanding, Baroness Warsi said she was struck by the scale of Israeli settlements.
"The settlements are no longer being occupied by crazy people on the fringe of society," she said. "There are actually Cabinet ministers who now live in very plush houses that are in the settlements. These are huge structures with swimming pools and schools and health clinics and thousands of homes. These are proper towns. They are butted up again Palestinian towns – and the settlements have got water and electricity and all the modern facilities and yet right next to them you have villages with people living like they would have done a couple of hundred years ago."
She added: "These settlements represent the slow strangulation of the two-state solution and unless action is taken now it will be impossible in the future."
Register for free to continue reading
Registration is a free and easy way to support our truly independent journalism
By registering, you will also enjoy limited access to Premium articles, exclusive newsletters, commenting, and virtual events with our leading journalists
Already have an account? sign in
Register for free to continue reading
Registration is a free and easy way to support our truly independent journalism
By registering, you will also enjoy limited access to Premium articles, exclusive newsletters, commenting, and virtual events with our leading journalists
Already have an account? sign in