Baroness Warsi turns on 'public school' Tories
Former minister addresses conflict between party funding and Cameron's inaction on Gaza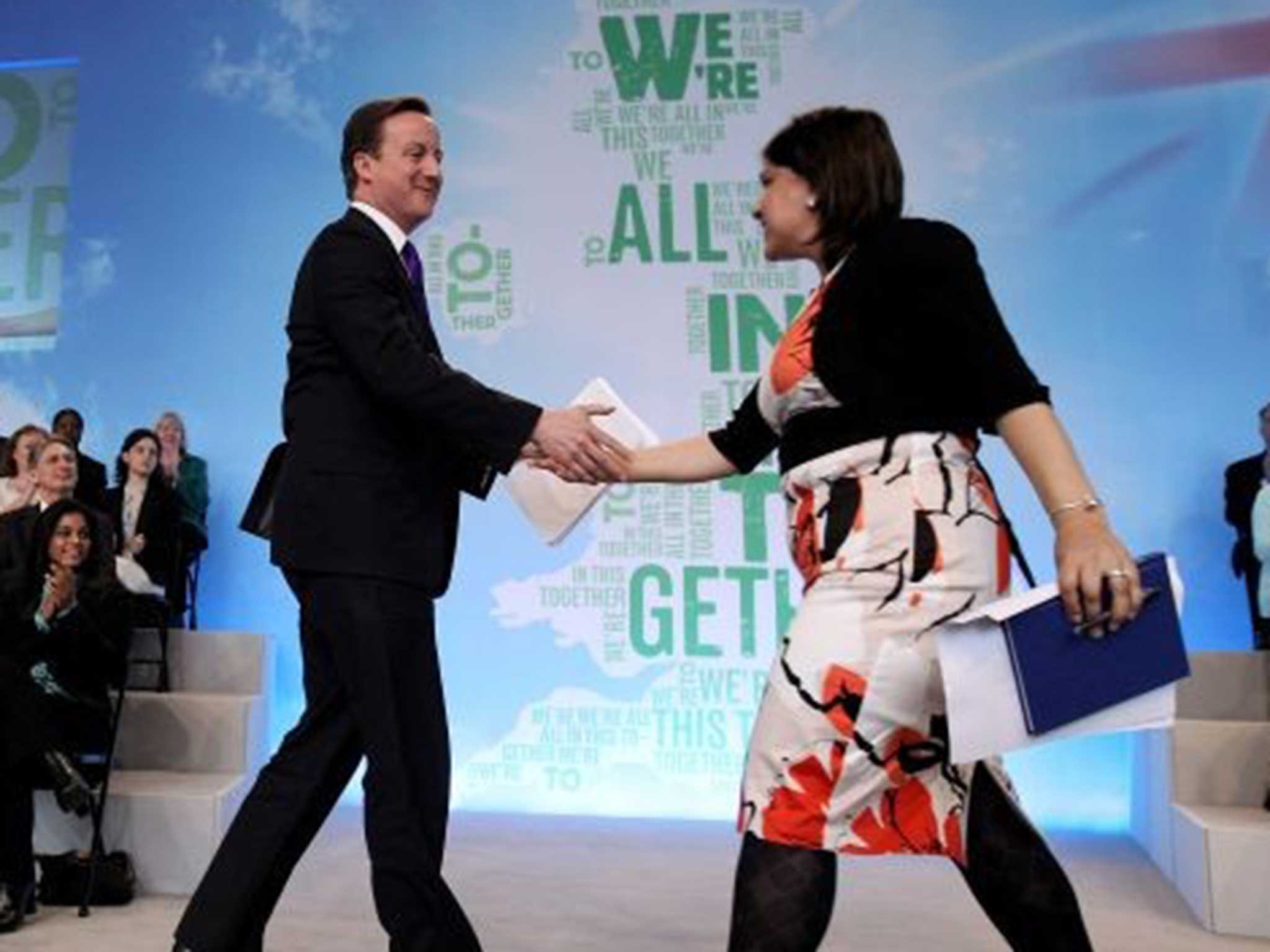 Britain's first Muslim cabinet minister launches a scathing attack today on the "public school" Tories around David Cameron who have dismissed her for years as "a brown, working-class woman not good enough" to serve in government.
In her first newspaper interview since resigning over Britain's "morally indefensible" stance on Gaza, Baroness Warsi also turns on George Osborne and Michael Gove for failing to use their "very, very close" relationship with the Israeli leadership to push for an end to the conflict. And she warns that the "electoral reality" is that the Conservatives will not win a majority at the next election unless the party starts attracting more ethnic minority voters. "We've probably left it a little too late to take this part of the electorate seriously," she says.
Lady Warsi says she will campaign hard for the Tories in the run-up to 2015, but admits she has become disillusioned with Mr Cameron who, she feels, has retreated from his early promise to lead a more inclusive government.
"When he was elected he was really clear that his values were values that included all of Britain," she said. "I think the party has shifted [and] the party leadership has shifted since then. I think over time it will be a regressive move."
In the interview, Lady Warsi, the daughter of Pakistani immigrants who rose to become the youngest member of the House of Lords, contrasts her background with that so some of those around Mr Cameron who have privately criticised her.
"I am a brown, working-class woman from the North," she said. "People have been telling me I'm not good enough since the day I was born. I'm sure there will always be people who will always say: you're not good enough."
But in pointed remarks she added: "I don't hold the fact that someone went to public school against them. I don't hold the fact that they haven't had the breadth of experience that some of us who didn't go to public school have had. I don't hold against them that they haven't had to fight as hard to get the jobs that we have had to fight as hard to get. I hope that if I can be so understanding about their background, they can be understanding to those of us that haven't had those opportunities."
Lady Warsi revealed that senior foreign office officials and ministers were overruled by David Cameron who decided that the Government would not take a stronger line on Israel's incursion into Gaza. She suggested that senior Tory figures may have been overly influenced by pro-Israeli lobbying groups such as Conservative Friends of Israel.
"What does concern me is that when you have senior officials and you have ministers within the Foreign Office saying we are in the wrong place on this policy, yet somehow that view is not being reflected. I certainly don't think the decisions were being made in the Foreign Office."
She went on to say: "One of the advantages we have in the Conservative Party is that the relationships between the Israeli government and the leadership of the Conservative Party is incredibly close. People like George Osborne and Michael Gove are very, very close to the Israeli leadership. What is the point of having that relationship if you can't use it to move them to a position which is in their interest and our interest?"
Asked if she believed that the amount of funding from wealthy pro-Israeli donors might have influenced the Government's stance on Gaza, she replied: "I hope that how the Conservative Party raises its funds does not have an impact in relation to its policy in Government. The national interest should never be subject to the chequebooks of anybody."
Join our commenting forum
Join thought-provoking conversations, follow other Independent readers and see their replies